In this article, I am sharing about free VPS trials, Especially for Free Windows VPS Trial and Free Linux VPS Trial providers. The good thing is that you have no credit card required. All VPS are free, and most of them are provide Windows and Linux Free RDP.
But After the Trial period, you have to pay them or you cancel your order or It will automatically cancel your order. SO This is Awesome Na, SO Let's see How we can get free trial vps without a credit card.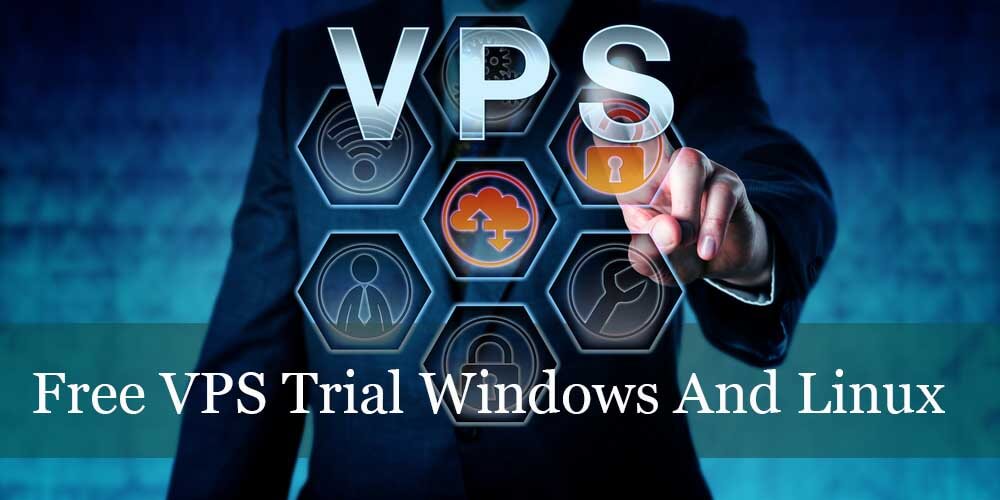 Almost all free cloud VPS gives high-speed cloud internet, up to 10GB per second. Primarily, these VPS trials require neither credit card or identity verification
To get free VPSs you need a VCC ( Virtual Credit Card). You can get a virtual credit card from Entropay, their VCCs work at nearly all sites. Also, you can get a VCC from Neteller, it also works very well.
Free VPS Trial  Windows/Linux Without Credit Card Required:
1.

Accuwebhosting Free Windows VPS
Accuwebhosting is the Best web-hosting company. Recently AccuWebHosting is offering free VPS trial hosting facilities for 30 days without a credit card. You can choose either Windows server 2008 or Win server 2012 or Linux as OS for your VPS.
The internet speed is 10 GB per second. You will get 35GB HHD storage with 500GB bandwidth along with 1GB dedicated RAM. You can host unlimited sites in this VPS.
Benefits:
Full Root Access
1 GB RAM
Window and Linux OS
No Credit Card Required
For 30 days
2.

CloudWays Free Trial No Credit Card Required
Cloudways is Managed cloud hosting. You can try CloudWays for free No Credit Card is Required.
Free Trial Without Fees required. 14 days Free Trial. But Only Linux OS is available.
You check here more How to get CloudWays VPS without Credit Card?
3.

ArubaCloud Cloud VPS Trial
ArubaCloud is Cloud VPS and hosting provider. You can get free Windows VPS for 60 days. Just Visit the Aruba cloud site Scroll down and Request Voucher. they will give you a two-month promo voucher, you can use that coupon to create VPS for 2 months.
Benefits:
1 Gb Ram
20 Gb HHD
Windows/Linux OS
No Credit Card Required
For 60 days
4.

VPSie Cloud Server Free Trial
VPSie also provides free VPS, but you need to refer a minimum of three friends. After three referrals, you will get a $4 coupon. You can do this on your PC or mobile, Just register in VPSie with your own reference code.
Benefits:
768MB Memory
1 CPU
10GB SSD Disk
1TB Transfer
30 Days validity
5.

Cloudstore Free VDC Trial
CloudStore is a cloud VDC provider. They give $200 of credit* to spend on Virtual Data Centre cloud resources (CPU, RAM, and storage).
Benefits:
30 Days validity
100% free trial: no charges and no bills
Completely free network and data transfer
1 GB Ram/ 30GB HHD
6.

Aliyun Free VPS Trial 30 Days
Alibaba Cloud is China's great and most trusted cloud VPS services provider and the world's fourth high website hosting provider.
Alibaba offers free Windows and Linux Cloud VPS or cloud compute and also other cloud products for 30 days without a credit card.
Benefits:
30 days valid
free $50 coupon
Virtual Private Cloud
Unlimited data transfer
You can check how to get this offer here: Free Cloud VPS Trials From Alibaba Cloud
7.

Neuprime Free Instant VPS Test for 10 Days
Neuprime offers Free Instant VPS Test for 10 Days. You can create RDP VPS with your favorite OS Windows or Linux. No need for any billing details or credit card verification. Both Linux and Windows OS are available for the free trial account.
8.

CloudSigma 7 Days free VPS

Cloudsigma is another best cloud VPS provider. They have a high-speed Virtual host both dedicated hosting and normal hosting. Click here to get Cloudsigma VPS: FREE Cloudsigma VPS.
Benefits:
7 Days Trial without any restriction
No credit card needed
Both Windows and Linux OS are available
So You try one by one, most of all VPS trial provides give it free. And also they don't ask for any Credit cards. If any VPS hosting ask for a credit card then you can create a free Entropay VCC or Neteller. They work with almost all sites.
Also Please comment here If the post is helpful or not. If there are more sites available that give free VPS trial without a credit card please comment with the link I will update here. Thanks. Good Luck!