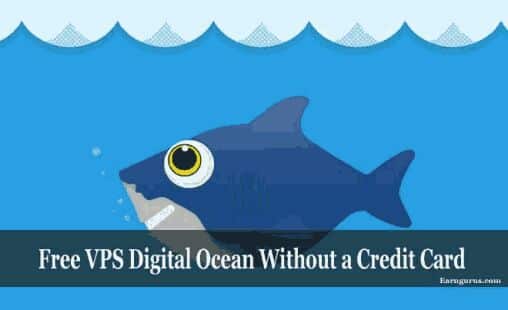 Digital Ocean Offers Free VPS trial, but you must need a credit card.Without credit card your need to pay them $5 by the PayPal for verification. If you have neither credit card nor PayPal, then you can't get VPS. But In this article, I will teach you how to get free VPS on Digital Ocean without a Credit card.
The most prominent and widespread use of VPS is Running a Website or Blog. Since virtual private servers provide more resources for your site than shared hosting, you'll find that your site feels more responsive. Digital Ocean is on of the best VPS provider so the before buy you can try it.
Also Read:
Top Free Virtual Credit Card (VCC) Providers
How To Login To The VPS With Putty
Free Windows VPS Trial Instant Activation Without Credit Card
How To Get Free VPS On Digital Ocean Without Credit Card?
This time, I am telling about Cloudways which will allow us to register VPS Digital Ocean without using a credit card and get a trial period for 14 days straight.
1. Visit the website Cloudways in http://www.cloudways.com and press on "GET STARTED FOR FREE."
2. On next page complete the necessary data such as Email and Password and press the  Create My Account.
3. On next page, you need to verify your phone number. Just enter your phone number and Click on SEND ACTIVATION CODE.
If you don't have any phone number then you can create unlimited phone numbers from here: Get a Free US Phone Number For Verifications
5. Within seconds, you will receive a verification code which you need to enter to complete the verification process.
After activation, you will get free VPS from Digital Ocean 14 Days, Vulture 3 Day, Amazon Web Service (AWS) 3 Days and Google Compute Engine 3 days.
You may like: How to Make a VPS in DigitalOcean
If you have not a phone number or country code not available on the site or sometimes phone verification not working, then it will automatically redirect to chat page.
On the Chat, page tell them "hi, I need to activate my account Cloudways, what I need to do?"
If they ask you about your email and why you need it, then tell them "my website example.com, currently using WordPresspress and I interested to apply Cloudways." then They will instantly active your account.
That was how to sign up or get a VPS Free Digital Ocean without a credit card very easily. If anyone wants to ask about the service Cloudways or Digital Ocean, please comment on this article.