Virtual Credit card or VCC is almost working like a credit card and you can use it a maximum number of online shopping. Basically, Virtual Credit Card VCC uses for shopping purpose, you can buy anything on online shopping like hostings, VPS, domain, clothes, home access, and more.
One of the best thinks it is very secure no one can steal your cards because It is a non-physical card.
In this article, I am talking about verification. Most of hosting buyers need a credit card to buy hosting VPS and domain.
In the online market, you can find a lot of Virtual credit card providers. Last time I have a post about Top virtual credit card But most of are not working on verification mainly on DigitalOcean and some Paypal verification.
So how to get a 100% working Virtual credit card or VCC for DigitalOcean, PayPal, and other verification purposes. After a long search, I have found a VCC provider that is working awesome in DO and PayPal also. So Let's See which VCC accept authorization.
Virtual Credit Card Pros and Cons
Let, start with the advantages of a free virtual credit card. Prepaid Cards has many pros:
No extra fee for the transaction.
the best idea to protect Bank account information
We have full of controls.
We can put Payment Limits.
Protection from being hackers.
Virtual card internationally acceptable.
Spam protection
Easy to Get
People like an Online virtual credit card because It help us to protect our back details and also no one can steal our cards. We can add found according to uses, so no worry about fraud transactions.
Read More:
How To Get Get FREE Virtual Credit Card
1. Go to TextNow and SignUp to get your FREE US Phone Number:
2. Now go to Yandex and create an account
3. Now go to Yandex Money and log in with your yandex account:
4. And Finally, go here and get your Credit Card for FREE!
5. Now again you need to verify the Phone number. For that just click on the GET a Card

6. Now you need to verify OTP from your Verified Phone Number. For that Click on Get a New Password. Now verify OTP and you are done. You will see your card details on the next page.
Note: every time to access the card details you need your phone number for verification. So just keep your phone number always.
Here is my Free credit card: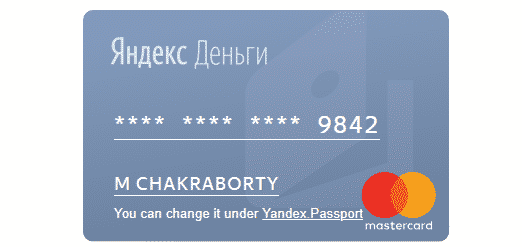 So I hope you find a good working Virtual credit card for verification purpose. I will add more Vcc provider once I get them. If you have any problem to get VCC please comment on your queries and I will try to solve. And Please share with your friends and facebook, twitter.