In this Article, We gonna share with you a simple guide to create gmail account without phone number verification. Nowadays everyone needs an email account for smartphone and receiving important emails, But If we need more than one email Ids then we need more phone number. Because of for creating email we have to verify the phone number and with one number we can create maximum 2-3 accounts.
So I will show you the easiest method to create a Gmail account without any verification. Just follow all steps and do it exactly then you can create unlimited Gmail account without a phone number.
Also Read: How To Get a Free US Phone Number For Verification
Create Gmail account Without a Phone number
1. Android devises Method
1. First, you need an Android device, or you can use Bluestacks on your PC.
2. Open device and Tap on the "setting" and then click Account Option, tap on Add Account >Select Google or Gmail.
3. Now click "Create A New Account. On the next page enter your first name and last name then click Next.
4. Next,  enter your basic information Like DOB, gender, etc. and click next. After that, you need to set up your email I'd so enter your desired unique email username and click next.
5. It is a very important part, In this step ask you to enter your phone number. If you don't like to provide phone number just click the Skip button.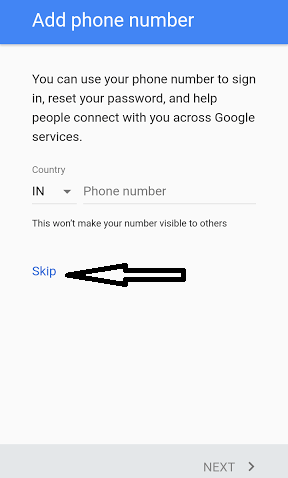 6. It is the last step, Google asks you your payment details, but no need to enter just click "Remind me later" and click next and you are done.
Do all of these steps again, and again and you can create unlimited Gmail account without phone number verification.
Note: After successfully created Gmail account you must set a recovery email address otherwise after 2-3 days google ask your phone number.
For setup recovery email login, your account goes to My account>>on "Security Checkup" click  "Get Started" and set your recovery email and you are done.
2. Laptop Or PC  Chrome Browser Method
To create a google email, you have to install google chrome. If you already have on your PC or Laptop then follow the steps.
1. Install or open your google chrome browser on your PC and go to setting page of your Chrome browser. There, you can see Sign into Chrome tab. if you already sign in there, Then just sign out there.

2. Next again click on sign into chrome option and create a new account there

3.  Now a popup Sign Up page will be open. There, click on More Option and click Create new Account for create a Google account.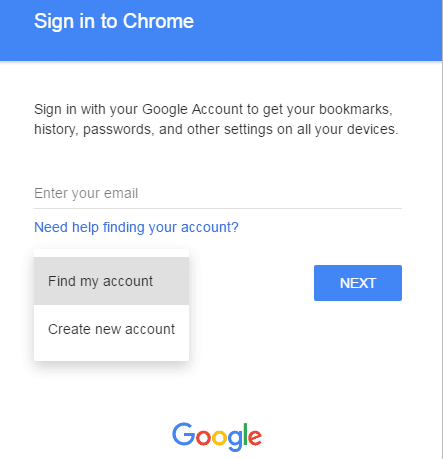 4. Now Create your new account. On the page type your name and click Next. Again enter your DOB and gender and click next.
5. Now choose your username and click next, now enter your password and click Next. Now Google will ask you to verify your phone number. Don't worry no need enter your phone number, Just click skip button and you are done to create Gmail account.
6. Next just accept their TOC and your account is ready.
3. Lower Age method
Think If you are a kid and you are under 15. So Google will not ask you for a mobile phone.
So Now first clear your browser cookies, data, history and all.
Now Open any browser visite Gmail and click on create a new account. Enter your details name, username, password, and birth date.
Keep in mind you have to set your birth year 2005.
Keep the Phone number place empty and set up a recovery email, accepts the terms and conditions.
Done, Now you can send and receive email on your new email address.
4. Try This Trick If Gmail Asking You To Add Phone Number
If you used the Android method or PC method to create a Gmail account, Later Google will ask you to add a phone number for verification.
So How To bypass for this type of verification, don't worry I have a great idea, You can Create Many Gmail accounts with verified status by using one phone number. So you don't need an extra phone number.
As you Know, you can create a maximum of 5 Gmail accounts with a single phone number because of Google Policy & rules. But you can verify your account by removing those used phone number from other accounts, so how can I Create Unlimited Gmail account with Just One Mobile Number. Let's follow the steps:
1. Create and verify your Gmail account or log in your old account which has been created with Mobile Number verification.
2. After successfully logging in, click on the Profile and then click on My account at top right corner.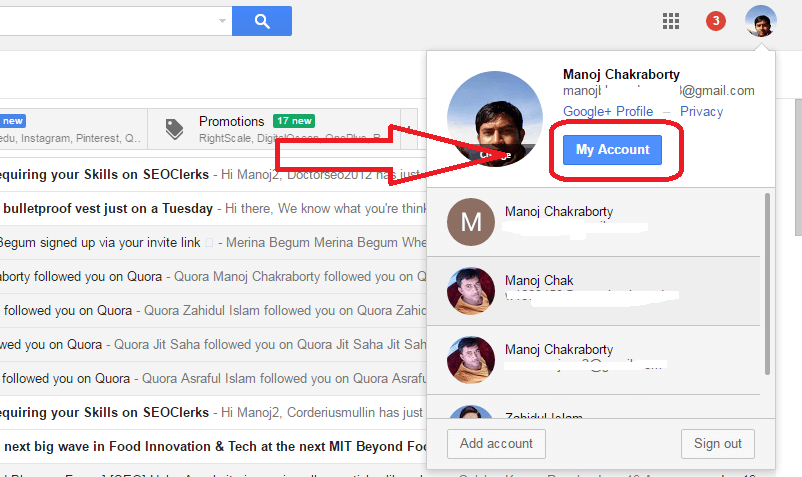 3. Next, Go to Personal Info & Privacy and click Your Personal Info.
4. Your personal info clicks Phone Section which contains your registered mobile number.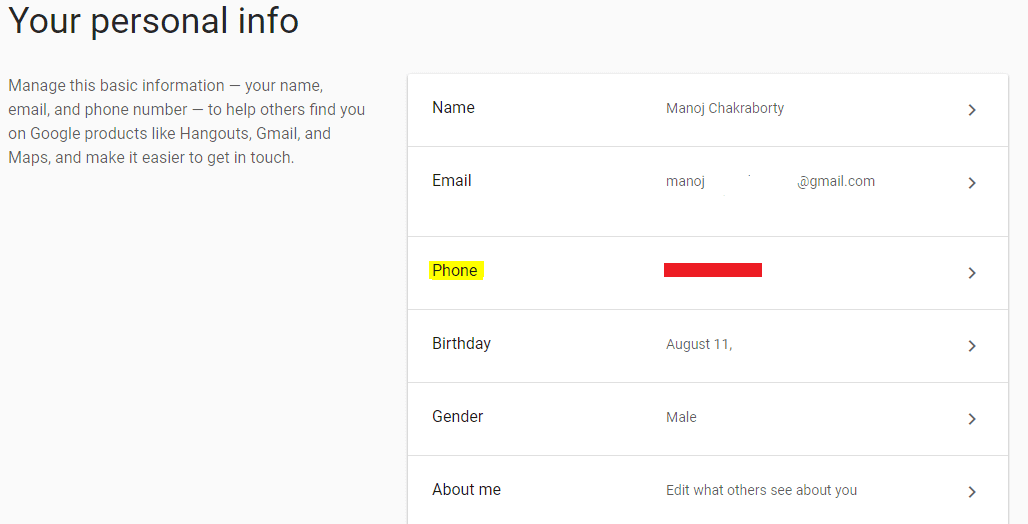 5. Next, Click on Small Pencil button for edit and remove the registered mobile number and click on the Remove number to confirm remove the number.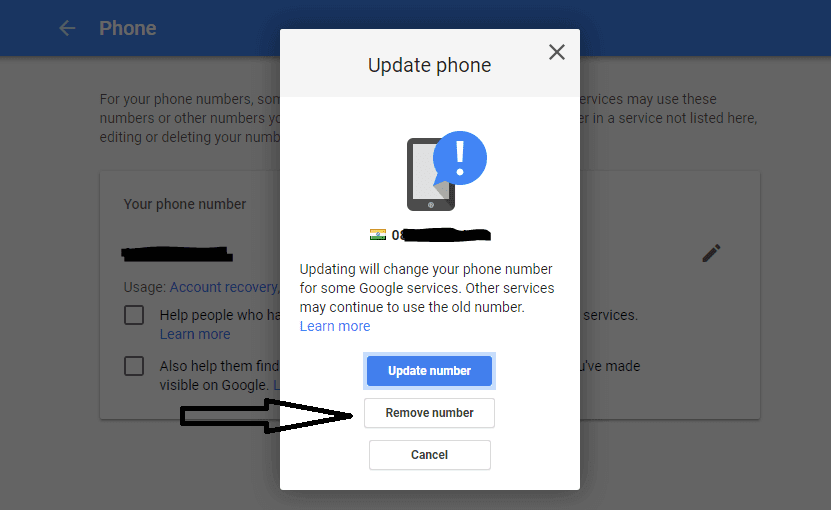 6. That's it, You have done. Now, you can use this Number to verify the Gmail account.
If you want your Gmail account works for a lifetime you must verify your phone number. So by this method, you can create unlimited Gmail with a single phone number. check Out best cordless leaf blower reviews
5. One Gmail to Convert Unlimited Gmail address
By this method, you can create unlimited Emails address with just one email account. So "How it possible?"
Yes, It is possible, you can create an unlimited email with the same email by the "+"(Plus symbol) method and DOT trick. Check here:
"+" Method:
*You can type what you want, and there's no limit on how many emails are created 🙂 e.g., (mail+1, mail+djsfsdf, mail+00). Works with all emails service ( Gmail, Yahoo, live..)
DOT trick:
It is also the same method like Plus method. But It is working only on Gmail account. So how it works?
Conclusion:
Hope you like these amazing methods to create unlimited email Ids without a phone number or you create unlimited email ids with a single phone. If you have any queries, please leave it here comment in the comment section. However, We will try our best to resolve your problem as soon as possible. Please share if you like these methods.