Almost every Android smartphone is slowly with time and we always try to speed up our Android devices by installing software, but if you install more and more software the devices will be going to slow But no problem with our 8 tuning tips to make your android smartphones faster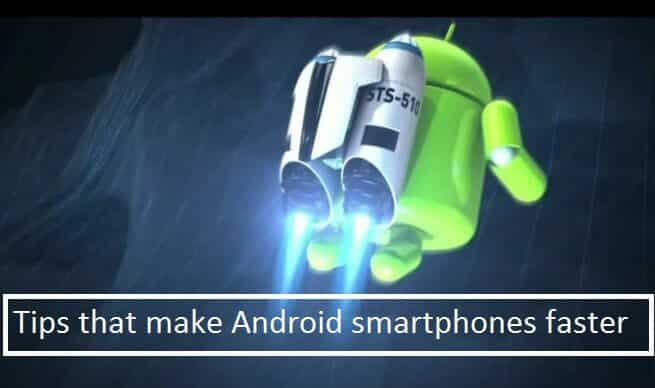 1. Uninstall Unnecessary Apps
One of the main reasons that speaks for the use of Android phones is the variety of apps, which are often free in the Google Play Store to choose from. However, some user trying to install dozens free apps.
The result: The Android smartphone can be slow. To prevent this loss of performance, you should periodically check which apps you use at all and other unnecessary apps must uninstall.
---
You May Also Read How to Automatically Skip YouTube Ads on Android Phone Without Root
---
2. Empty the app cache
All started Android apps store data from the clipboard. Over time, this cache is always full, which has a negative effect on the overall performance. Use CCleaner, it cleans out your app cache and helps perform this kind of maintenance.
3. No Widgets and Live Wallpapers
Beautiful and practical they are, there is no doubt. However, you should ask yourself whether you really actually need each widget of the home screen. For the greater the number of active Widgets, the slower the device. Removal is simple: tap the element on it and hold for a few seconds, pull it toward the top of the screen and let it go through the trash icon. On some devices, is held this Icons of the command Remove to see.
Excessive Widgets and Live Wallpapers affect not only a negative impact on system performance. Even the battery is being unduly burdened, so you raise by this tip, the battery life.
4. import updates
Not only Windows and Mac will periodically receive great updates that eliminate known bugs and add functionality. The manufacturers of Android devices make such updates available. It is advisable to install these updates immediately after publication.
Go to Settings > About device > Software update and check for updates. If an update is available, you download and install it immediately.
5. Reset the device to factory state
Run our tuning tips are not successful, you should consider resetting the device to its factory settings. The advantage: your smartphone or tablet is again as soon as the first day.
However, this radical variant also has a nasty drawback: You must backup any data that you want to lose by no means. These include sent and received text messages, call logs and reservoir levels of games.
No worries, you have to make to your contacts, on the other hand, since they are not only stored locally. To secure the data you can use the PC software that came with your device to use.
Read More: 5 Best Ad blocker for Android
6. Root: remove superfluous system apps
On rooted devices, both the pre-installed by the manufacturer apps and system components can uninstall so that Android can be further slim down.
But since this does not work with standard tools, you must install a special app.The superior backup tool Titanium Backup Pro includes interesting uninstall functions.
7. Root: import alternatives Kernel
Experienced users who have no problem with that, deeply intervene in the system, can the standard kernel that comes on the device used, replace it with an alternative. This – of resourceful developers – modified components smartphones or tablets miss a corresponding performance boost.
Moreover, such kernel also allow deep system interventions, such as manually setting the minimum and maximum CPU clock speed or setting up a dual-boot system.
8. Root: Custom ROM flash
The most radical form of Android-tuning represents the uploading of custom ROMs nice side effect. Many custom ROMs come with an alternative kernel, so you kill two birds with one stone. The selection of Custom ROMs is huge – for older and newer models. In addition to the long-running CyanogenMod, the universal custom ROM, currently enjoying the following two custom ROMs great popularity.