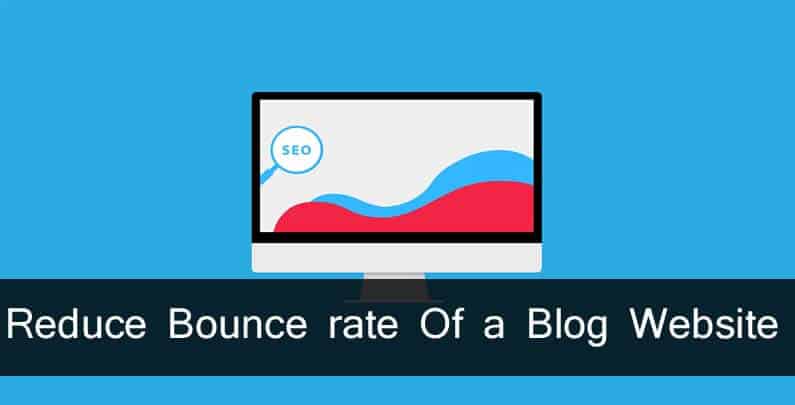 Bounce rate is an important fact for SEO. So in this article, I will tell you about bounce rate, its importance on SEO, why bounce rate increase of a blog and how to reduce it?
The bounce rate describes the percentage of all visitors who leaves a page again without calling another page of the domain.Many visitors do not come from the home page of the blogs or the website but come by keywords from search engines directly to individual subpages or blog articles. If the page or article not like the readers will immediately close the page or read one page and go back again, then the bounce rate will increase.
Reasons for a high bounce rate
1. Slow loading page
If your blog or website need much more time to loading then visitor close the page. Particularly visitor doesn't like those blog or websites who needs a long time to loading
2. Too much advertising
A very common reason for too high bounce rate is too intrusive and too much advertising. LayerAds and popups, for example, guarantee high bounce rates and scare visitors off faster than it is the users themselves loving.
3. Bad Content
Poor content is also a very common reason that visitors come off without calling a second or more subpage of a domain. If the user does not directly what he seeks, he will start immediately the first search on Google.
4. Poor Design
Visitors are not designers, but they can sense poor design. As a designer once said to me if your design is really good it will work even if your site is in black and white.
How To Reduce Bounce Rate Of a Blog Website?
I have two methods to reduce bounce rate of a blog or website. Here are the methods:
1. Reduce Bounce rate WordPress Plugin
I have found a WordPress plugin which helps you to reduce bounce rate automatically. The WordPress plugin one of the best plugin for reducing or decrease bounce rate for a blog or website.
The plugin free and easy to use. You need to install on your WordPress blog and active it. After install, it will automatically start working. Here Is the plugin Link
2. Tips For Reduce Bounce Rate
1. Decrease loading time
If you want to reduce bounce rate of your blog then you need to decrease or improve your page loading.For decrease loading time or speed up your blog, you can follow this article
---
---
2. Remove excessive advertising
Advertising brings money, but it can also annoy the visitors. Particularly, if the advertising is too much on your blog or website with popups, slider, banner ads then readers close the page immediately.
3. Internal Links
Internal Link is a part of SEO. You must try to add more and more internal links in your blogs articles. It will increase your SEO rank and also reduce bounce rate.
4. Last 5 posts / View updates widget
you must add a widget in the sidebar (menu, right or left) to view the current five posts of blogs / the website. So readers who arrive via search engines on individual sites, calling the Home spare.
5. Your Navigation
Check out your navigation and try these also improve. Maybe it's just the marking of the individual navigation points, but maybe it's the structure. Again, you can be inspired by your competition.
6. Optimizing for mobile devices
Responsiveness is very important. That'll certainly take a look at the statistics show. I just say once that some of your visitors now come to your site through mobile devices. For them, a responsive, adaptive, website is very important. Plugins such as jetpack will help in the implementation. Significantly more reliable, but is set up from the beginning a responsive design.
7. Open external pages in new browser windows
when you are linking to any external site select the option which says "open in a new tab".Many blogs do not make it, and some already. Closes the visitors a tab, it is easier to find back to the blog.
It is the simple and effective way to reduce bounce rate of your blog. Also, bounce rate helps us to show how many visitors like an article or whole blog or website. At last tip, you must use Google Analytics to check your bounce rate.