How to Install WordPress on VPS – There are some bloggers want to transfer their blog shared hosting to VPS servers because of their raw power and affordability. SO Here I will tell you how to install WordPress on Nginx Ubuntu VPS with EasyEngine.
EasyEngine is one of the popular auto installer scripts for LEMP stack (Linux, Nginx, MySQL, PHP) without Graphics User Interface (GUI) and more using Command Line Interface (CLI). The GUI on EasyEngine is only available for phpmyadmin only. Furthermore, we have to use the client for the command execution on EasyEngine.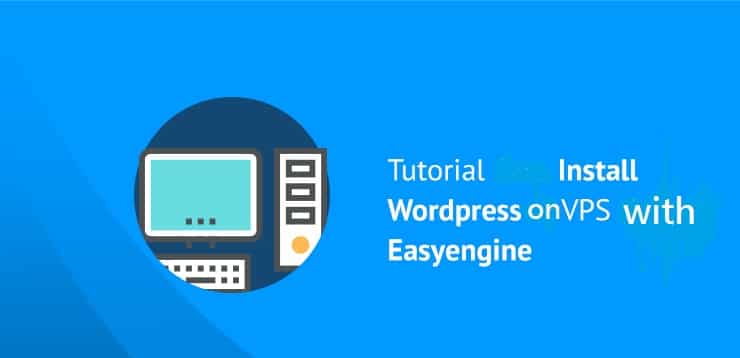 An operating system that supports Easyengine
Not many Linux distributions support Easyengine, including:
Ubuntu 12.04, 14.04 and 16.04
Debian 7 and 8
Port Required
There are several ports that will be used by Easyengine, including:
22 / TCP (Inbound / Outbound): Standard SSH port
80 / TCP (Inbound / Outbound): Standard HTTP port
443 / TCP (Inbound / Outbound): Standard HTTPS port
22222 / TCP (Inbound): To access EasyEngine admin tools
11371 / TCP (Outbound): To connect to GPG Key Server
Read More:
Steps To Install WordPress On a VPS:
1. Remote VPS uses SSH
Before we enter the Easyengine install process we must remotely server. For Linux and Mac users can directly use,Terminal while Windows users must use Puttyor the like. Use the following command if using a terminal:
ssh root @ ip_address_VPS
Enter the VPS root password.
2. Install Easyengine
Now we have succeeded in remoting our VPS, then we need the installer file from Easyengine then we run the installer file. If the index has not previously been updating your operating system locale packages we recommend to perform updateand upgradeadvance. Use the following commands:
sudo apt-get update && sudo apt-get upgrade -y
Currently, all the packages in your operating system have been successfully updated, now we download the installer then run the installer:
wget -qO ee rt . cx / ee && sudo bash ee
The install process will take quite a long time, depending on the speed of your VPS internet. Because the install process will take directly from the Ubuntu repository.
3. Install WordPress
Easyengine has been installed on our system along with all the packages needed, then we will install WordPress on Easyengine. Use the following command to begin the installation process:
sudo ee site create example.com -wp
You need to understand that example. com can you change it according to the domain name you have, for example, I use an example.com.
Wait for a moment until the process is done.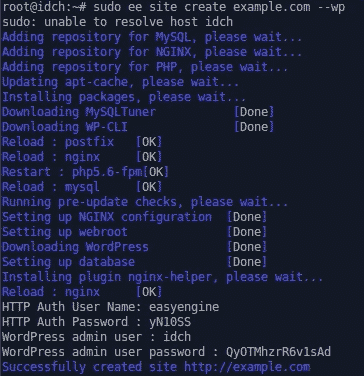 If the installation process is complete it will appear, as shown above, you will get information about your username and password to log in to your WordPress Dashboard, you will also get the HTTP Auth username and password when accessing Easyengine admin tools. You can now access WordPress through your domain.
Now you are done your WordPress blog ready to use. To manage your blog go this link yourdomain.com/wp-admin and enter your login details. One thinks if your WordPress blog was not working then open your VPS by the WinSCP and go to this folder /var/www/html/ and delete the index.php file.