Well, In this tutorial I will guide you, how to boost and Increase Alexa Rank by rank booster trick. Alexa is an Amazon.com Company and Alexa Page Rank is a site ranking assigned by Alexa Internet to measure websites' popularity. It statements to have an availability of factors in deciding the blog popularity, but really it all depends mainly on usage data collected because of the Alexa toolbar.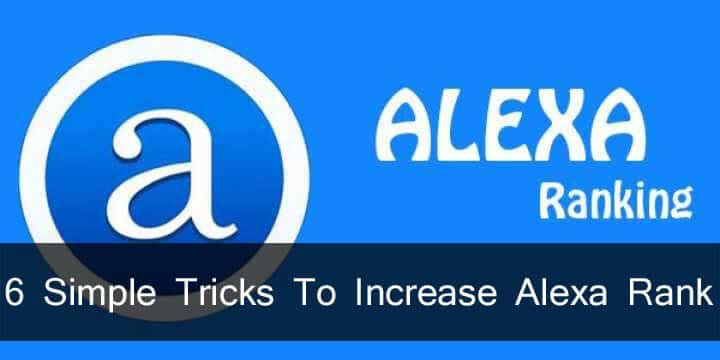 Why do we need to increase Alexa rank quickly? The answer is Many advertisers focus on Alexa rank for advertising on your website. So If your site ranked high on Alexa you can make some extra money from Sponsered Ads. So here I am going to explain in this article how to improve Alexa ranking.
Steps To Increase Alexa Rank:
1. Install Alexa Toolbar:
First, it is advisable to Install the Alexa toolbar on your web browser ( Chrome, Firefox ).
You might already know, Alexa rank is set on such basis as the material collected via the Alexa toolbar. It's instantly increasing your website ranking if you install Alexa Toolbar.
How to Install Alexa Toolbar?
Installing the Alexa toolbar is a very easy task
Go to Alexa Toolbar Installation Page with your favorite browser.
Click on Install Alexa Browser Extension.
Now add the Alexa Toolbar extension to your Browser.
2. Install Alexa Widget:
But unfortunately is not every visitor installs the Alexa toolbar, and many visitors come to your site through a Mobile phone.
So you must Put the Alexa widget on your blog or site.
You can comprehend that a blog/site with a widget will certainly be ranked up than a blog/site without a widget as it is promoting Alexa.
Alexa widget works like an Alexa toolbar and every visitor hits make changes boost your site ranking.
How to Install or Add Alexa Widget:
Alexa rank on your site:
Just change yoursite.com to your website in two places in the HTML snippet below, and then copy and paste it into your website's HTML:
<a href="http://www.alexa.com/siteinfo/yoursite.com"><script type="text/javascript" src="http://xslt.alexa.com/site_stats/js/t/a?url=yoursite.com"></script></a>
Here is a widget that displays both your site's Alexa rank and Sites Linking In count:
<a href="http://www.alexa.com/siteinfo/yoursite.com"><script type="text/javascript" src="http://xslt.alexa.com/site_stats/js/s/a?url=yoursite.com"></script></a>
3. Comment Blogs and Forums: 
Commenting on blogs and forums helps to get backlinks. Backlinks are very important to get Rank your site. So Find some High DA-PA Blogs/sites and forums and keeps post your links.
Guest Post is also a good idea to get backlinks. So You can Post some articles on High-Rank Blogs and Forums also.
---
Read More: Top Free SEO Keyword Search Tools To Get Better Rank
---
4. Write Unique Articles and Update Frequently
This is an important Tip, Every SEO Expert talks about this.
Create content helps you to increase your blog traffic and A blog that has lots of Visitors, Alexa will automatically increase their rank.
Search Engines( Google, Being) loves Unique and new content, and they give prioritize Updated content. So Must post unique Contents and Update your post regularly.
5. Use Webmaster Forum:
You must have to visit where webmasters return frequently and Discuss web pages or blogs there. Generally, webmasters have the Alexa toolbar installed.
So Have a trip on webmaster forums and post links and ideas on there.
6. Connect To Social Networking sites:
Social Media is another and best way for getting real visitors. Numerous users only depend on Facebook or Twitter to get the best news or results.
So Share your content on  Facebook, Twitter, and Google+ pages for your website.
and Also, submit your site to StumbleUpon, Digg, and Reddit.
Promote your site on Facebook, Twitter, youtube, google plus, Linked In, and others and then you will get more visitors.
Above all tricks will help you to increase the Alexa rank of your website.
But, these are not the only method to increase Alexa rank. If you use some other methods to boost Alexa rank for your site, share with us.