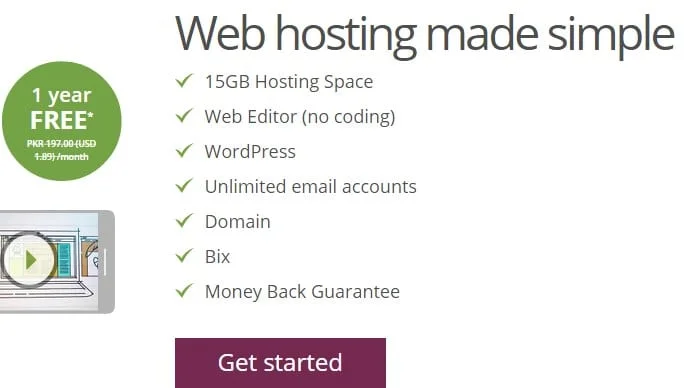 One.com is offering Domain And Web Hosting For 1 Year. One.com was established in 2002 in Denmark and is today one of the leading companies in Europe within the provision of domain names and sales of web hosting services.Today, the company is registered in both Denmark and Dubai.
It also has branch offices in many other countries including UK, Netherland, and Germany. As a company doing business over the internet, they cater to customers from all over the world.
In order to serve people from different countries and regions, they provide support in a variety of languages, including English, French, Dutch, German and so on.
The multi-language feature is quite convenient because customers can choose the language they prefer when visiting this site. It also shows that the company takes customer service seriously.
Who is eligible for this 1-year free hosting offer?
This promotional offer is not for everyone. To be eligible for it, you must be an individual or a company in the USA, according to their site.If you are not from the USA, you are not allowed to take advantage of this offer.
But if you really like their service, you can always pay the usual price to purchase try it out.
But If you are really like their services and want this web hosting and domain for 1 year then I have a great method for you. You can get this offer even if you are not from the USA.
WHAT WILL GET FREE?
Website
 Email
 Domain
Web hosting packages include the following:
Website Editor
Domain with unlimited sub-domains
 15GB-2000GB disk space
 Unlimited traffic
 Unlimited amount of e-mail accounts
 Gallery and Blog
 Google AdWords voucher
 24/7 Live Chat Support
 Free Exchange Active Sync, SSL and much much more
 4-Star Customer Service per TRUSTPILOT
 30 Day Cookie!
You May Like:
How To Get This Offer If You Are Not From USA?
If you are not from The USA then you can try this method to get this domain and web hosting offer.
Note: You must clear your browser cache and data.
Step 1. Install a VPN on your PC and connect with USA server or you can use any USA VPS/RDP
Step 2. Try to get a USA phone number for Verification. You can get from here: Free US Phone Number For Verifications.
Step 3: Next visit this link: http://one.me/ and create a new account and must use USA phone number and also try to enter US person types name ( John William )
Step 4: Check your mail and verify main and phone number.
If you have any problem to get this offer. Just feel free to comment here I will help you.