Our daily lives are now significantly impacted by location-based apps. From finding directions to sharing our whereabouts with friends and family, these apps have revolutionized the way we interact with the world around us. However, there are times when we may want to change our location for various reasons – to access geo-restricted content, protect our privacy, or simply have some fun. This is where AimerLab MobiGo comes into play. In this article, we'll explore the main features of AimerLab MobiGo and guide you through the process of changing your location using this versatile tool.
What is AimerLab MobiGo?
AimerLab MobiGo is a powerful and versatile iOS & Android location spoofing tool that enables you to change your location to anywhere on various location-based apps, including social media, navigation, and gaming apps. AimerLab MobiGo simplifies the process of changing your device's GPS location by offering a one-click location change option, and this makes it accessible for both beginners and experienced users.
Now let's explore the key features of AimerLab MobiGo:
One-Click change your location to anywhere in the world.
Create custom routes by selecting two or multiple spots on the map to simulate.
Import a GPX file to quickly start the same route.
Adjust moving speed and direction to simulate GPS movement, ensuring that the location change appears natural to the apps you are using.
Change location on up to 5 devices at the same time.
Spoof iOS GPS location using wireless Wi-Fi.
Devices & System & Apps that AimerLab MobiGo Supports
Here's a general overview of the platforms and systems that MobiGo supports:
Supported Devices:
iOS: iOS 5 and up. (Support iOS 17 – Mac, iOS 16.6 – Win)
Android: Android 6.0 and up. (Android 14 included)
Supported Systems:
Windows: Win 11/10/8/7
Mac: mcOS 10.9 – mcOS 13
Supported Apps:
AimerLab MobiGo is designed to work with a wide array of location-based apps. Commonly supported categories of apps include:
Navigation Apps: This includes popular navigation apps like Life360, Google Maps, Waze, and Apple Maps.
Social Media Apps: AimerLab MobiGo can be used with various social media platforms that rely on location data, such as Facebook, Instagram, Twitter, WhatsApp and Snapchat.
Gaming Apps: Many location-based games can benefit from AimerLab MobiGo, allowing users to change their in-game locations. This may include games like Pokémon GO, Jurassic World, and Ingress
Dating Apps: Apps that use location to connect users, like Tinder, Hinge, Facebook Dating and Bumble, are often compatible with AimerLab MobiGo.
Ride-Sharing Apps: You may use AimerLab MobiGo with ride-sharing services like Uber or Lyft to change your pickup or drop-off location.
Weather Apps: Some weather apps may also rely on your location for accurate forecasts, and AimerLab MobiGo can help modify this information.
How to Change Location on Location-based on Apps with MobiGo?
Now that you understand the main features of AimerLab MobiGo, let's walk through the steps to use this powerful tool.
Step 1: Download and install AimerLab MobiGo location changer on your computer. Then launch MobiGo and click "Get Started" to continue.
Step 2: Connect your iOS or Android device to your computer using a USB cable or WiFi connection. MobiGo will recognize your device and display it on the interface, choose your device and click "Next".
Step 3: Follow the instruction on the screen to turn on "Developer Mode" on iOS or "Developer Options" on Android. After this your device will be successfully connected to the computer.
Step 4: Your mobile location will be displayed on a map within "Teleport Mode" of MobiGo by default. On the map, you can either enter a location in the search bar or click on the map to set a specific location.
Step 5: If you want to simulate movement along a specific path, click on "One-Stop Mode" or "Multi-Spot Mode" and select locations on the map to create a custom route. You can also choose to import a GPX file to simulate the same movement.
Step 6: After selecting your desired location or route, click the "Move Here" button. AimerLab MobiGo will start changing your device's location or simulating the route. When moving along the route, you can adjust your speed from 3.6km/h and 108km/h to simulate walking, cycling, and driving speeds.
Step 7: Now, open any location-based app you want to use and check if your location has changed as desired.
AimerLab MobiGo Free Trial vs. Pro Version
AimerLab MobiGo offers a free trial version and a paid Pro version. The free trial version of MobiGo typically provides limited access to the software's features (5 time to use the teleport mode, one-stop mode and multi-stop mode). To unlock the full range of features and capabilities of MobiGo, it's recommended to upgrade to the Pro version. MobiGo offer four licensing options, you can choose one to purchase on it's official site and get exclusive 30% off on AppHut.io.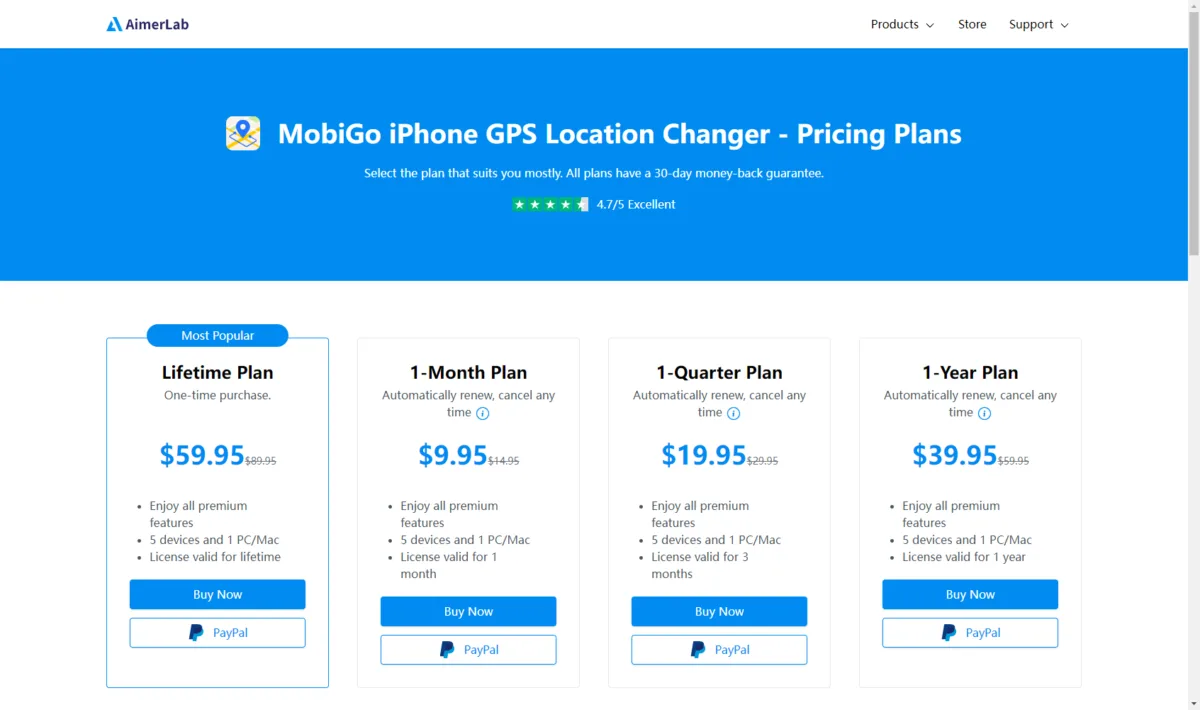 Conclusion
Changing your location on location-based apps can open up a world of opportunities, from enhancing your privacy to accessing restricted content. AimerLab MobiGo offers a user-friendly and feature-rich solution for location spoofing, making it easy for anyone to use. By following the steps mentioned above, you can seamlessly change your location and enjoy the benefits that come with it. So, whether you're exploring new virtual worlds in location-based games or safeguarding your privacy, AimerLab MobiGo is the key to unlocking endless possibilities.