For those who are looking for a diverse and very prestigious platform for online financial trading, MetaTrader 5 is one of the best options for you. This is the leading platform that allows you to trade on different markets with futures, stocks, and Forex. Trading with digital currencies is available too. MT5 is from MetaQuotes, which also operates MT4, the top leading platform for Forex beginner traders.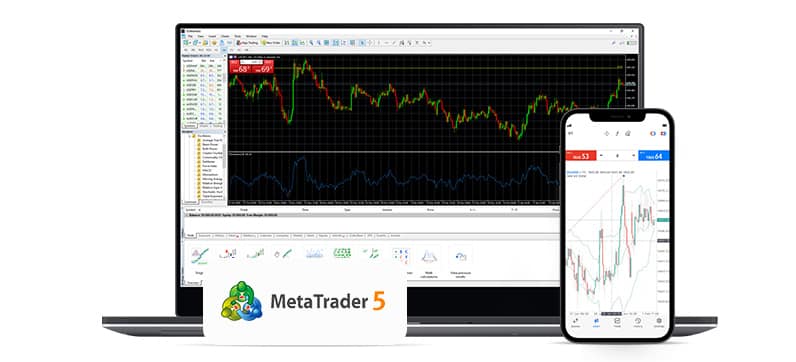 MetaTrader 5, the same as MT5, is the platform with great trading possibilities which is getting more profitable with effective market analysis. The great and simple design, easy structure, and detailed information make the market analysis more simple to do. While using MT5 you have complete access to different stock, inside, CFD, and Commodity markets. You can easily check the current market trends, global actions, and trading history and make relevant predictions which will be very helpful for trading decisions.
The Main Features of MT5
On MT5, automated trading is also possible which is a great solution to not miss any action on the global market. This is an impressive tool that allows you to set a specific time and let the feature make movements on the market when you will not be able to observe it.
Another special feature of MetaTrader 5 is that you can use EAs. This is the exclusive offer of Expert Advisors which will help you to answer your questions connected to trading. These robots will help you to get better time management and control the market prices and changes in more detail.  Also, you can turn on the notifications about trading signals which will help you to catch every significant change in the market. Do not forget to use a multithreaded strategy function which is great to improve your trading skills.
In addition, with the used MQL5 programming language, MT5 traders can easily exchange experiences, tips, and useful tricks with each other, which makes the trading experience more diverse and profitable.
On the other hand, while trading via MT5 you can use features such as algorithm trading, copy trading, fundamental or professional technical analysis, flexible trading, and virtual hosting similar to VPS. Having access to this platform and MT5 setup exe is a pretty simple process which will be explained down below.
Access And Installation Of MetaTrader 5
We are talking about one of the most prestigious trading platforms, it will not be surprising if we say that all devices and software users can download MetaTrader 5. The process is not very complicated and does not require any specific conditions but because the platform is completely busy with data and includes dozens of features, you need a soft and technically high-quality technology, to avoid speed issues.
MT5 setup is pretty simple. First of all, you need to have access to the download link, which will be set on your computer after double clicking. After that, you can create a personal account on the platform. In this step, you can also choose to open a demo account where you will be able to trade on the market with virtual money. On the other hand, you can create a real account where you will trade with your investment.
If you already have the account, all you have to do is to insert the data about your login name and password, and press the finish button. Remember that you are required to confirm your account. The section 'Verify Your Profile' is mandatory and you can check the contact number or e-mail address and via clicking the confirmation link, your account will be finally activated. Also, we would recommend you to carefully read the license agreement, which will clarify every rule you have to follow during the trading.
As we already mentioned you can use MetaTrader 5 on any device, which means that you can download the app from Google Play as well as from the App Store. Every future and condition remains the same. The only thing that changes is the visual appearance, which is perfectly customizable to mobile screen sizes.
After finishing the installation, you can run the platform where you can choose one of the visible servers. The final step in this simple process is to place the orders and modify them according to your market analysis. Remember that it is significant to create a detailed financial trading portfolio and on the other hand, modify your actions and orders. The market is very changeable so a single stable strategy will not be very effective for you.
You can download MT5 for PC as well as for Mac OS. The core process stays the same but the quality may be different. According to users' experience, sometimes Mac OS is better because traders do not face speed issues different from PC users, but otherwise, the Windows version is more cheap and more customizable for traders.