Inverter batteries have become a crucial component for workspaces in recent times. They offer backup power during power outages, allowing you to continue your work uninterrupted. However, finding the best inverter battery for your workspace requires you to consider several factors, including the capacity, quality, and durability of the battery.
Moreover, with the vast range of options available in the market, choosing the right inverter battery can be overwhelming. Therefore, it is important to have a clear understanding of the factors that influence the performance and reliability of the battery.
In this blog, we will provide you with all the information you need to choose the best inverter battery for your home or workspace.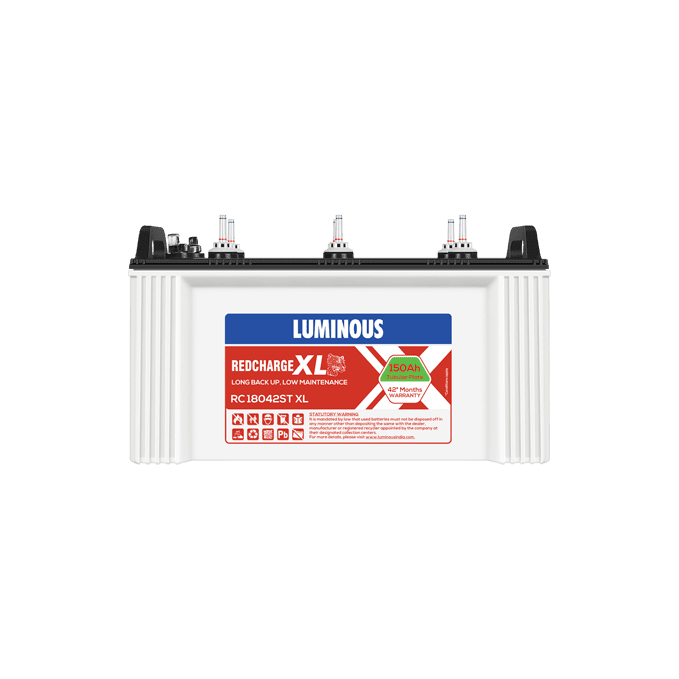 Factors to Consider for Installing the Best Inverter Battery in Workspaces?
Inverters and batteries keep your electrical appliances working consistently during power outages while converting low-voltage direct current (DC) into alternating current (AC). You must consider the following factors before choosing the inverter battery:
1. Evaluate Power Requirements
To install an inverter battery, you should calculate your power consumption in the workspace. Power consumption calculation includes appliances, such as lights, computer desktops, laptops, refrigerators, chargers, or LCDs. A well-versed evaluation of voltage requirements gives an estimate of accurate power consumption in your work area. With this, you can pick the best inverter battery and leverage a consistent power supply.
2. Battery Capacity
It is essential to pick a battery with a capacity to meet higher load requirements in the workspaces. The capacity of the best inverter battery indicates the amount of electric charge it can hold during power cuts. Based on the load requirement in the workspace, make sure to find the right battery with suitable capacity.
3. Right Battery
There are different types of batteries available in the market, such as lead-acid or lithium-ion. Lead-acid batteries are the traditional type, while lithium-ion batteries are the latest technology. Lead-acid batteries are cheaper, readily available, and reliable but require a little more maintenance. Lithium-ion batteries, on the other hand, are more expensive but last longer, require less maintenance, and offer dependable performance. So, you can choose the right type based on your power requirements and use it efficiently.
4. Battery Efficiency
This is one of the most crucial factors to consider. The efficiency of a battery is the amount of power it can deliver without charge loss due to heat or internal resistance. The higher the battery efficiency, the longer the battery will last and offer higher performance. Look for batteries with a high charge acceptance rate, low internal resistance, and low self-discharge rates for a consistent power supply.
5. Inverter Type
There are majorly three types of inverters – pure sine wave, modified sine wave, and square wave inverters. Pure sine wave inverters have the capacity to produce high-quality power similar to the utility grid, while modified sine wave inverters produce output for basic devices like fans and tube lights. Depending on power requirements, you can pick the best inverter battery in your workspace.
Final Thoughts
Choosing the best inverter battery is a crucial decision as it provides us with an uninterrupted power supply during outages. This, in turn, saves us from any loss of productivity or damage to equipment.
Along with buying the best inverter battery, ensure that you also maintain it for its longevity and efficiency. This includes checking the water level, cleaning the terminals, and performing load tests.
Lastly, if you are looking for a reliable inverter battery, you should definitely consider going for Luminous. They are a well-established brand in the inverter battery industry with a strong focus on innovation. With a wide range of products and top-notch customer service, Luminous has become a popular choice amongst buyers.
Moreover, Luminous offers a variety of after-sales services, including installation, maintenance, and repairs, making it a one-stop shop for all your inverter battery needs. Visit their website to learn more!Top of Form.