A lot of Windows users have found GeForce Experience error code 0x0003. If you guys face a problem on Windows 7, Windows 8, Windows 10, or 11, where NVIDIA GeForce Experience won't open or work. Then don't worry because today we will see how you can fix the problem.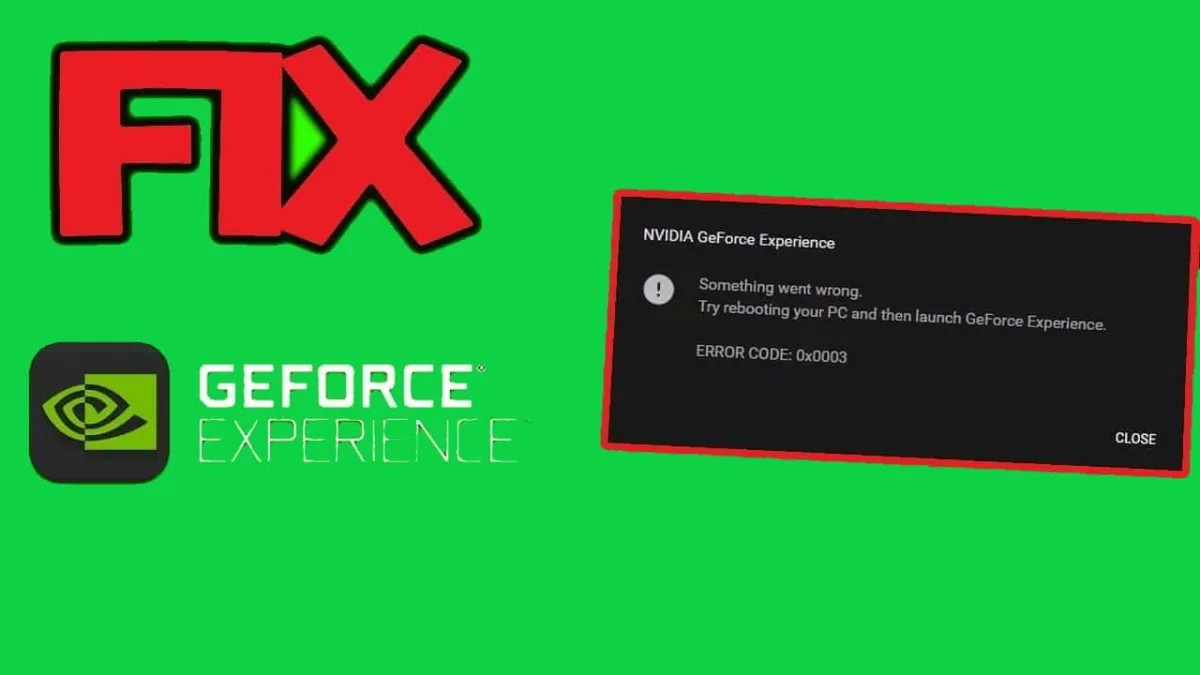 This is one of my personal experiences when I try to open the Nvidia Geforce Experience software on the desktop. Because I'm suspicious, why haven't the Nvidia drivers been updated lately?
It turned out that after I opened it, a popup window appeared whose contents were:
Something went wrong.

Try rebooting your PC and then launch Geforce Experience.
ERROR CODE: 0x0003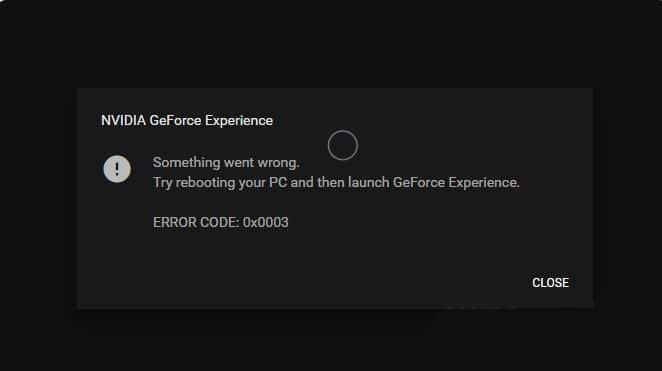 So, the cause of this error may be outdated, corrupted as well as incompatible graphics drivers. It is a faulty video card, recently installed software, as well as hardware, which may also be incompatible. Anyway, without wasting any time now let's see How you can Fix GeForce Experience Won't Open in Windows 10 along with the help of the tutorial below.
Reason Behind GeForce Experience Error Codes
These are some common errors, They will come while opening GeForce on your pc and these can be easily fixed.
The following issues can cause errors:
Outdated, Corrupt NVIDIA drivers.
Common NVIDIA services are stopped or not running
Internet network problems
Need to update Windows updates.
NVIDIA Telemetry Services Restrictions About Interacting With Desktops
So the above mentioned are the reasons that can make you face the NVIDIA Geforce Experience dialog box saying,  " Something went wrong. Try rebooting your PC and then launching GeForce Experience. ErrorCode: 0x0003. "
After you know the common causes of NVIDIA Geforce experience error code 0x0003. We provide a short solution for the same. Follow these steps to resolve the error in no time.
1. Stop and Relaunch GeForce Experience
This is the fastest solution to fix GeForce Experience error code 0x0003. Try restarting GeForce Experience by doing the following:
Open the task manager by pressing Ctrl + Shift + Esc.
On the Processes tab, select the Name column to set the task.
Select all NVIDIA tasks currently running and click End task.
Right-click on your GeForce Experience application icon and click  Run as administrator. Check to see if it works.
If you guys are still facing the error then try another method.
2. Update or Reinstall Every Nvidia Component
All you need to do is update your NVIDIA Drivers. If you can't update the driver via the GeForce Experience app, reinstall all components.
Many people who have tried with reinstall, were able to solve Nvidia GeForce Experience error Code 0x0003. For that you should try it, maybe this is suitable to overcome your error.
1. On the Windows 10 start menu, you type the keyword "cpl" or "control panel".
2. Go to Control Panel > Programs > Programs and Features
3. Right-click on Nvidia Geforce Experience, and select Uninstall.

4. After every application related to Geforce is uninstalled, restart the PC.
5. then you install Geforce Experience again, on a PC or computer, by downloading the software here.
6. Furthermore, if it is installed properly. You just need to log in as usual.
7. Finished
As I said before, everyone can experience different causes of the problem in this error code 0x0003. Well, how to fix it is also the same. Incidentally, I used the third method successfully.
There are actually 2 out of 10 cases, where Nvidia installs errors even after updating the driver. If that happens, there must be a problem with the Network Adapter. Follow the next steps to solve it too.
3. Resetting the Network Adapter
The third way, we try to reset the network adapter is via cmd.
Open the Run dialog box by pressing the Windows logo + R.
Next, write cmd in the box and press Ctrl + Shift + Enter.
This will open the Administrator command prompt. There, type command > "  netsh winsock reset  " and press Enter.
After that, all you have to do is restart your PC or Computer.

4. Applying Nvidia Telemetry
The first way, here we try to apply Nvidia Telemetry is so that we can interact with the desktop.
First of all, in the Windows 10 start menu search field, you type the keyword "run".
Next, type services.msc in Run.
If you have pressed Enter or select the OK button.
Then in the Services section, select NVIDIA Telemetry Container
After a pop-up window appears, you select the Log On the menu.
Select Local System account, and don't forget to check Allow services to interact with the desktop.
If you have selected Apply and OK.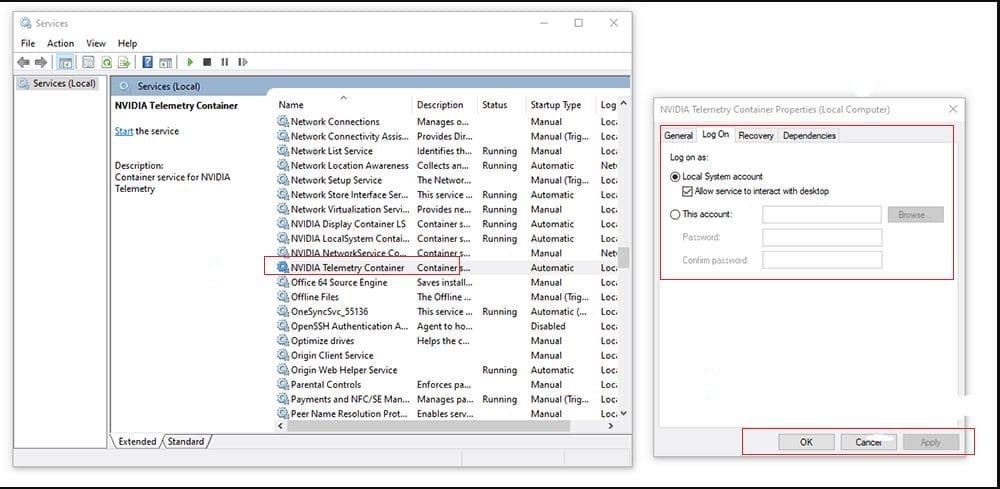 5. Check NVIDIA Services
One of the causes of GeForce Experience error code 0x0003 is that NVIDIA services are not running. Here's how to fix this problem:
Press Windows Key + R to open the Run command box.
Type services.msc and press Enter.
Check NVIDIA Display Container LS, NVIDIA Network Service Container, and NVIDIA Local System Container.
If it's not running, right-click the service and select Start.
Create a New User Account
While this might be an odd fix, many GeForce users have reported fixing their GeForce Experience error code 0x0003 by creating a new user account. To make this fix work, remove the NVIDIA apps and drivers and then reinstall them with the new user account as follows:
Press Windows Key + R to open the Run command box.
Type appwiz.cpl and press Enter to open the Programs and Features window.
Select Name to set the fields, then find the NVIDIA application.
For each NVIDIA application, right click and select Uninstall. Do this for each NVIDIA application in the list.
Restart your computer in Safe Mode.
Press Windows key + I to open Settings.
Select Account.
Select Family & Other Users.
Select Add another person to this PC
Follow the wizard until it says, "How will this person enter?".
Select I don't have this person's login information on this page.
Select Add user without Microsoft.
Enter your details and password, then complete the wizard.
As a new user, go to the GeForce Experience download page and select DOWNLOAD NOW to download the application.
Complete the installation wizard to install GeForce Experience, then allow the application to download and install the missing NVIDIA drivers.
Restart your computer and check to see if this resolves the error.
At The End
As I said before, everyone can experience different causes of the problem in this GeForce Experience error code 0x0003 or 0X0001. Well, how to fix it is also the same. Incidentally, I used the third method successfully.
This is an article about how to deal with error 0x003 in Nvidia Geforce Experience Windows 10. Hope this article can help you. Thank you.