EaseUS Data Recovery Review – Returning deleted data is the most common problem every Mac and Windows user. There were those who accidentally deleted their Favorite Photos on the Laptop while they were cleaning up, reinstallation, re-formatting, or other operational errors. Basically after deleting The files goes to Recycle Bin But If You can't find those important files then You can use EaseUS Data Recovery, The best Tool for restore deleted files easily.
So here in this article, we are going to give a quick review of EaseUS data recovery software for Mac and windows.
The advantage of this data recovery program is its use is very easy and simple. EaseUS Data Recovery Wizard is available in 3 versions; EaseUS Data Recovery Wizard Free, EaseUS Data Recovery Wizard Free Trial, and EaseUS Data Recovery Wizard Pro. You can try the free version with a file size limit of up to 2 GB. Many have tried it and feel satisfied with its performance.
We have seen a lot of reviews of the free version of EaseUS Data Recovery Wizard. To provide a clear comparison. They asked us to give an honest opinion about this software.here is the Review of EaseUS Data Recovery Wizard Pro.
Read More: How to Restore Deleted Photos From Gallery on PC and Android
EaseUS Data Recovery Wizard feature
Speaking of Features, this Software does three main things. The first is to restore deleted files, the second returns files from formatted devices and the third returns data or files that are suddenly lost. For different applications, you can back up the system as a false back if something happens with your device's Windows OS. For more details, here are the things you can do with the EaseUS Data Recovery Wizard software:
| | |
| --- | --- |
| Accidentally Deleted Files Recovery | Recover data quickly from unexpected loss caused by accidental deletion or virus attack. |
| Formatted Recovery | Formatting the disk will not delete data on the disk, only data in the address table. You still have a great chance to retrieve formatted data. |
| Recycle Bin Empty Data Recovery | Data deleted from the recycle bin is not a permanent wound. If you regret your decision, EaseUS Data Recovery software helps you in an effective way. |
| Lost Partition Recovery | Even if all your partitions are lost or cannot be recognized by the system, your data can still be recovered. |
| Hard Disk Damage | When the hard drive is damaged, it becomes inaccessible.EaseUS data recovery for free allows users to rediscover data. |
| Attack Recovery Virus | PCs are easily attacked by several unknown viruses or malware. This tool can quickly restore it. |
| OS Crash Recovery | Your data cannot be accessed on Windows systems that cannot boot. EaseUS provides WinPE to make bootable media to recover lost data. |
| RAW Partition Recovery | Hard disk or partition suddenly becomes RAW and cannot access stored data, you can directly download the best data recovery software. |
Read More: How to Deal with Duplicate Photos on Your Hard Drive?
How To Get And Install EaseUS Data Recovery For Free
To get the EaseUS Data Recovery program, you can download it directly from the developer site. Just Follow the steps below.
Open a web browser, then Visite this site: Data Recovery
From the page, you can click the Free Trial button. The installer program will be downloaded, wait until it's finished.
When finished, run the installer application until it's complete.
Types Supported by EaseUS Data Recovery Wizard Pro
| | |
| --- | --- |
| Device Support: | PC / laptop, Hard Drive, External Disk, SSD, USB Drive, Micro Card, Camcorder, Digital Camer, Music Player, Video Player, RAID, CF / SD Card, Pen Drive, Other Storage Devices |
| Operating system | Windows, Mac, iOS, Android |
| Document | DOC / DOCX, XLS / XLSX, PPT / PPTX, PDF, CWK, HTML / HTM, INDD, EPS, and so on: |
| Graphics | JPG / JPEG, TIFF / TIF, PNG, BMP, GIF, PSD, CRW, CR2, NEF, ORF, SR2, MRW, DCR, WMF, RAW, SWF, SVG, RAF, DNG, etc. |
| Video | AVI, MOV, MP4, M4V, 3GP, 3G2, WMV, MKV, ASF, FLV, SWF, MPG, RM / RMVB, MPEG, etc. |
| Audio | AIF / AIFF, M4A, MP3, WAV, WMA, APE, MID / MIDI, RealAudio, VQF, FLV, MKV, MPG, M4V, RM / RMVB, OGG, AAC, WMV, APE, etc. |
| E-mail | PST, DBX, EMLX, etc. (from Outlook, Outlook Express, etc. |
| Others | Such as Archives (ZIP, RAR, SIT, ISO etc.), exe, HTML, SITX, etc. |
How To Recover Deleted Data using EaseUS Data Recovery
To restore data from storage media, the following standard procedures
1. First, run the EaseUS Data Recovery Wizard Free Edition program as Administrator (Run as Administrator.
2. On the main interface screen, you will get a choice of the type or format of the file you want to recover.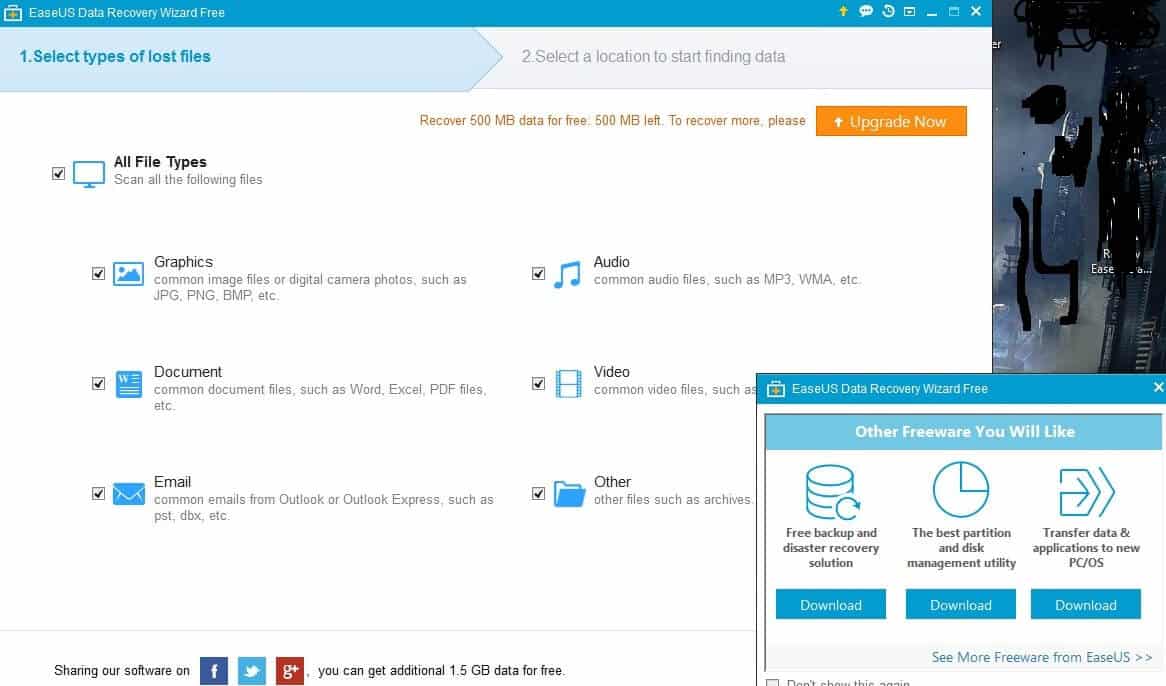 3. After selecting the file type, click Next.
4. On the next screen, select the drive to be scanned.
5. Next, the program will start scanning the directory structure and the data recorded on the storage media that was selected.
6. The next screen will display the results of the scanning that has been done. This screen consists of two panels: The left panel contains the storage media directory structure, while the right panel lists the files recorded in the selected folder in the left panel.
7. Folders and files that have been deleted from the storage media are marked with a small red letter on the icon.
8. To restore deleted files or folders, just right-click the desired file/folder and select the Recover menu.
9. If a missing file is not detected after the first scan, you can press the Deep Scan button. Deep Scan is a scanning mode that is more in the way of extracting data that has been recorded on storage media. But scanning this mode obviously takes longer than the first.
Conclusion:
Now comes the end of the review, EaseUS Data Recovery Wizard is the best software to restore deleted, formatted, or lost data for no apparent reason on your PC. Maturity is the main key of this Software to be the best in carrying out its duties.
[kkstarratings]