Photos that have been erased intentionally or unintentionally, it can be turned out to be easily returned. Here, I am going to show you how to Restore Deleted Photos From Gallery on PC and Android on PC or Android.
Hundreds and even thousands of photos are now definitely stored on technology devices, both PC / laptop and smartphone.
Problems then arise when important photos are accidentally deleted, or accidentally formatted from your device storage or SD card but then you want the photo back.
Just calm down, this time I will tell you how to restore lost photos.
How to Restore Deleted Photos From Gallery
Photo collections in this age will usually be stored not in photo albums, but in storage on PC / laptop or smartphone.
Then what if we intentionally or unintentionally lose important photos? No need to worry, you can return it easily using several methods below.
Read More: Best Sites To Download Cracked Android apps apk
How to recover deleted photos on Android
The First method is only for Android, There is no matter what type of mobile you are using like MI Redmi, Samsung galaxy, Vivo, Oppo or iPhone.
Relax, you don't need to root your Android.
All you need is the default Google Photos application. In addition, of course, you can use other applications that are available for free both in the Play Store and in other application stores.
1. Using Google Photos
Google Photos is now one of the default Photo gallery applications from Google that functions for file management in the form of photos and videos that are widely used by Android smartphone users.
This one application has various advantages, one of which stores thousands of photos that you have even deleted or deleted.
In other words, you can easily restore deleted photos in this application. How? Simply follow the steps below:
Open the Google Photos application on your Android smartphone. Then select the three-line icon in the upper left.
Continue by selecting the Trash option.
The application will then display all photos that have been on your Android device, including those that have been deleted. Select one or more photos that you want to return.
Select the three-point icon in the upper right, then select Restore. The photo will automatically reappear in the gallery.
This is the simple or complete way to restore deleted photos using Google Photos.
Must Read: 5 The Best and Fast Download Manager For Android
2. Using Photo Returning Software or Applications APK
For those of you who prefer to use other gallery applications, aka not using Google Photos, in fact, many other applications that you can use to restore photos.
One of them is the Dumpster application. This one application can be said as the Android recycle bin. Yes, you can manage all files (including photos) and organize deleted files.
Then how do I restore deleted photos using Dumpster? Just follow the easy steps below:
1. Install the Dumpster application on your smartphone or Android device.
[maxbutton id="1″ url="https://play.google.com/store/apps/details?id=com.baloota.dumpster" text="Dumpster – Recycle Bin" ]
2. Now Open the application and select the three-line icon located on the top left. Continue by selecting the Deep Scan Recovery option.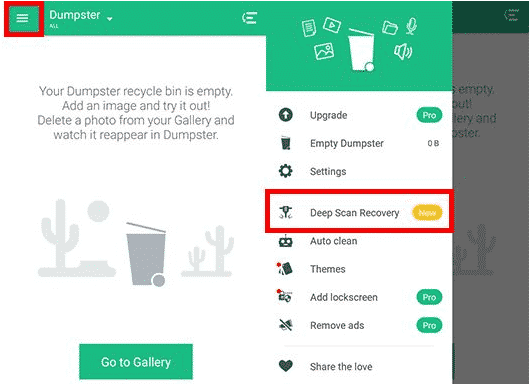 3. The application will then bring up all photos that have ever been and have been deleted from your Android device. Select one or more photos that you want to return.
4. After opening the photo, select Restore to Gallery. The pictures will then automatically appear again in the smartphone gallery.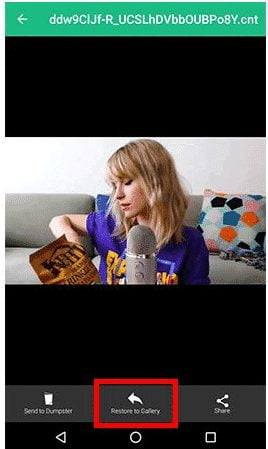 Besides Dumpster and other Android applications that are also available in the Play Store, you can use the help of other applications or software on a PC. One of them is Wondershare Dr.Fone.
Also Read: Top Free Virtual Credit Card (VCC) Providers (Working )
How to restore deleted photos on a PC / laptop
In addition to Android, the problem of losing photos is also often experienced by users who store their photos on their PC or laptop. No need to worry because I will also give you an easy way to restore it on a PC / laptop.
There are four methods that you can do and are relatively easy to restore your favorite photos. Like what? Here are four ways.
1. Check the Recycle Bin
This first way is definitely you know. But to be sure, the first thing you should check when you want to restore deleted photos is the Recycle Bin.
Yes, the 'trash bin' that is on the computer or laptop is a temporary dump for files that users have deleted. Automatically, the photos that you have accidentally deleted or are still accidentally stored here.
By accessing this one place, you can restore deleted photos to reappear to the storage space and you can use them for various purposes.
The trick is to select the photo you want to restore, right-click on the mouse and select Restore. The photo will then automatically return to the PC / laptop device.
2. Use Restore Features Previous Versions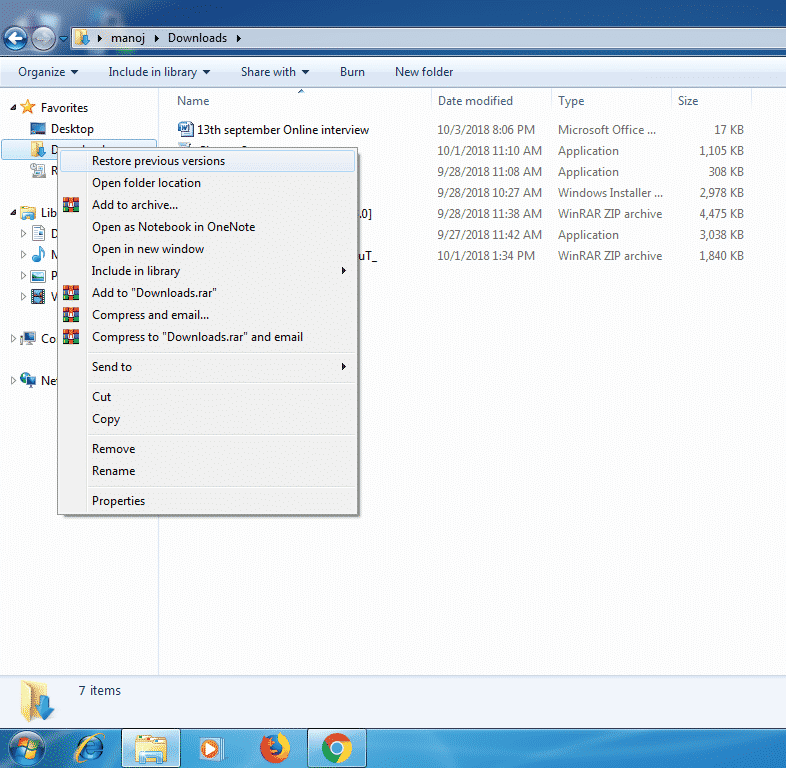 You checked and did not find the photo you meant in the Recycle Bin? Do not worry! There are still other ways you can do to find the photo you are looking for.
You just have to go to the last folder where the photo was located before it was deleted. Right-click on the mouse then select Restore Previous Versions. A folder will appear where the last photo is located and you can restore it to restore it.
3. If Need, Use Special Software
If the default features above are not enough, you can try various special software that can help you restore photos. Next, please give recommendations for some software that you can try:
MiniTool Partition Recovery
Recuva
Wise Data Recovery
PC Inspector File Recovery
4. Protect Data (Photos)
Prevent is better than treat. The phrase is suitable for describing this one way. Yes, if you don't want to lose important photos, back up the data first.
Copy the photos to a device other than a PC or laptop that you use as a storage area. That way, if the photos on your PC / laptop are lost, you can copy the photos that you have saved on another device.
The final word
That is an easy way to Restore Deleted Photos From Gallery on your PC / laptop or on your smartphone or Android device. Now you can restore important photos anytime without having to root your favorite smartphone. Good luck!