Backlinks are an essential part of high ranking in search engines. If the website owner wants to receive organic traffic from search pages, then it is crucial to understand and use proper backlinks strategies. Backlinks (or "incoming links") are like votes from other web pages making your website authoritative and relevant for the search engines. The backlinks profile gives up to 70% of the success of high ranking.
The website owner should pay special attention to the backlinks strategy. In the beginning, backlinks should be placed appropriately on trusted websites. However, after some time, when your products or service become popular, you may expect backlink placements by themselves. In some cases, the boost appearance of backlinks is a signal of a hacker attack. In this article, the most effective backlink strategy is discussed.
How to get backlinks
There are several ways how to get backlinks; you can choose one method or use all of them. The presented list is full of methods if you are more interested in quantity. On the other hand, if you are interested in quality links from trusted websites, you should skip points four and five and always check the history and visitors of websites for other points.
1. Find websites/ forums with a similar topic to yours
You can insert the link to your website manually in comments or ask a website manager to insert the link into the content. Typically, all websites welcome guest posts, where you describe the relevant experience or product and insert the link organically. If the contacted website has significant traffic and is popular, you will need to agree on payment for this service.
2. Contact your partners/vendors/suppliers/retailers
All companies now have websites, so you can contact them and ask for a link to your site. Most partners prefer to have a list of companies they work with and provide such a service for free.
3.  Find a blogger or agency that can prepare product/service reviews
Many bloggers/influencers/agencies become popular on social networks making reviews on products or services. You need to find the one relevant to your niche and ask to be included with the link in the next one.
Usually, this will not be free. Another way to pay for this service is to insert an affiliate link in their review. The influencer/blogger or agency will receive a commission from each purchase on your website.
4. Create a virus content with a video/infographic about your product/service
The most creative way to receive low-quality traffic is virus content (for example, viral video). If you create virus content, you can't control where it will be published anymore. Unfortunately, most traffic will not purchase on your website, but this method is suitable for increasing brand awareness.
But be careful of constant usage, as appearing in a non-relevant and low-ranking domain leads to penalties from search engines.
5. Сreate a free product useful for wide auditory
Another way to increase brand awareness, but more complicated, is to prepare a product/research useful for many people.
Unfortunately, this solution also does not guarantee sales and high ranking by search engines.
6. Increase your presence on social networks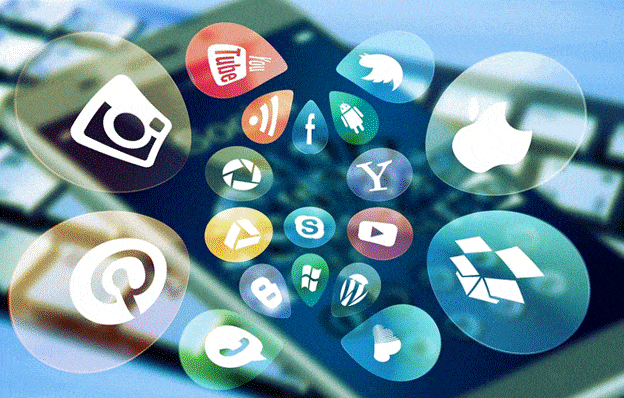 Social media is not only a communication tool with friends and relatives but also a convenient way to have close contact with your Customers. You can publish press releases about your new products or services, company news, or any other relevant information.
In each publication, you need to insert a backlink. Nowadays, companies should have a webpage on one or two social media; the more active you are there, the more trust you have and the more clients you have.
7. Keep an eye on your competitors
If you are a newcomer in the website promotion business, the perfect way to learn is to look at the market's successful players. Then, by checking the websites where others put their backlinks, you can create your list of preferable places.
These methods are the easiest for execution and allow backlink campaign performance.
How to evaluate backlinks
As you see, there are numerous possibilities to get backlinks, but how to evaluate them? Whether they come from trusted websites or not, they are relevant and valued by search engines. Therefore, you may order the backlink campaign from a third party or do not trust your own manual research about the quality of used domains. For this purpose, you may use numerous link monitoring tools.
For example, LinkCheck.io provides detailed statistics about the linking website's URL, the number of indexed links, their rel tags, removed links, and domain authority. With this analysis, you can evaluate how many backlinks are working to achieve high-ranking status, which content is more popular, and where to publish new links. You can filter backlinks per their popularity, the most popular will be on top, and they come from trustable websites.
Regularly estimating the organic traffic quantity from each link is the perfect foundation for a backlink strategy. You can use separate tools for link monitoring or perform a full SEO audit, where your backlinks profile will be included in the off-site SEO results.
Conclusion
Large quantities of backlinks add value to your website. External links to the homepage help to find your website, while links to the content pages help in navigation and give more "votes" at search engine evaluations. Backlinks remain one of Google's most powerful ranking factors for many years, so do not neglect the backlinks monitoring tools to obtain a good backlink profile. Of course, many other SEO factors influence ranking, but backlinks are an excellent way to start.
Manual backlink management is time-consuming and only sometimes effective way of working. But it is essential to have a large number of quality backlinks from trusted websites for all web pages of your resource. Furthermore, you should be active in communication with other platforms and websites, creating quality content and colorful product or service presentations, and creating your company pages in social networks to achieve status when your website is cited not because you paid for it but because your product and service are worth it and everybody knows this.