Are you looking for a way to keep up with the latest TikTok trends, even though it's banned in your country? Maybe someone has already told you that it's impossible because allowed countries are the only ones who can access it. But here's some good news: You don't have to miss out on all those awesome videos!
This blog post will discuss how you can use TikTok (or some of its features) even if it's illegal in your country. We'll talk about which countries have banned TikTok, why they chose to do so, and how people can access the content within the restrictions imposed. With some clever thinking and outside-of-the-box tips here and there – you will be able to take advantage of all that's beautiful that makes up the world's biggest short video-sharing platform.
Ready? Let's get started!
Why everyone loves TikTok?
TikTok is a social media app that's become hugely popular recently, especially among younger users. It's known for its fun, creative videos that are easy to make and share with your friends.
TikTok has become an outlet of creativity and entertainment during the pandemic, as people have sought out new ways to stay connected while in lockdown. As well as filling the extra time, it has allowed me to spread joy with friends and strangers.
You can showcase your talent, lip-sync to your favorite songs, and even make original content. Creating a viral video can help you express yourself, connect with others, and make you famous!
Plus, if you're feeling creative, you can add special effects to your videos. From filters and stickers to AR lenses and more, TikTok has tons of ways to make your content stand out.
How To Use Tiktok In Banned Country?
In a country where TikTok is banned, getting the app and accessing your content can be tricky. Existing users may be able to keep using the app but have reported problems updating to newer versions. New users need more luck since ISPs in those countries have been ordered to block TikTok downloads.
If you wish to continue using TikTok, you can circumvent its ban using a virtual private network like iTop VPN.
What Are the Reasons for Banning TikTok in Some Countries?
TikTok has faced heavy criticism in countries like India, the United States, and Australia. Critics have accused the app of hosting inappropriate content for children and collecting data on its users without informing them.
India has even gone so far as to ban the app, citing security concerns. Other countries are also considering bans, citing similar security risks. According to some experts, the app could spread misinformation and divisive content across borders, causing even more unrest worldwide.
Additionally, some countries are concerned that TikTok is used to spread cultural influences from other nations, which they do not wish to encourage.
For example, some countries have expressed concerns that the app is encouraging younger generations to adopt foreign cultural values over their own. Ultimately, the reasons for banning TikTok vary from country to country.
Many users rely on the app for their livelihoods, and a ban could potentially have devastating economic consequences. With so much at stake, it is essential for governments to carefully consider the risks and benefits of banning the app before taking action.
Ultimately, every country must decide how to approach TikTok and determine if it poses a significant enough risk to justify a ban.
iTop VPN's top features include:
A safe VPN for Windows, Mac, and iOS devices
Multi-device connectivity
In more than 100 locations, there are over 1800 VPN servers
Game, stream, and social media servers
Maintain privacy by avoiding attacks
How to Connect to TikTok Using a VPN: Step-by-Step Guide
Unblocking TikTok with a VPN is a great way to bypass region restrictions or bans. iTop VPN for TikTok provides free and unlimited access to all your favorite videos wherever you are. Plus, you can protect your device and data with enhanced security features.
Below are steps on how to use tiktok in banned country:
Step 1:Download VPN for PC and Install on your device. Use the Windows version of TikTok if you have installed the PC program.
Step 2: Click Connect after launching iTop VPN. Your location will determine which server is the fastest and most stable. To select a server manually, tap on All Servers and select a location.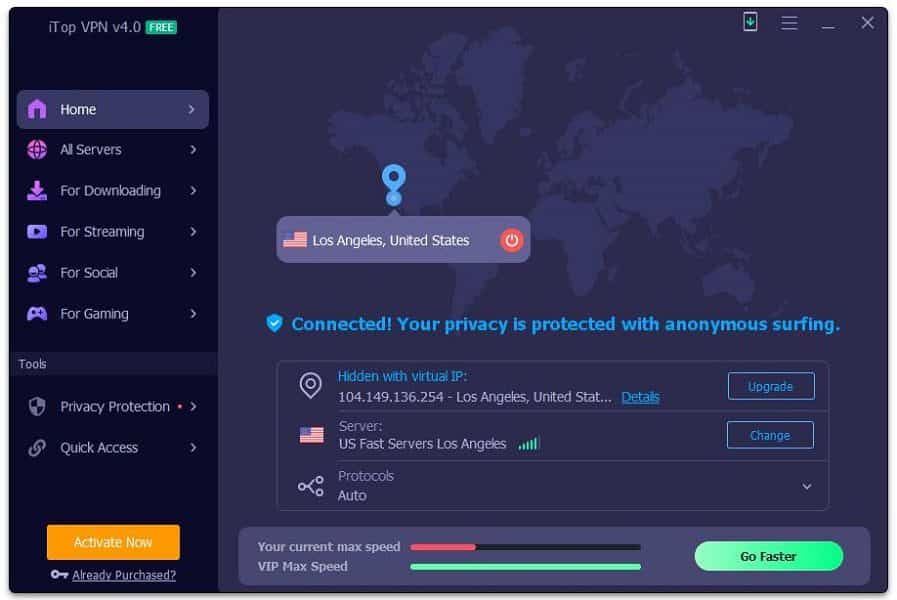 Step 3: You successfully connect to iTop VPN once it says connected. Go to the TikTok app for secure access and unlimited access.
FAQs
Is TikTok able to detect VPN connections?
If you're a fan of TikTok, you may have heard the rumor that it can detect when someone is using VPN to access the app. While it's true that TikTok has some VPN-detection measures in place, the accuracy of this detection is less than 100 percent. To avoid this risk, iTop VPN is recommended to avoid this risk because it provides total digital anonymity.
VPN Access to TikTok is Legal if Your Country Banned it?
Even if TikTok is banned in your country, it doesn't mean you can't access it. Laws about the social media app only apply to stores and internet service providers, not individual users. Authorities may impose fines or other legal actions if you try to access TikTok through a VPN in your country. Before accessing the platform, you should familiarise yourself with local laws.
How do I access TikTok in a blocked country?
Sign up for a VPN, like iTop VPN, and install the app on your device. To set up your VPN, you only need to enter its server address and login credentials. You'll be connected to secure, encrypted internet access with a few clicks. Enjoy accessing any website or service without worrying about being monitored. Plus, you can feel safe knowing that all your data is secure and private.
Conclusion 
If you live in a country that has banned TikTok, don't despair. iTop VPN can help you access the popular social media platform no matter where you are. With iTop VPN, you can bypass the restrictions and access Tiktok from outside your country's borders. With iTop VPN, all your data is encrypted, and you can enjoy browsing the internet safely and securely. So no matter where you are, you can still enjoy the fun, and entertainment TikTok offers.