With all sorts of new hosting solutions popping up left and right, the need to make a decision for a new hosting provider is becoming more and more difficult with time. However, I am here today to talk RoseHosting; a well-established hosting service that has proven its top position through high ratings and high ranking and I can see why this is the case after trying them out for a while.
I got to try RoseHosting (rosehosting.com) with an SSD 2 VPS and in the month or so of me using it, I was blown away compared to the other hosting services out there in terms of response time, support, performance, and the overall experience. Let's go more in-depth into what makes RoseHosting so special.
FULLY MANAGED SUPPORT
Above all, if I were asked to give only one reason to go with RoseHosting, it would be for the unparalleled support that I have received over the past month. After encountering several issues with Joomla's setup and installation, I turned to RoseHosting's support team for help. It was an eye-opening moment for me, seeing them solve my issue in minutes while I spent hours searching to no avail.
As it turns out, having fully managed support is a very big deal. It not only allows for basic support for the server, but it also covers support for any software that you have installed or are trying to install on your server. This is something that should be looked for in a VPS. And then trying to install on your server. This is something that should be looked for in a VPS. And the best part – it's included for free with any hosting choice!
And even if you find yourself not satisfied with the service that RoseHosting is offering, they also include a 7-day money-back guarantee in case you find the hosting not up to your standards (something I can't imagine happening).
THE PRICE
RoseHosting has extremely competitive pricing compared to the rest of the market – often being as similarly priced or even cheaper than the competitors, all while including a bunch of freebies such as the fully managed support I mentioned earlier, along with free migration, 100% uptime, and SSD storage, which ensures fast load-times and high performance.
VPS Hosting

VPSes are the future of web-hosting. Offering an excellent balance between performance, flexibility, and price, it's easy to see why this is the most popular choice for hosting. As can be seen above, the prices are very reasonable for what is included, especially when all options have SSDs — still a rare sight these days. Of course, you get to pick what distribution of a Linux server operating system you would like installed, ranging anywhere from CentOS to Ubuntu.
The base offer has 30GB of SSD space and 2TB of data bandwidth, while the higher-end option has 150GB of SSD space and a whopping 8TB of data! While the prices here might be more costly than shared hosting, the benefits that cost only a few extra dollars a month more than make up for the price difference. Comforts such as root access, Java services, free DNS hosting, and custom control panels all help make the server experience that much more enjoyable.
And even if the configurations offered as regular options are not built to your standards, you can create a custom VPS that will have any specific attributes that you need. Whether it's more CPU, more allocated data usage, or just more storage, they'll be able to hook you up with the server that's best for your needs.
If however, the lower-end configurations are not enough, you can always go for the high-end VPS plans, which as an added bonus include a free copy of cPanel or DirectAdmin!
Check More details About VPS Hosting
Dedicated Servers

These server offers are for the people who need raw power – this is a real physical server now, instead of it being a virtual server run inside of a real server. This way, the resources are only allocated to your needs, and that's it.
This is not for the casual user; the prices reflect the amount of power and resources that are offered, ranging from a dual-core Xeon E3 with a 500GB SSD RAID 5 setup, all the way up to a quad-core Xeon E3 with twice the ram and 5TB of allocated data usage.
The benefit of a dedicated server comes with the management – it's your server, you're the root user, and you can run and do whatever you like with it, without risking hitting the resource limits that you would have hit with a VPS.
And just like the VPS options, there are high-end plans here as well, offering massive amounts of resources and power, which also include a free copy of DirectAdmin.
Check More details About Dedicated Servers
Shared Hosting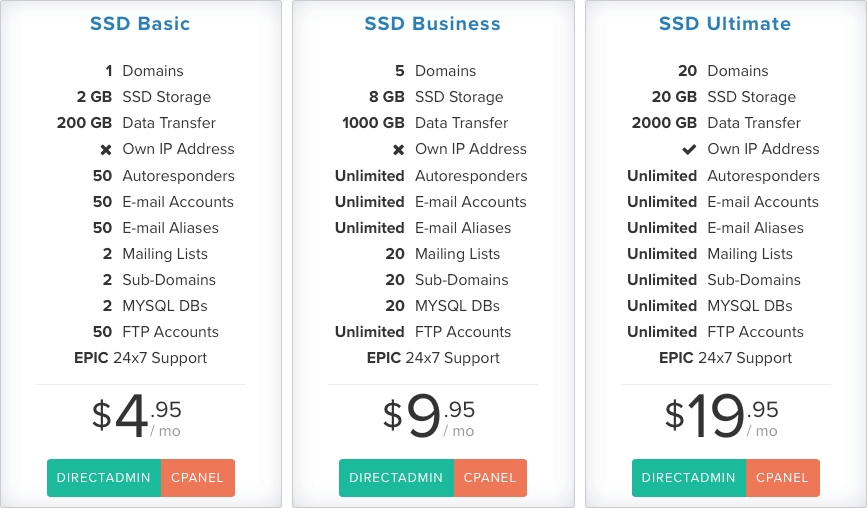 This is the cost-effective tool of choice for people not looking for power or expandability. With some of the cheapest prices on the market, shared hosting allows for almost anyone to get started in the world of web-hosting.
And even at this price point, you still get to have SSD storage, something that I have not seen offered by other hosts.
While you do miss out on some of the features offered by VPS hosting, you still are getting quite a lot for the price. Features such as the fully managed support, 100% uptime, and the free migration all are included in even the cheapest shared host.
Check More details About Shared Hosting
RELIABILITY AND UPTIME
In the month that I have been using my VPS, I can confirm that I have not had to restart even once. Part of this is due to all of the servers running solely on Linux distributions; another reason is the legendary 100% uptime that RoseHosting promises to all of their users.
THE GOOD AND THE BAD
Things I like about RoseHosting:
– The cost to Feature Ratio.
A number of features that are included for the price make me want to ask them "Okay, but what's the catch?" And as it turns out, there is no catch. Great feature list, paired with a great price.
– Exemplary Support Team
From personal experience alone I can say that their support team is one of their strongest selling points. What's good is that it's not just my experience with their support that has been glowing – there are a bunch of reviews online of RoseHosting from other users like me, and you'll be hearing a lot of what I've been saying. Timely support, with quick and painless fixes.
One thing that I don't like:
– The features that are included with every server could be made more visible This would help people find that RoseHosting is actually including a lot more than it seems for the price.
ROSEHOSTING'S AMAZING AFFILIATE PROGRAM
One interesting tool that RoseHosting offers is their very enticing affiliate program. You simply sign up, which will then present you with a link which can be sent to your friends or coworkers in need of a server. And for any server that your friends sign up with after clicking that link, a 50% commission is given to you after their first payment.
And get this — you get a 10% commission for every month of service afterward. And as an extra incentive, if you refer 10 or more sales in a month, you get a $50 bonus! Here is a link to their affiliate program if you are interested in applying: Affiliate program (Make link with URL Rosehosting. VPS affiliate Program)
Conclusion
After a month of testing, breaking things, having them fixed by RoseHosting's support team, testing some more, and just some plain experimentation, the choice is made clear — you can't go wrong with RoseHosting. It doesn't matter what you plan on doing with your server, since no matter the needs, they've got the right tool for the job. And should you run into issues, their support team is there to help fix any issues or help answer any questions that you have.