All SEO professionals will tell you. A good SEO tool is very important for an analysis of keywords and positions of your competitors. Recently when I asked more 50 SEO experts about their favorite SEO tool, among 42 of them recommended SEMRush. This is one of the best tools to analyze the keywords and site SEO of your competition. It is one of the most complete and effective.
Which drew my attention for doing a deep study of SEMRush. I have personally been using for over 6 months & The SEMRush help me to understand Competitors Keywords, hidden methods, how to find competitors backlinks, traffic sources and much more.
So Here I am going to do a deep analyze of SEMRush and also discuss here why use SEMRush?
Before Start, we need to know more about SEMRush.
What is SEMRush?
SEMRush is one of the best tools for conducting keyword research and competitor analysis. If you are a blogger, you already know the importance of driving traffic from search engines to your website.
But increasing sites organic traffic is not easy. It takes a lot of time, needs to do lots of research and high performing keywords. One of the most effective ways to find profitable keywords is to research your competitors.
If you find and analyze the keywords used by top blogs and websites in your industry, you'll get a better idea on how to create a perfect content creation strategy to increase your overall search engine traffic.
This is where SEMRush comes into play. This will help you easily research your competitor's keywords, backlinks, and almost everything.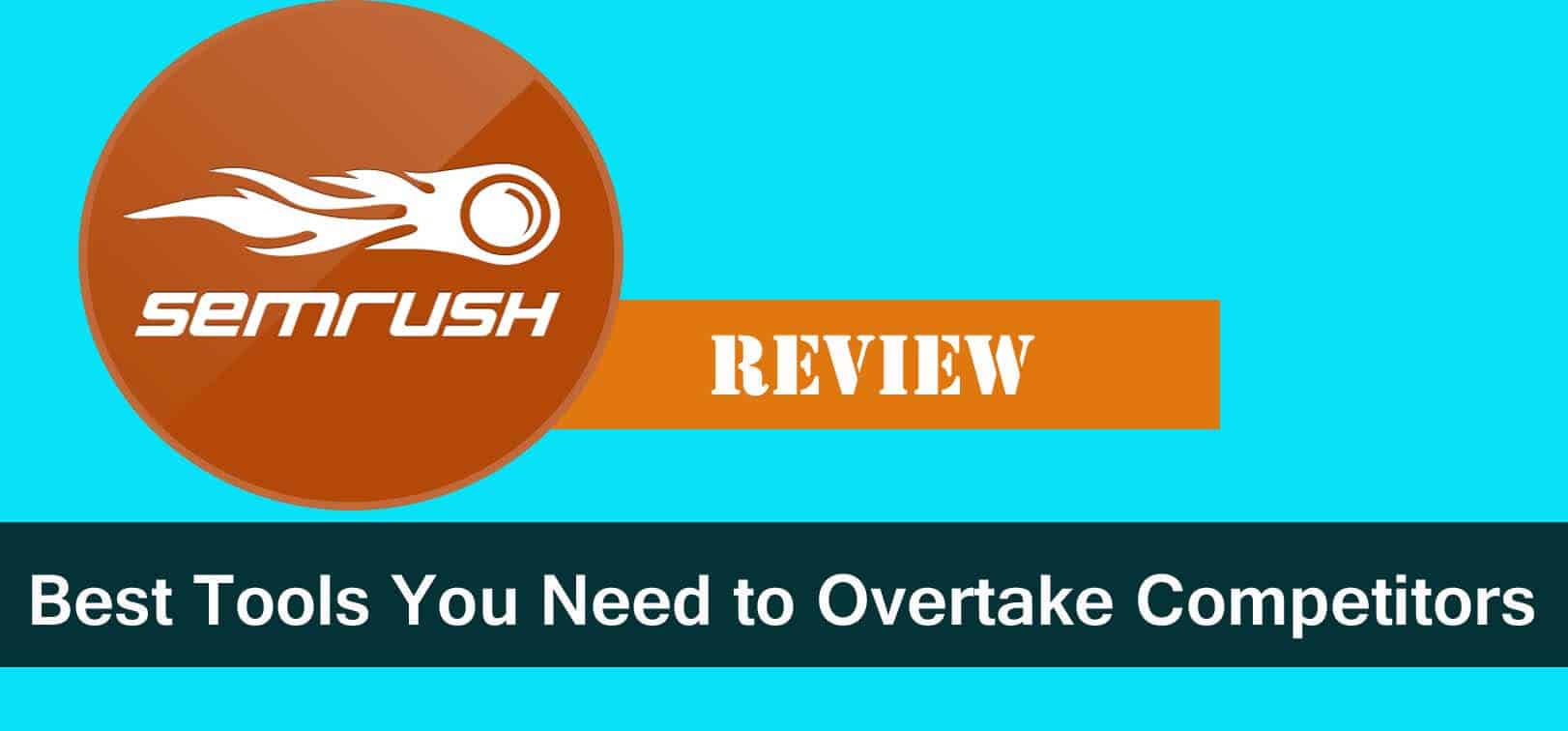 Why do you need an SEO tool?
First thing, Why do you need tools to perform well in search results?
Your positioning according to your keywords
Suggestions for keywords
All inbound and outbound links to your site
The positioning of your competitors on their keywords and their SEO strategy
The health of your site via a full SEO audit of your entire domain
SEMRush is not just a regular keyword research tool, it's much more than that. This tool gives you access to research on your competitors' keywords and will also help you identify new keyword opportunities.
I only recommend the products I love. I've been using it for some time now and I'm happy with the results and I find it useful for bloggers who want to increase their organic traffic and find better keywords to outperform their competitors.
Click here to get 30 days free trial from SEMRush without paying anything.
Now let's dive into the details of SEMRush Reviews to find out what it has to offer.
Contains SEMRush review: why use SEMRush?
Created by SEO professionals for SEO benefits
The SEMRush tool is created by professional SEO and SEM. This tool has huge data of 120 million plus keywords and about 46 million domains including AdWords ad copy and position, the organic position for domain and landing URL, search volume, CPC, competition, result count, and more.
It is used by giant sites like Philips, PayPal, Forbes, Hyatt etc. It also has 29 databases to provide accurate results to find the number of backlinks and website search traffic gets.
Research competitors
This premium SEO tool provides the most in-depth data containing keywords your competitors are using along with backlink counting.
Why find your competitor's keywords?
To generate new keyword ideas for your future blog posts to increase your overall search traffic
To better understand your competitor's audience
To expand your website content strategy in the right direction
To find keywords that generate more traffic to your competitor's website (you can use some of them in your post to increase your traffic as well, all you have to do is to use the Skyscraper technique )
To find high performing keywords to increase your overall search traffic without wasting your time on keyword research.
Using SEMRush, you can easily find out all the top keywords that are sending more search engine traffic to your competitor's blog. You can also find major competitors using this tool.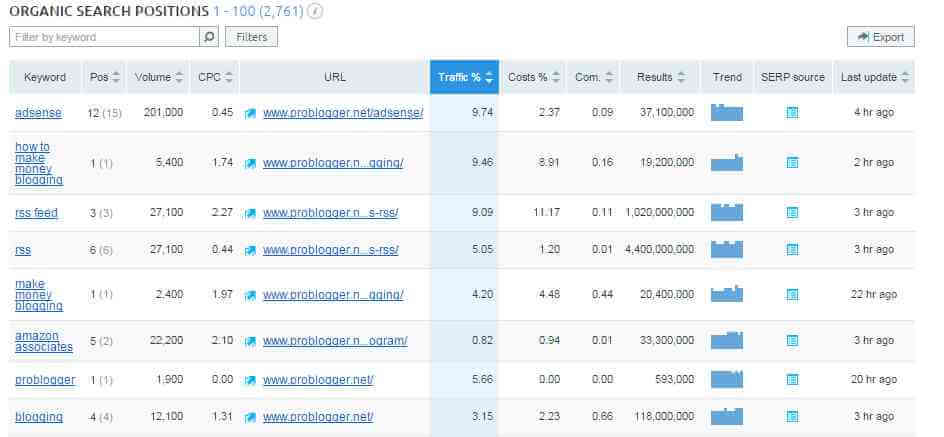 You'll get a clear idea of how much search traffic your competitor's site gets each and every day using this search marketing tool.
Keyword analysis
Want to do a deep keyword analysis? Then try this tool.
While there are many keyword research tools out there including Google Keyword Planner, Long Tail Pro, Moz tool etc., SEMRush provides accurate keyword data to find the most profitable keywords for each niche.
this tool is able to give you the search volumes according to their estimates, corresponding keywords, as well as suggestions of keywords associated.
The tool also offers you a concordance tab where you will find hundreds of thousands of keyword suggestions related to the one you entered in the bar.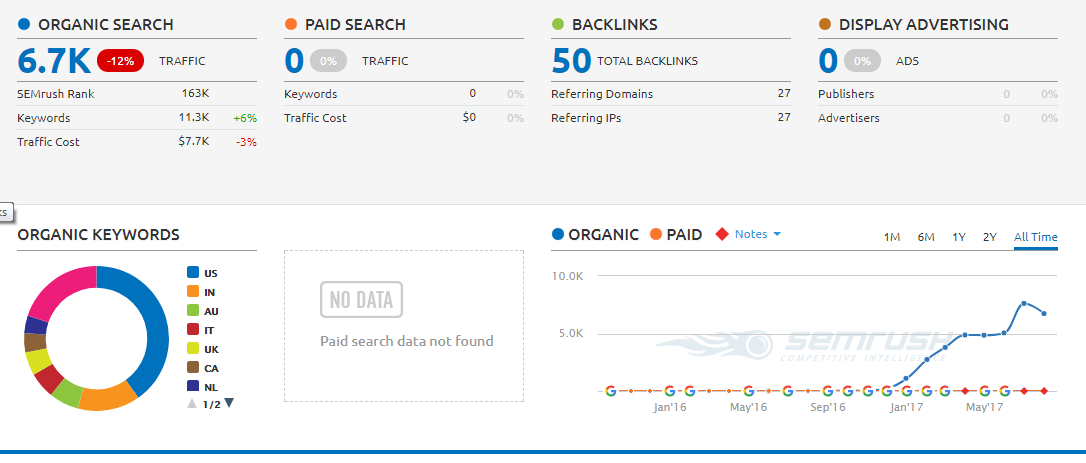 Backlink analysis
Although the tool was basically addressed to SEA (Search Engine Advertising) practice, over the years it has quickly become a comprehensive tool integrating all facets of SEO. This way, you can easily observe the number of incoming links to your competitor's site or yours.
Just enter their domain and this tool gives you a list of all the backlink's total data.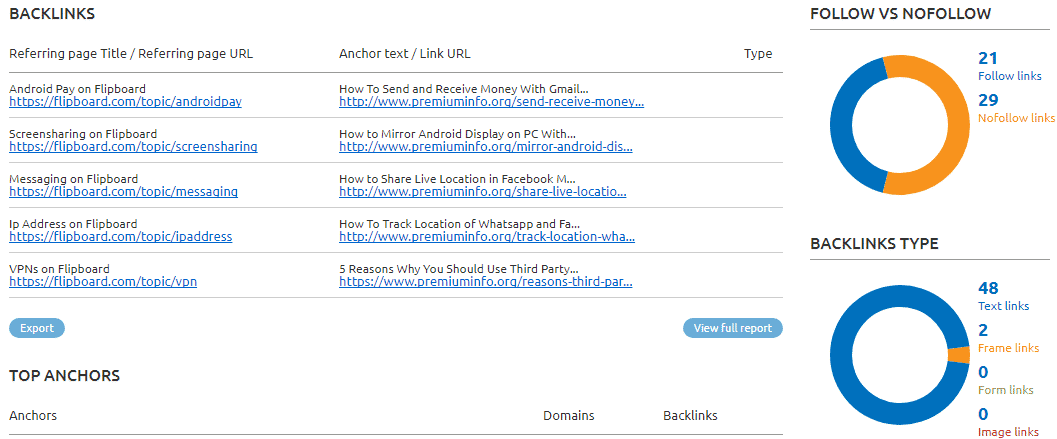 No matter if you are trying to increase organic traffic or analyze your competitor's site traffic, you need one important data and that is backlink analysis. If you know how many keywords are pointing to a site, you will be able to easily create the perfect SEO strategy for your site to improve rankings.
You can How can I get High-quality backlink using Semrush.
Doing backlink analysis is easy by using SEMRush. It shows all the links in the do follow and no follow pie chart options to find out the number of quality backlinks of any site. It also shows you how much the number of backlinks the site has included the referring domain. This is a good metric when analyzing backlinks from sites to increase your overall search traffic.
Site audit Tool
SEMrush will scan your entire site and get you all the errors that can alter your SEO on the search engines. Many errors can be brought to your attention such as:
Duplicate Content
Untitled Pages
Errors 5XX and 4XX
Problems in the tag
And dozens of others!
Honestly, to our knowledge, it is a complete automated auditing tool. SEMRush later. It gives you a list of all the problems your website has and explains how to solve them.
Read more Most Useful Online Tools To Know About A Website
If you are having a hard time improving your search traffic site even though you post quality content, you need to know the gap in your website. By doing a thorough site audit on your blog, you'll easily be able to find out what's missing.
SEMRush database
This tool is indexing over 20 results on over 120 million keywords in over 46 million domains. That's great data. So all in all, the SEMRush tool has a huge collection of data that you can use to destroy your competitors.
Some SEMRush Position Features
This SEMRush review will not be complete without a list of the best features. Want to know all the features that this tool offers to its users? Here I have compiled a list of features in one place.
See best competitors' keywords
Find new organic competitors
Observe domain position changes
Uncover Your Competitive Advertising Strategy and Budget
Analyze your Rivals Online Ad Copy and Keywords
Find New Competitors in AdWords and Bing Ads
Localize your Ad Campaign
View publishers and advertisers
Analyze competitor display ads
Spot new publisher
View displays from different devices
Track each domain or keyword from each location
Find local competitors
Group of keywords with tags
Conduct deep link analysis
Understanding referring to domain authorities'
Check the backlink type '
Spot your link geolocation '
Find the right keywords for SEO and PPC campaigns
Gather phrase matches and related keywords
Get long tail keywords
Explore multinational and multilingual environments
So what do you need to know before you buy SEMRush?
I will be honest with my SEMRush review here. I have been using this tool for more than occasionally now and I see so many positive results from my SEO efforts. Not only did I see huge traffic growth in my blog search traffic but I was able to find and compete for the best performing keywords from competitor sites.
We all know improving keyword ranking is a tedious task even if you are good at SEO. You need to master the art of SEO strategies to improve your search engine ranking. Unless you have access to some great SEO tools, you will not be able to bring more traffic from search engines to your site especially if you are a newbie.
I know that getting # 1 results on Google is really difficult, but you can always try to reach there or at least on the first page, then focus on improving your web design, increase your loading time, build backlinks to improve its SERP ranking. This is where a tool like SEMRush helps you.
Our opinion about SEMrush
SEMRush is the ultimate SEO tool that helps you spy on your competitors' keywords along with backlink analysis. Use this tool to your advantage to increase your overall traffic.
All in all, this is the best SEO tool that will help you increase organic traffic by also spying on your competitor's on a keyword. Do not hesitate to buy SEMRush, you can also try their 30-day pro free account worth $ 69 before making a decision.
If you like this SEMRush review, please share it with your friends, who you think this tool will be useful for.