In fact, the IT sphere is one of the most popular, promising, and highly paid-professions in the 21st century. So, if you are looking for the career of your dreams – we highly advise you to pay attention to online coding courses. It's where you will get the necessary knowledge and skills for technological career development.
Becoming a developer does not need three, five, and more years of university studies, passing exams, and getting grades. With GoIT, you will have the necessary skills and diplomas to prove your competence within 6–10 months. Let's consider more about IT courses online.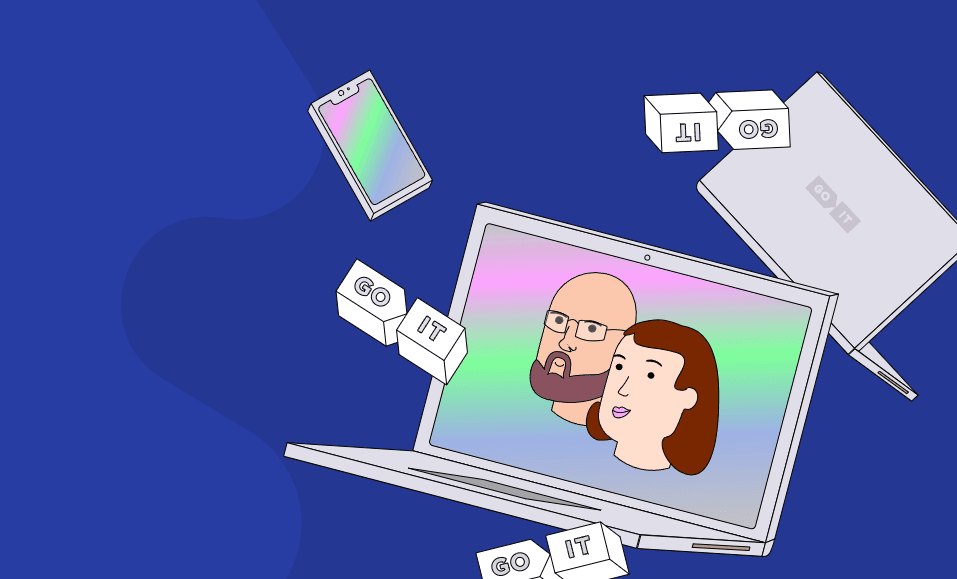 IT Courses GoIT: What to Choose
IT sphere is not just about technical skills and code writing. Today they are dozens of professions, and among them, there are those without which it is impossible to work on many modern online projects.
Let's go through all the most popular courses, after which you get an official diploma and can get your dream job.
Full Stack developer courses
At Full Stack Courses, you will learn how to create and maintain IT projects. You will learn to use HTML/CSS, JavaScript, and frameworks to create websites or applications. With these skills, you will create a server and client part of the project and learn how to combine them correctly. According to Glassdoor, this profession is among the highest-paid and most promising.
GoIT has two ways to become a Full Stack developer:
Online – you will become a technician in 10 months, in a comfortable environment behind a personal computer with the best GoIT professionals.
Bootcamp is a high-intensity six-month course you will take five days a week. On it, you will quickly learn the developer's skills and can find a job in IT.
Front End Courses
Front End developers are needed in every IT project. Today, this profession is one of the most popular in the IT sphere. In six months, you will be masterfully creating web interfaces and successfully cooperating in teamwork.
Back End Courses
In just six months, you will learn to configure the server part for most IT projects. Although Java and Python programming languages are somewhat more complex than JS, they have colossal development prospects. After all, in the future, it is machine learning, and Artificial Intelligence will be the most in-demand in IT.
GoIT has two tech programming courses Philippines for you:
Java – Is one of the oldest programming languages. You will learn how to create a server part of smartphones and smartwatches applications and create a team project.
Python – Our practice developers consider Python one of the most popular and promising programming languages for beginners. You will learn how to work with frameworks on Python, and in 10 months, you will learn to build up modern server parts of applications and web pages.
QA Manual Courses
If you want to get into a prestigious IT profession and not write code – choose QA courses. You will learn to be developers' primary helpers and identify their mistakes. And this means that it is thanks to your skills that the new project will be perfect.
The advantage of choice is that you do not need to learn programming languages to create applications and interfaces. You just need to know the basics of conducting test cases and create clear descriptions.
UI/UX Design Courses
You do not need to be able to draw to become a successful UX/UI designer. During GoIT you will learn that anyone can create interfaces and modern visual elements. In just ten months of comfortable online training, you will learn to "visualize" the developers' code and make IT-product attractive.
In the 21st century, the UX/UI design profession has become increasingly popular and highly paid. And with GoIT, you have a better chance of getting the skills you need and earning more.
IT Recruiting Courses
If you prefer to communicate with people and find the best specialists for ambitious goals – IT Recruiting courses are created for you. You will begin to understand the roles of IT specialists and their opportunities to help the business.
What IT courses to choose?
The answer to this question depends only on you. For example, if you want to create an IT project from scratch – you should choose the Full Stack web development course. And if you want to create visuals for websites and apps, we recommend UX/UI design courses.
If you need advice on choosing the appropriate courses – register for the free GoIT marathon. On it, you will learn about basic skills and tools. On it, you will try your hand at a new specialty and will be able to choose the best courses for yourself.