As the competition in the software industry increases, all-in-one tools have become a trend. All-in-one software means combining with many features in one application, to make it stronger, more time-saving, and more competitive. In terms of video processing, there are two popular trends: online and offline software.
Overview of Online Video Processing Tool
It is undeniable that the online video processing software has its own advantages that may not be offered by software-based video tools, one of which is that you don't need to download the program and install it on your computer. Simply by opening an online video tool site you can directly edit, cut or merge videos for free.
Nevertheless, online video tools still have a number of shortcomings that sometimes make it difficult for users. That includes relying heavily on internet networks, advertisements that are scattered, have limitations on many sides, security is not guaranteed, there is a watermark on the video output, and so forth.
Meanwhile, although many online video tools emphasize "free" on their site, it's a fact that online video processing toolboxes usually have a pay-wall in-depth, especially when you need output a video with high quality or process with large-sized video. Some customers may find that many online video processing tools sometimes charge far more than a lifetime version of offline video processing software.
The necessity of Offline Video Processing Software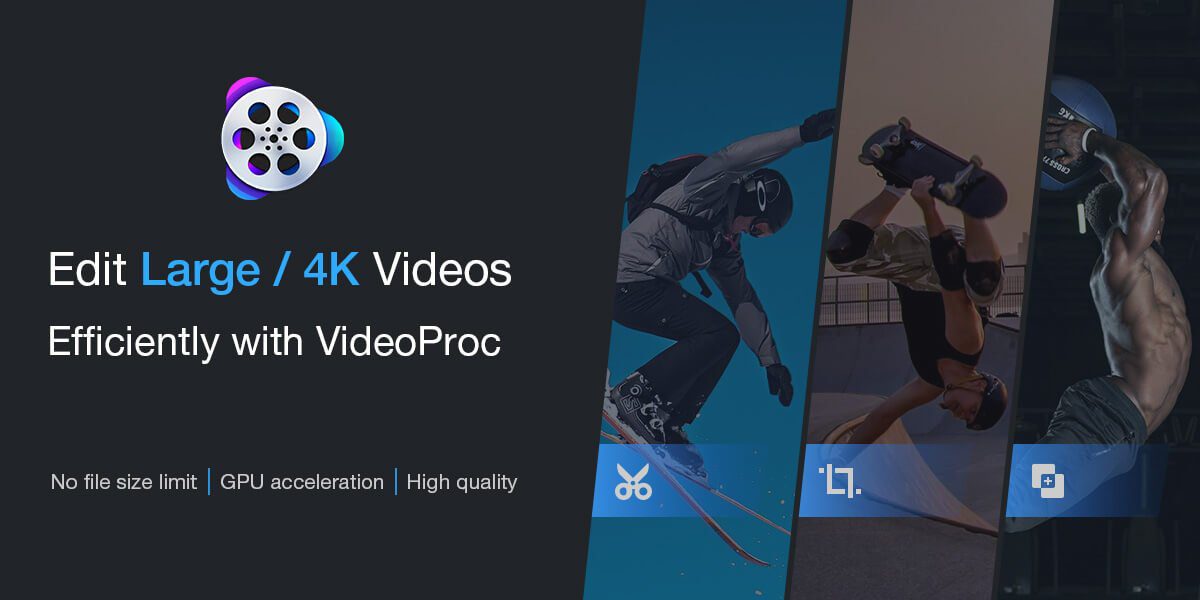 By using a computer-based video processing tool, you can process videos without worrying about the many limitations. Here are some of the advantages:
Has no video file size restrictions. Even a film file that is actually long and large can be overcome with offline video tool.
Does not require an internet connection to operate, so you can use it anytime and anywhere. This means Offline tool also offers a very fast load time because the video is processed by sophisticated 'machines' that are embedded in the software.
Offers unlimited video input and output formats. You can process or save videos in the format you want.
You will find almost all the basic functions of editing and converting videos. Some offline tools even provide a download function that can be very useful.
Stores the results of work in local storage, so the security of your data is guaranteed. In addition, you will also be free from the watermark, so that the video that you display later looks more pro.
Taking my favourite offline video processing software as an example – VideoProc, which comes with 4 main features: video editor, DVD conversion&backup, Online Video download, Screen recorder.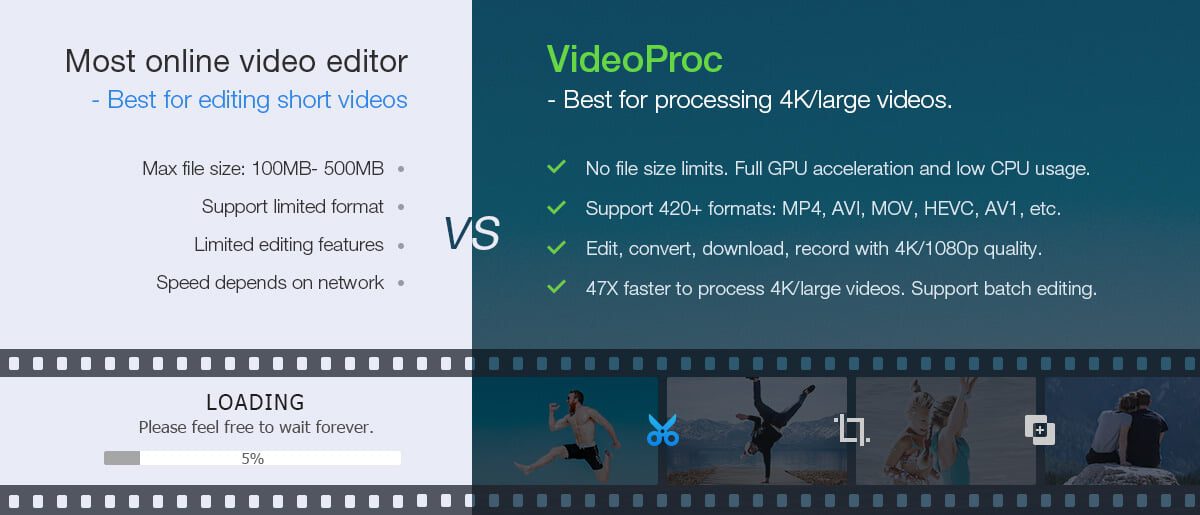 The editing feature allows users to cut, combine, add subtitles, apply effects and filters, and convert your videos to other formats.
The screen recording feature gives users the ability to take videos from your computer's desktop screen or from a webcam, or record both at the same time in picture-in-picture mode, this makes it a must-have app for gamers/sports lovers, educators and you.
Here's the point, equipped with a powerful video download engine, VideoProc has the ability to download movies, music, 60fps videos, playlists, closed captions from YouTube, Facebook, Twitter, and many other popular videos hosting sites, and the resolution can increase to 1080P / 4K / 8K without any hassle.
Why Choose VideoProc?
When reading this review, you don't need to be confused anymore in deciding what video editing and conversion software are appropriate and reliable, especially for novice content creators. Below are a few reasons why choosing VideoProc as the best video editing tool in its class, which is a combination of video editor, downloader, recorder and video/audio/DVD converter.
1. Light & Fast Work
You can use VideoProc on Windows or macOS computers with low specifications. The minimum processor needed is Intel or AMD with a speed of 1 GHz with a recommended RAM size of 2 GB or more. While the storage space needed for installation is 200MB.
Because computers today generally offer quite high specifications, you can easily install VideoProc and run it smoothly. And of course, the software will work even more optimally if your computer has high specifications.
For information, this kind of key feature might not be owned by other products. With hardware-acceleration, the software can recognize which tasks are most suitable for computer GPUs, allowing VideoProc to edit, convert and resize video content faster and more efficiently.
2. Able to Handle 4K Video Well
At this time you can not only record 4K video via a digital camera or action camera but also through your smartphone's camera. In 2020, many smartphone manufacturers in the world issued a device with a more capable camera that you can use to record 4K video or even higher.
Now, because 4K video size is definitely bigger than HD video, for example, the editing process requires more effort. Therefore, VideoProc is present as a reliable final solution for post-processing and reducing the size of video recording files taken using a variety of devices.
With the ease and speed offered by VideoProc, you don't need to be confused anymore when you have to edit or convert 4K videos because this software is able to handle it well without worrying about crashing and freezing. Even VideoProc claims to be the fastest and most practical software for HD / 4K video processing.
3. Best Video Cropper
You may already be accustomed to cropping images on a computer or cellphone, but not with crop video. That's not as easy to do as crop an image. Because the default cropper usually has limited functionality, you need third-party software to handle the work.
Here VideoProc can act as the best video cropper that is easy to use. It doesn't take much effort to crop video with VideoProc. Just by dragging the video, you want to crop into VideoProc then clicking crop and adjusting the area, you can immediately crop the video to any size or use practical 16: 9 to 1: 1 presets.
No need to worry about the output file or output it as VideoProc ensure it to maintain the highest quality. Amazingly, there is no limit to the size of the video to be cropped. With hardware acceleration support, you can even crop an hour-long movie and export it at high speed without freezing.
4. Download Online Music and Video
Using VideoProc, you can also download online music and videos from youtube. Facebook, Twitter and many social networks and streaming video sites with various formate.
Click on Downloader then Downloader Panel.
Now Find your favourite video or audio link (Example Youtube Video Link) and click Add Video or Add Music and then click  "Paste URL & Analyze". The video link will be analyzed instantly.
Next Select output quality and format, and click "Download Selected Videos".
Then the download will be started.
5. Advanced Video Cutter
You may find that most online video cutting software has many limitations, such as only being able to cut files one by one with a limited size, do not support FHD and higher quality output, limited format support, and certainly require a fast internet network. However, that is not a problem for VideoProc.
As a software-based video editing tool, VideoProc can be a reliable and cutting-edge online video cutter alternative. VideoProc allows you to cut large and long videos or 4K videos into clips in seconds and without file size restrictions.
Conclusion
Well, that's a quick review of the online and offline video processing tool. We can see the lightweight, fast, and stable software for editing and converting videos has Incomparable advantages. Now you do not need to be confused anymore looking for an offline video processing software, which is easy to use and reliable.