SEO is a key skill for anyone who wants to grow an online business or build a web presence. Whether you want to show a website design review example, sell your products from a website or just attract more visitors to your personal blog, you need to master the art and science of SEO if you want to expand your audience.
But with so many articles, courses, and blogs out there all claiming to teach you "how to do SEO," where should you start?
Here are the best resources for learning SEO in 2020. Not only are they created or well-respected by people in the industry, but they are also all free!
1. Moz's SEO Training Course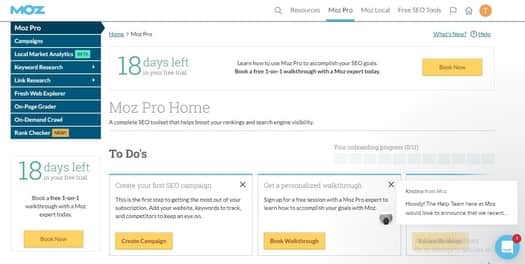 Moz is a big name in the online marketing world. They offer a free course, "SEO Training Course by Moz," on Udemy. It includes over three hours of video lessons designed for complete beginners. If you are intimidated by SEO jargon, this is a great place to start. It has proven helpful to many marketers; the course has over 15,000 reviews with an average score of 4.3.
2. HubSpot's Free SEO Course
 Available on hubspot.com, HubSpot Academy's SEO Training Course is a comprehensive introduction to key SEO concepts. Over four lessons, you'll learn how to improve your search authority, use link building to drive traffic, and how to draw up a great blogging strategy that could get you to #1 on Google.
3. UC Davis University SEO Courses
If you're a quick learner, you can sign up for a free 7-day trial of UC Davis California's course, available on Coursera, and kickstart your learning journey. The course is run by marketing experts with lots of experience in the field. Coursera also has learner forums where you can chat with other students about the material.
4. HubSpot's Guide To Local SEO
Written for small businesses looking to use SEO in 2020, this free guide from HubSpot's blog outlines the steps you need to take if you want to attract customers and leads in your local area. It's easy to read and could save you a lot of money; if you learn how to optimize your eCommerce website yourself, you won't have to hire an SEO consultant. It's perfect for startups and businesses on a tight budget.
5. SEMrush's SEO Fundamentals Course 
Like Moz, SEMrush is a giant in the digital marketing space. They have put together an in-depth course, containing 31 lessons, that will teach you everything you need to know when putting together an SEO strategy and keyword research. The course starts by teaching you how search engines work and finishes by introducing you to advanced topics, including international SEO.
7. Google's Search Engine Optimization (SEO) Starter Guide
 It may not be the most exciting or visually pleasing resource, but Google's guides are valuable for anyone who wants to improve their Google search rankings. The Search Engine Optimization Guide tells you precisely what changes and tweaks you should make to your website. Google emphasizes the importance of giving web users the best possible experience and encourages you to do the same.
8. The Search Engine Land Blog
 Search Engine Land is a fantastic resource for anyone who wants to stay up to date with the latest developments in the digital marketing landscape. The articles range from straightforward guides to in-depth tutorials. 
9. The Yoast SEO Blog
 Yoast's blog is practical and easy to read. Their slogan is "SEO for everyone," and they have done their best to make their website inclusive and simple to navigate. Their SEO Basics posts will help you make sense of SEO jargon.
10. Neil Patel's Blog 
Neil has long been recognized as a digital marketing expert and SEO master. His blog features articles, podcasts, and videos spanning basic topics to advanced tutorials. His newsletter is packed with lots of additional SEO tips and strategies. 
11. Google Webmaster Central Blog
Google frequently updates its blog with articles about how Google indexes websites. This may not sound very exciting if you are just starting out with SEO. However, as you learn more about how search engines work, you'll come to realize that it's a useful resource.
Hosting Foundry Australia is one of the best web hosting providers that give much help with your website that is specifically targeting the country of Australia.
Next steps
The only way to cement your new knowledge is to put it into practice. SEO involves some trial and error, and there is no single SEO strategy that works perfectly for all businesses and websites. It would be best if you were willing not only to study the principles, but then apply them, measure your results, and carry on tweaking as necessary.
Best SEO practices change frequently, so be sure to keep up with the latest developments. Keep your knowledge fresh by reading your favourite SEO blogs. When it comes to digital marketing, those who stay abreast of the latest trends will always have an advantage.