All phones indeed come with an integrated keyboard. But most Android users can spice things up by installing a third-party, cooler keyboard. Having a new and unique keyboard is always fun. They come with a broad set of useful features, plus, a colourful, themed keyboard can express one's personality and aesthetic.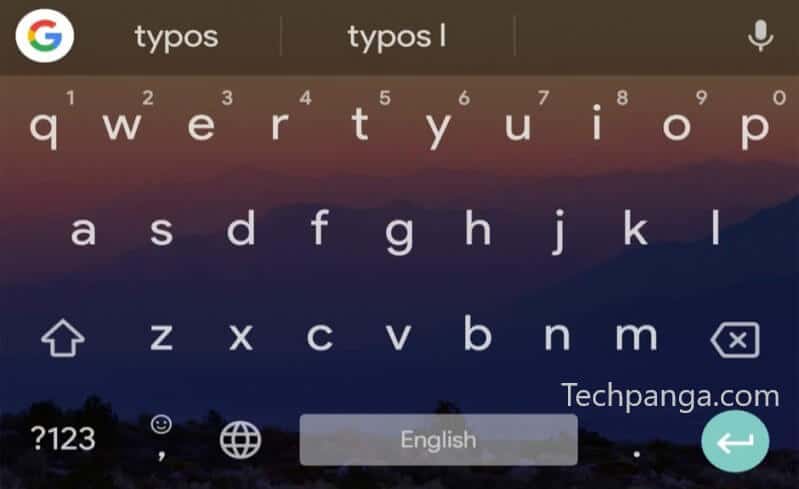 IMPORTANT: Google Play and other app stores are full of keyboard apps, some of which are better than others. But beware when installing such applications — they can be keyloggers or other malware in disguise. For example, recently, a keyboard app scammed over 40 million users by fraudulently charging their credit cards.
Always make sure to download apps from reputable sources, and use additional security software to ensure maximum security. Antivirus software can help you avoid installing malware-ridden apps in the first place. Meanwhile, a VPN can save you from hackers' exploits over public networks or unsecured websites. Some VPNs, for example, NordVPN, even go the extra mile and block malicious websites and flashy ads.
Another way to avoid scammy keyboard apps is by going through this list of top seven Android keyboard applications. They are safe to use, and they will take your typing game to the next level.
1.   Gboard Keyboard
Gboard is a virtual keyboard application that was developed by Google. It has almost five million downloads, and its review rating is a staggering 4.5, which is pretty rare on Google Play. It's swift, reliable, and comes with a lot of cool features, including:
Voice typing
Handwriting
Emojis
Glide typing
GIFs
Multilingual typing
2.   Chrooma Keyboard
Chrooma is not your regular keyboard. It's bright and colorful, and it comes with a fresh option that allows you to change the keyboard color based on the app you're using. It's also powered by artificial intelligence that ensures a much more reliable text prediction. It's highly customizable, and it comes with a wide variety of cool features such as:
GIF search
Adaptive themes
Emoji support
Colored navigation bar
Gesture typing
One-hand mode
Split layout
Night mode
3.   Fleksy Keyboard
Fleksy is a fast and reliable keyboard app that has over five million downloads. And its rating on Google Play is pretty high too. It uses an advanced autocorrect and gesture control, which allows you to type accurately and not waste time on retyping and editing. You can also customize it as it offers over 50 stylish themes, useful shortcuts, and over 800 types of emojis and GIFs. You can also expect the following features:
Emoji keyboard
GIF keyboard
Fleksy gestures
Custom keyboards
Fleksynet assistant
Private keyboards
Supports 45 different languages
4.   SwiftKey Keyboard
SwiftKey has been around for a while now, and many users swear by it. It currently has over three million downloads and a stellar 4.4 rating on Google Play. Microsoft developed this app, and it learns your writing style, allowing you to type faster and better. SwiftKey's autocorrect feature is among the best on the market, and it comes with a lot of other cool features, including:
AI-powered text predictions
Swipe typing
Emoji keyboard
Custom keyboard
Multilingual keyboard that supports over 300 languages
100+ interesting themes
GIFs
5.   TouchPal Keyboard
TouchPal Keyboard is an excellent solution for users who like to type fast while making fewer mistakes. It has an advanced, automated word corrector. It makes simultaneous edits as you type. It also has an excellent prediction feature that ensures an even shorter typing time. Although you can't find this app on Google Play, you can download it from the official website of the company. Here are some useful features you can expect:
GIF support
Emojis
Voice typing
Glide typing
Gesture typing
Multilingual support
Read More: Best Android Launcher Available On Play Store
6.   Facemoji Keyboard
Facemoji keyboard is the perfect solution for everyone addicted to cute keyboard themes and emojis. It has a 4.6 review rating on Google Play, making it a serious contender for a user favorite. Of course, you can customize it, and it comes with over 3600 different emojis and 1500 cool themes. Moreover, it has other cool features, such as:
Emoji rush
Move cursor
Photo keyboard
Custom keyboard
Stickers and GIFs
Game keyboard
Fast typing
Smart input
7.   Ginger Keyboard
While most of the other keyboard apps offer one-word autocorrect, Ginger Keyboard includes innovative Contextual Grammar and Spell Checker proofreader. It allows it to provide full-sentence proofing. The current rating of the app on the Google Play Store is 4.5. Ginger Keyboard comes with an abundance of useful features like:
Grammar and spell-checker
Emoji art and stickers
Animated GIFs
Word prediction
Themes
Emoji prediction
Swipe
Smart bar
Keyboard in-app games