Get Notifications When Someone Online on WhatsApp – To find out a friend or someone is online or offline on WhatsApp, of course, we must often go back and forth to look at the chat contact of the person we are waiting for. Because usually, the online text status will appear under the name of the chat contact. But if you wait too long it will certainly be boring.
Well, for this time, We will share the tricks so that we can get an immediate notification when a friend or person we are waiting for is online.
WhatsApp is one of the most favorite communication media at the moment. This one-stop application with Facebook has quite a number of active users every day. This is because of the many interesting features in it. As a WhatsApp user, of course, we are familiar with online features.
Now We have a pretty useful trick where you can get notifications when your friends are online on the WhatsApp application. Following are the easy steps.
Read More: How to Setup WhatsApp without phone number or Sim
Trick Get Notifications When Someone Online on WhatsApp
1. Be sure to download and install the WhatsOnTracker application first from here:
[maxbutton id="1″ url="https://www.datafilehost.com/d/b05cfaa3″ ]
2. Directly open the WhatsOnTracker / Netwa application that we have installed. Then tap Agree and then select Accept when you first use. Then tap the plus icon in the upper right corner to start adding targets.
3. Select WhatsApp then enter the target WhatsApp number or friend beginning with the country code, like (+1).
4. Don't forget to add the WhatsApp name as well then an icon will appear that the friend's number has been successfully added and the notification was successfully activated. To turn off just move the blue button.
Also helpful: How to Change WhatsApp Text Color (NO ROOT!)
5. We just have to wait or do other activities. If our friends online there will be a notification like this below, not only that when offline, there will also be a notification.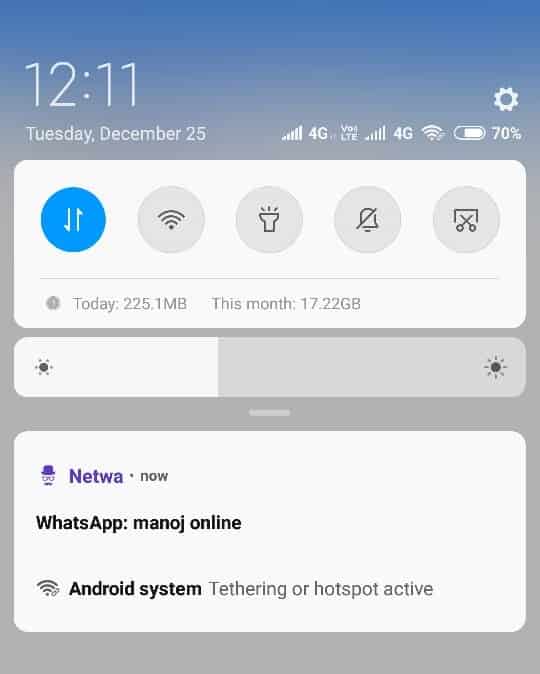 This is the tutorial on how to get notifications when someone is online on WhatsApp. May be useful.