To edit images on your Mac, Apple offers you built-in photo editing app Photos to make your work easy. Though the app is powerful yet it has some limitation while batch editing images on your Mac. To deal with this issue, you can use another useful photo editing app called Tweak Photos for instant and effective results.
Top 7 Photo Editing Steps using Tweak Photo
Batch Format Conversion & Rename:
Tweak Photos allows you to convert image file format from all popular image formats. Here, you can convert to and from all common photo formats including TIFF, JPEG, GIF, PNG, JP2, JPG, BMP, and others. Further, you can rename photo batch as per your preferred name with other available settings.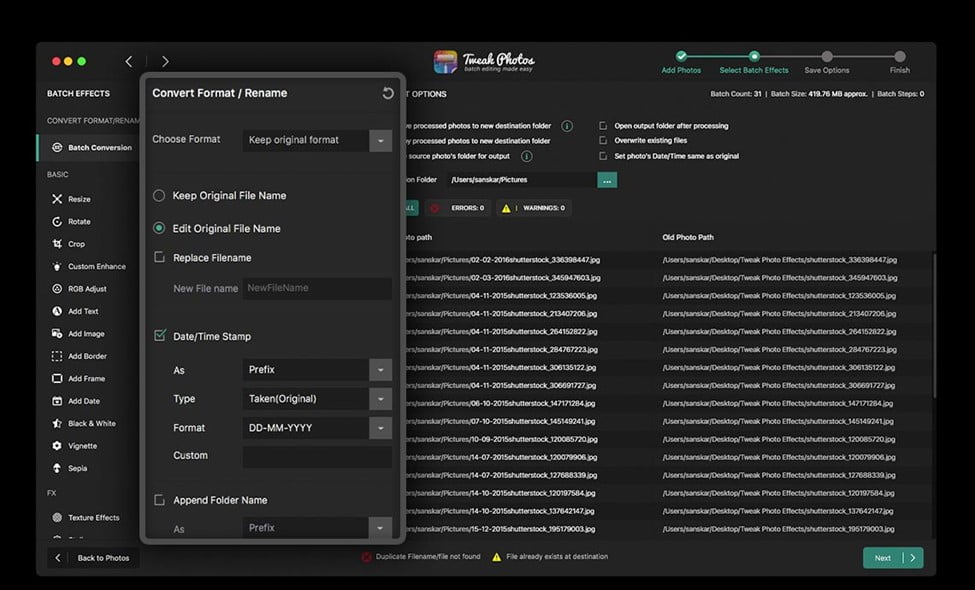 Re-size & Auto-correct Orientation:
Use this image editing app for Mac to re-size photos batch in pixels or percentage. Doing this you can save compress the file for easy sharing and to save disk space. It also helps you auto-correct the orientation of your images in the EXIF info.
Here, you can crop images from different available predefined formats or according to your choice. You can further rotate-flip batch images for portrait or landscape view.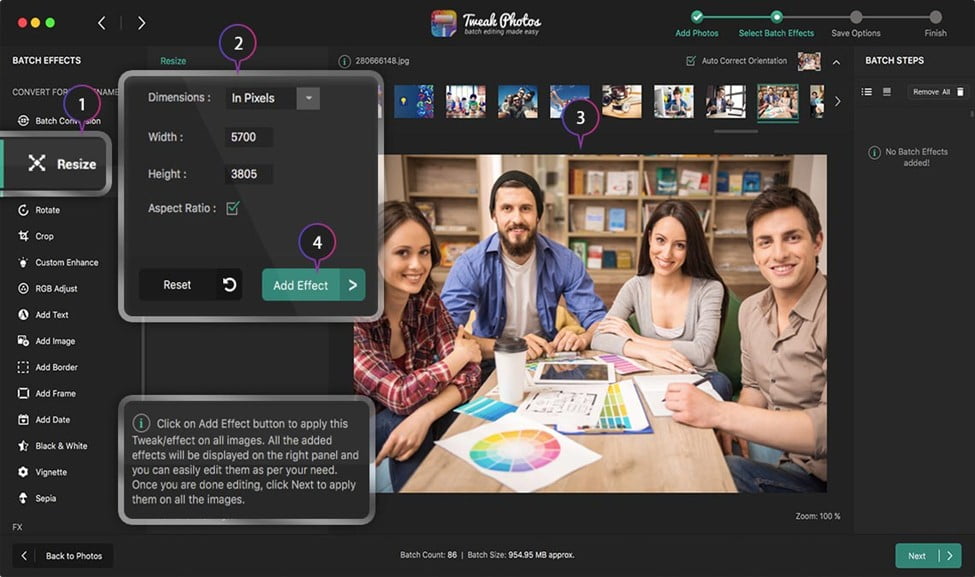 Custom Enhance & Texture Effects:
The app allows you to edit your images with custom enhance and texture effects. Here, you can enhance or control brightness, sharpness, contrast and lot more. It offers various effects like Grunge effect, B&W, Vignette, Light effect, sepia and lot more.
You can even use this tool to de-noise your photos batch effectively. It offers various RGB adjust the controller to help you manage and adjust the contrast of multiple images.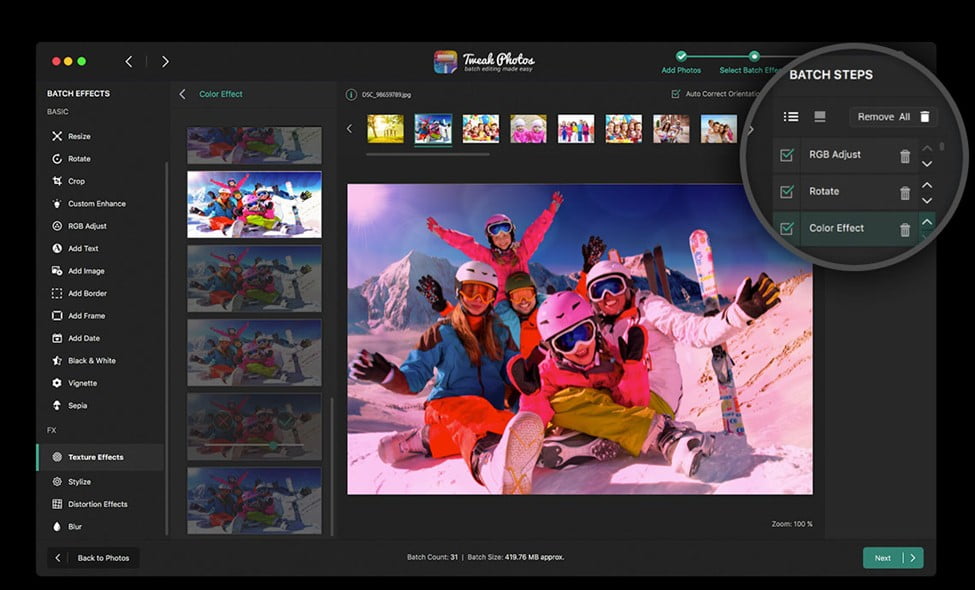 Watermark & Add Image:
use this feature to watermark and add a logo to your images in batch. Here, it will stamp your entire batch images with information like original or modified date/time as per EXIF info or in your choice of format.
Further, you can add text to images and customize font style. It also offers some amazing frames as well that includes Royal, vintage, fancy, file strip, classic and other frames.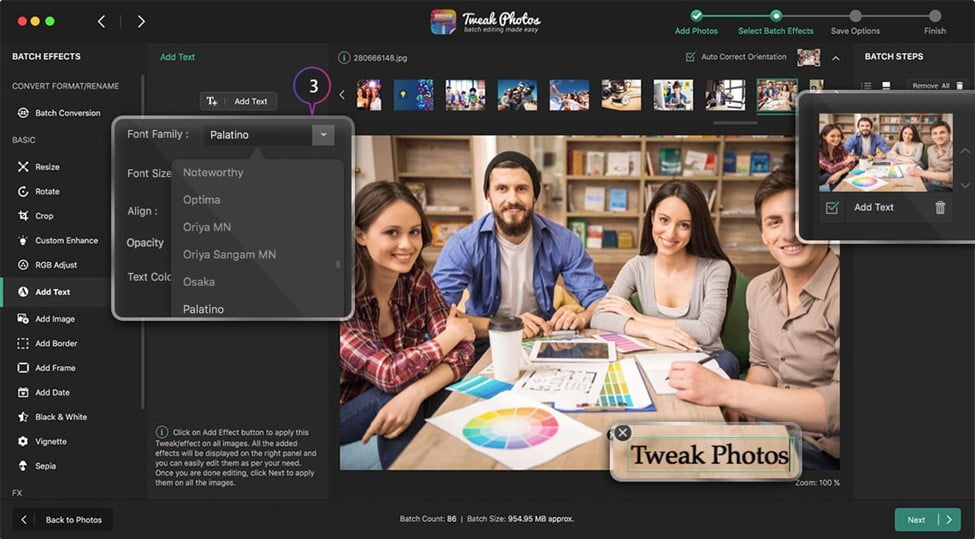 Batch Effects Layer Management:
App allows you to edit or delete batch effect layers whenever you want during batch photo editing. Here, you can even change the position of layers to check the difference in real time.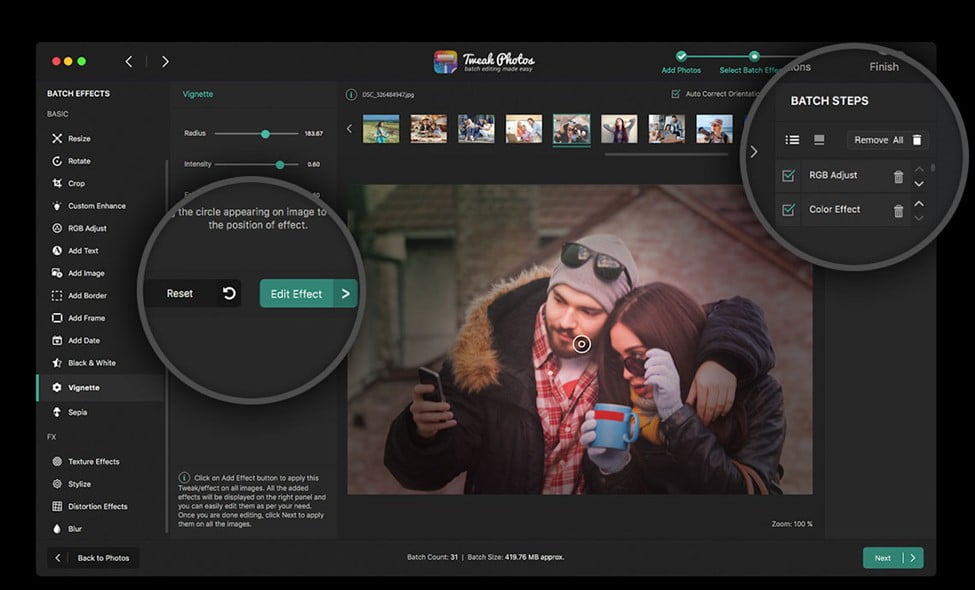 Error Reporting & Processing Skipped Files:
App allows you to instantly preview errors & warnings to you for example file missing, duplicate file name etc. Here, you will find an option to process the skipped files again without reworking entire process.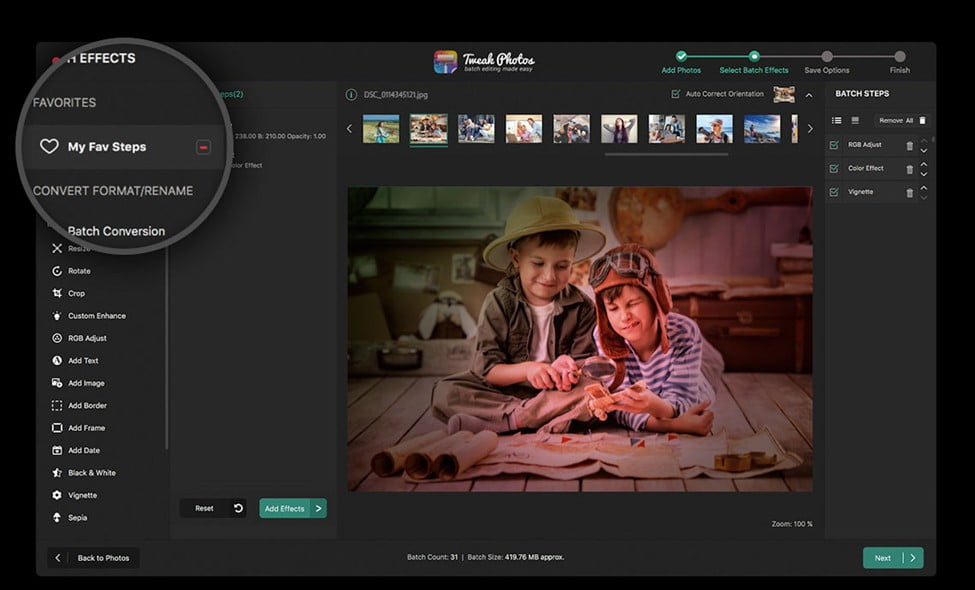 Save Session & Favorites:
The app helps you to save last edited session or create favorite of different batch effects for next edit session.
Conclusion:
To edit images on your Mac, Tweak Photos offers you freedom and the entire set of useful editing features to help you batch edit images seamlessly. This nifty tool offers abundant customization features and editing tools to transform your regular image into a piece of art.
Here, it offers various useful features like batch image editing, auto-correct orientation, de-noise images, rotation control, watermarking, multiple layer management, copyright and lot more. You can use this advanced photo editing tool to make your photos better on Mac.