Everyone appreciates a clean environment, but not everyone enjoys cleaning, particularly when every minute might be devoted to performing better and earning more money in one's everyday tasks. However, a disorganized desktop can be a major distraction when finding a specific file. I know how it feels since I am the one who suffers from it, and that is why I have written this blog to organize you into establishing a more streamlined system for managing your desktop.
Instead of giving technical advice on how to nurture the spirit of organizing your desktop, I'll be presenting 5 useful desktop customization tools, each with its own features and approach, to help you clean up and better organize your Windows desktop.
Do you wish you had access to even more Windows customization tools? Here are the best tools we could find, hand-picked just for you!
iTop Easy Desktop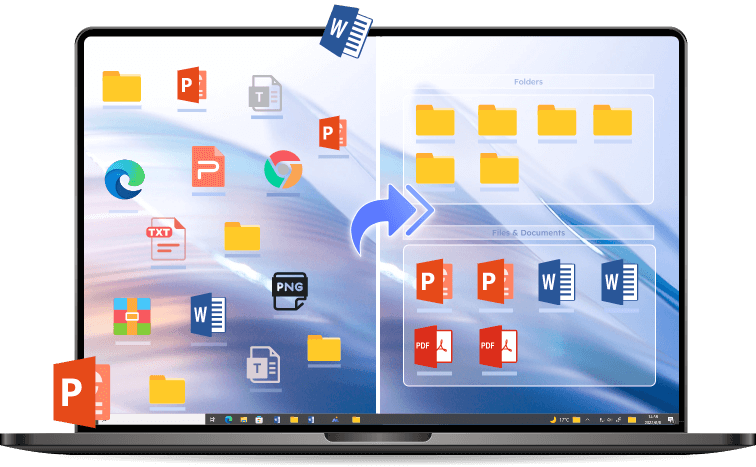 Have you avoided organizing the plethora of icons and shortcuts cluttering your desktop? This is the most typical situation for desktop users. iTop Easy Desktop, a desktop cleaner, is here to help you get your icons where you want them quickly and effectively. It works like the Fences tool but this tool is free of cost.
When first launched, iTop Easy Desktop will automatically assist you in organizing existing icons into many dark transparent tabs; however, you may manually organize them using flexible choices, such as establishing your own tab with a specific category name and putting anything connected to that category into it. The best part is that you can conceal all of them with one click if you're too lazy to click on the icon for organizing.
ObjectDock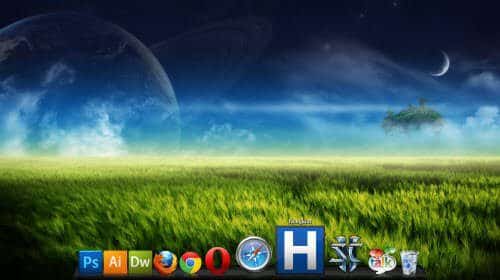 If you enjoy using Mac OS X's docking bar, you'll be pleased to know that ObjectDock, even in its free edition, provides a dock with many of the same features as Mac's docking bar. Additionally, it's aesthetically superior to the Mac dock.
You can use your dock the same way you would Mac's docking bar, including placing shortcuts to applications or folders there, showing the currently active ones, zooming in or out on them, and docking it to any edge of the screen. These options will help you free up a lot of room on your desktop, and you can quickly access frequently used applications and files by glancing at the bar.
Similar to other desktop customization tools, the application's official theme site is a great place to get your preferred skins, but what I like best is that I don't have to go through my desktop to find the program or folder I need.
Dexpot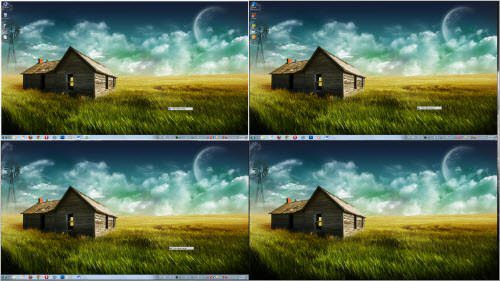 Dexpot makes it possible for every Windows user to use many virtual desktops, each of which can house a unique collection of applications. Using virtual desktops, you can separate the applications and files used by designers and developers, for instance, into separate virtual workspaces. If you have many tasks or projects going at once, this is a huge time saver.
Dexpot's outstanding features include the ability to customize anything from basic transition effects to more complex desktop components and define various ways for switching between virtual desktops. But remember, the software was designed with the intention of helping you keep your desktop tidy, so don't go wrecking your virtual desktops!
Rainmeter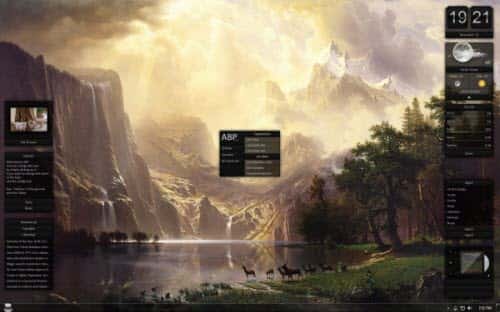 For such a small software size, Rainmeter has the potential to transform your desktop clutter completely.
When combined with its additional widgets, Rainmeter is a fully-featured desktop customization application that allows you to customize virtually every aspect of your desktop's interface. As a result of its adaptability, user-friendliness, and the epicness evoked by the user-created skins, the software has gained widespread popularity among designers.
Stick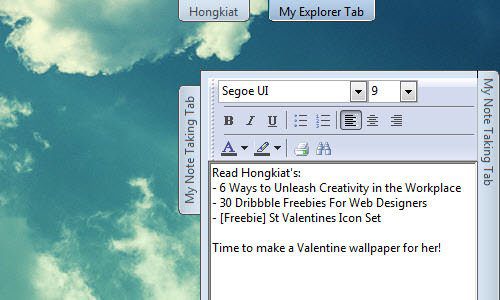 Stick is an innovative desktop organizer that uses tabs to arrange your files better. News Feed, Navigator, and Notes are the three primary tabs.
The News Feed and Notes features are fairly self-explanatory, but the Navigator is extremely intriguing: not only can you use it to explore the web, but it can also be used to navigate your current folder structure!
The best part about this software is that after you're done reading or exploring the material, you can click the tab to make it disappear without closing the window, and the tab will remain at the top of your desktop. Using this time, you can easily see the tab whenever you like by clicking on it. What a time and space saver it would be if you could create a folder hierarchy within the tab instead of searching your stuff throughout your hard drive!
Conclusion
If you use these customization tools, I promise you'll develop a genuine appreciation for desktop organization. You'll feel pride every time you find a file on your computer because of the extra space you've freed up.