Upload Long Videos On WhatsApp Status – To share a moment or event on that day on WhatsApp, users can use the "status" feature of the application. The presence of this feature allows you to share moments with other contacts with delivery methods such as using text, images either from the gallery or directly portrait or video recording.
Usually, to share more exciting and interesting moments, users prefer to use Video status method so that other users who view the status video can watch it for much longer.
Of course, this feature makes the interaction between WhatsApp users more innovative and exciting. But unfortunately WhatsApp status can only upload videos up to 30 seconds. In contrast to Instagram where the latest version can record videos to be uploaded on Instagram Stories for up to 5 minutes but still in the stage of 15 seconds per upload.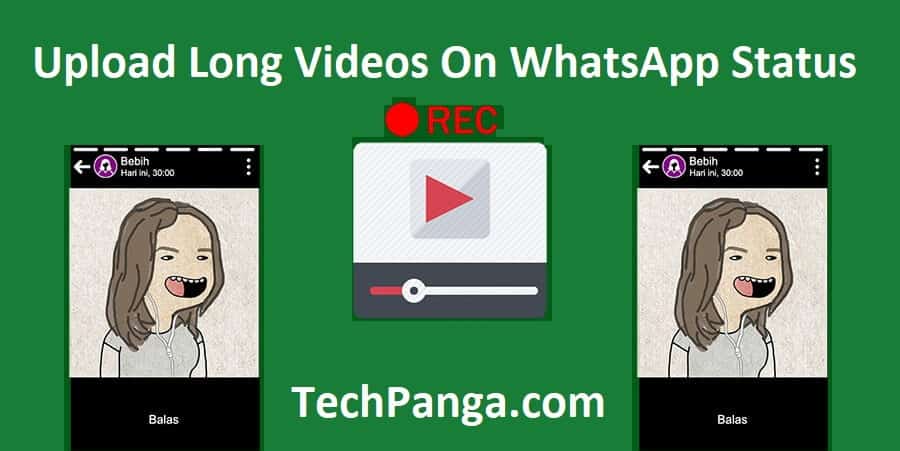 If you are recording an exciting moment but cut off because of the time limit, then what a shame isn't it? Therefore, on this occasion, there is a solution so that users can record and upload videos for more than 30 seconds.
Read More: Download Latest WhatsApp MOD iOS Theme 2019
Steps To Upload Long Videos On WhatsApp Status
Not only do you record live video that can be uploaded for more than 30 seconds, but you can also upload videos that are stored in galleries up to the limit. No need to use third-party applications, but you can use WhatsApp MOD. Why WhatsApp MOD?
Because the application has been modified by the developer in the media sharing section, so the upload status can be more than 30 seconds. For steps to get started, please see the following.
1. Use WhatsApp MOD provided below. Choose one of the four
Download WhatsApp MOD
YoWhatsApp
GBWhatsApp Official
Fouad WhatsApp Official
WhatsApp Plus
2. Install the application until it's complete then fill all user details as usual
3. And also Please enable " Unknown Sources" to install properly the app.
4. After installed complete, now you access the settings and enable Video upload limit on the advanced features of WhatsApp MOD.
How to Enable Video Sharing Limit Longer Then Limit
Fouad WhatsApp Official – YoMods / Fouad Mods / FM Settings> Other Mods> Video Upload Limits
WhatsApp Plus Plus Settings > Media Sharing> Video Limits For Status
Other apps Are same settings
After you turn on the feature, you can upload the status up to more than 30 seconds.
This is one of the advantages of using WhatsApp MOD, which is that you can upload videos to WhatsApp status for more than 30 seconds, so you can share your moments with a longer time.