How To Unlist or Remove Phone Number from TrueCaller – TrueCaller is a very good app to find or track a mobile number. Truecaller is such an app that provides complete information about any contact number within few seconds. This app works on all smartphones and suits for any operating system such as Android, etc.
But people who do not want to share their contact details online or want to remove their wrong details about their Phone Number. For those people, Truecaller has the best solution to remove or delete their contact numbers from Truecaller Directory. so If you don't want your number to be searchable through the Truecaller app, then just follow the steps.
Steps To Remove Number from TrueCaller?
If you don't have Truecaller Account and want to unlist your name from Truecaller database just visit the Truecaller Unlist Page and enter your phone number with the country code and click on unlist your name button.
1. Go to Unlist phone number 
2. Fill the UNLIST FORM
3. Enter your Phone Number which you wish to unlist from TrueCaller Database, select the reasons for unlisting your number, enter the captcha and then click UNLIST.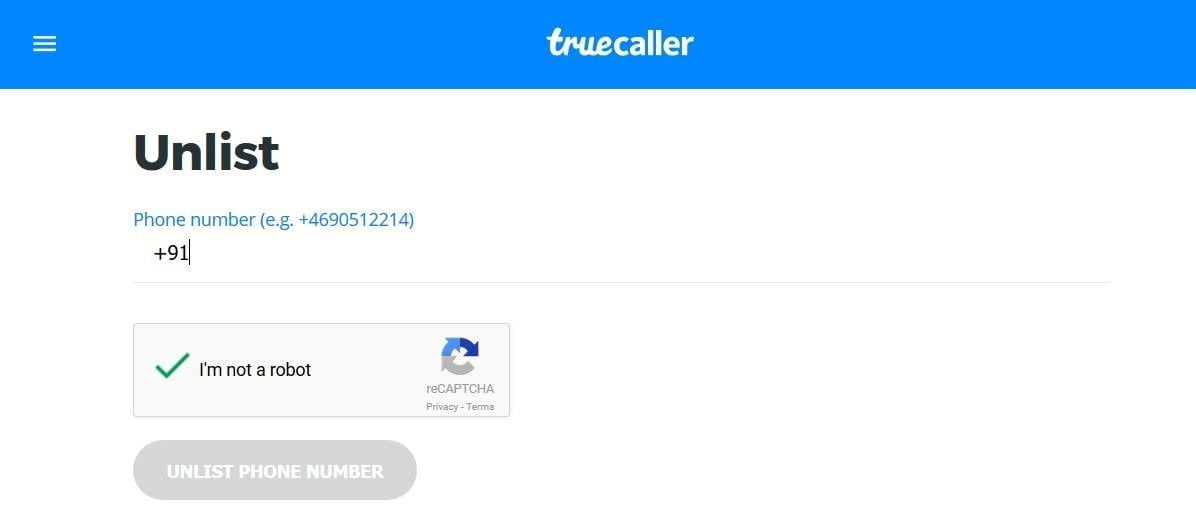 Note: You can't remove your phone number from the TrueCaller if you are using the app and registered on the TrueCaller. You'll have to deactivate your own account to get your number unlisted. If You don't know how to do this just follow this simple steps:
For Android User
Open the app

Tap on the menu button  for the settings

privacy center or about

click on Deactivate 
For iPhone User
 Open the app

Tap on More 

Tap on settings

about and click on deactivate
Note, it can take up to 24 hours before the number gets deleted & Numbers marked as spam cannot be unlisted. 
That's it, you have Successfully Unlisted! Your mobile number from TrueCaller Database. Now you don't have to Panic over your Mobile Number being online, TrueCaller will unlist your number within 24 hours once the Unlist request has been received. Once the Number is removed from the Database, anyone who tries to find your number will end-up with no result.