The popularity of online gaming continues to grow from year to year and has quickly become one of the most lucrative industries in the world. There were 2.69 billion gamers in the world by the end of 2020. Growth has been steady with an average of 5.6% year-on-year (YoY) increase.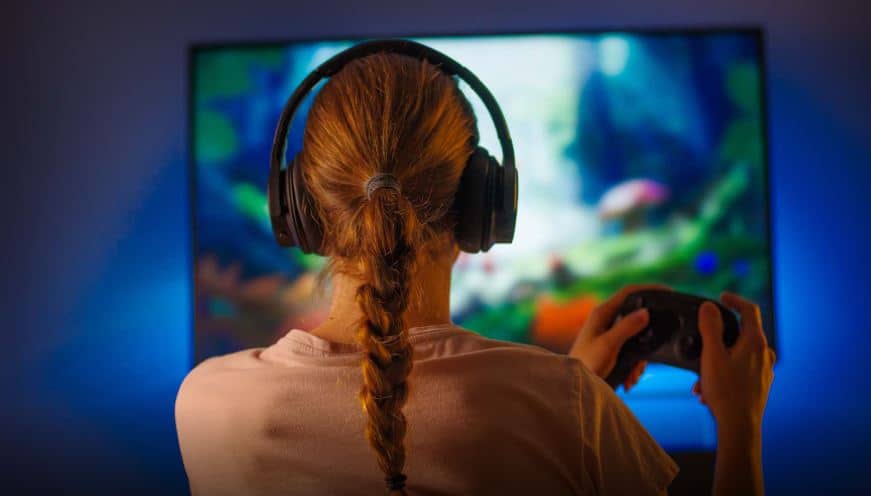 That number is expected to grow again in 2022, forecast to reach 2.95 billion gamers around the world. Reports show that the video game industry revenue was $78.61 billion in 2017. According to stats on the video game industry revenue by year, the market is forecast to grow at a rate of 2.29% annually from 2020 to 2024. This will result in an expected market volume of $100.56 billion by 2024.
Of course, as the number of gamers rises so does the number of households that own a games console. In fact, in the US, over 50% of all households now own a gaming device The 2021 statistics showed an incredible 10% leap in ownership from the previous year. Furthermore, they found that a further 30% planned to buy a console in the next year. With a new console being released near on every year, hardware sales are consistently boosted meaning this number is only going to continue to rise.
But what are they playing and what are they playing on? In this article, we will take a look at the best devices for online gaming.
Casino Games – iPad Pro 2020/iPhone 13
Casino gaming has also experienced a huge boost in players over the last year. With legislation for the legalization of online betting being pushed through in 18 states and more to come, the amount of people who will play at an online casino is expected to skyrocket in 2022. In 2021, they broke a record of $44 billion in revenue. Its popularity is mainly down to just how easy it is. You simply need an internet connection and a handheld device and you are away.
This is why the best device for an online casino is a tablet/smartphone. This way, not only can you play your favorite slots, roulette, or blackjack games at home, you can also do so on the move. We recommend the iPad Pro, complete with a powerful Bionic processor, a trackpad and keyboard capabilities, and a seamless Liquid Retina display.
If you are not willing to pay for an extra apple device then simply roll your gaming and texting capability into one and go for the iPhone 13. Simply download the app from the app store or google play store, take a couple of minutes to register, and you can start playing with minimal effort.
Call of Duty–Allied Patriot gaming PC
Call of Duty is comfortably the most popular FPS game in the world. A franchise that spreads over nearly 20 years and 19 games. In 2020, COD revolutionized the game and released the multiplayer sensation 'Call of Duty: Warzone'. The battle royale game mode amassed an incredible six million players in the 24 hours after its release. This number grew to surpass 100 million in the following 13 months.
What is most attractive about Warzone is that it is completely free to play. It is no surprise that Warzone ranked among the ten most popular games on Twitch based on peak all-time viewers down to its popularity.
Although originally played on consoles such as the Playstation and Xbox, in recent years the technological advancements in gaming PCs have seen a rise in PC players.
As well as better visuals and a faster frame rate, the field-of-view slider offers a level of customization that is not possible on the console. This allows players to see things in their peripheral that console players can't, giving them a great advantage. This is why PCs are the best consoles to play Call of Duty and the Allied Patriot's incredibly powerful graphics card and processing speed make visuals a joy to behold.
 FIFA – Playstation 5
Much like Call of Duty with FPS, FIFA is comfortably the most popular soccer game in the world. With a new release every year in accordance with the beginning of the European soccer season, FIFA consistently tops sales charts upon release and is arguably EAs biggest money maker. After Pro Evolution Soccer ceased making soccer games in 2019 and moved to their so-far unsuccessful 'eSoccer' series, FIFA essentially has the market cornered.
It is one of the most popularly streamed games on Twitch and is now a mainstay on the eSports stage. The best console to play the game on is Sony's most recent release, the Playstation 5. The game's performance, FPS, visuals, models, rendering time, boot speed, and other aspects are all an improvement on the XBOX Series X.
Hopefully, this list has helped you conduct a list of devices that are the best for playing some of your favorite games. Whichever one you decide to go for, you are sure to be able to immerse yourself into a digital alternate reality and in the case of Casino gaming maybe even win big on the way!