Well, probably you have come here because you can't play videos directly on google drive. Most google drive user has the same issue, They can't play video in google drive without downloading it. So In this article, I am going tell you the easy steps to play stored videos on google drive.
One of the most popular and most used Cloud Storage services is Google Drive. As an online-based storage product, Google Drive always delivers the best. Therefore we must also use it properly and properly.
Steps to play video in Google Drive without downloading
Basically, many users don't know we can't play google drive videos If the browser blocked third-party cookies ( Prevent third-party websites from saving and reading cookie data )
So You need Unblocked blocked third-party cookies. So How Can you do it? Lets See:
1. First Open your Browser (Chrome) and click on #3 Dot Top of the right corner.
2. Next, Go to Chrome Setting and then again click on Advanced
3. Now scroll down and you will see Content settings, Just click their
4. Next, click on Cookies and disable Block third-party cookies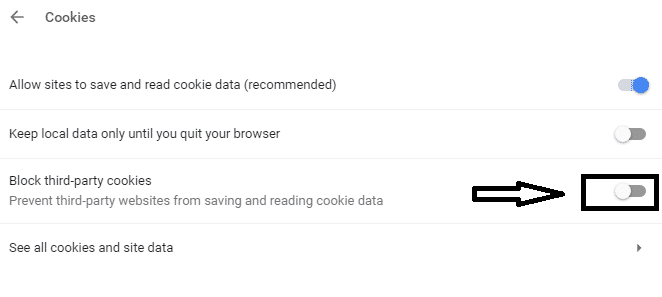 You are done Now reload the google drive page and try again. Now the Video will pay on google drive without downloading.
Read More Best Extensions and Addons For Google Chrome
How To play MP4 Videos on Google Drive
Sometimes We can't play MP4 videos in Google drive So I have some suggestion.
I recommend trying the steps below one by one to eliminate any browser related issues:
First, run a check on your network connection settings and device software updates.
Reload the file that you want to play.
Try clearing the cache and cookies of the browser.
Switching to the incognito window or private mode might fix this issue.
Sometimes, certain plugins and extensions interfere in the functionality of the Google Drive, disabling plugins and extension (Chrome, Firefox, Internet Explorer, and Safari instructions) may help.
For Google Chrome browser only:

Reset your Chrome settings.
Run Chrome Cleanup Tool, to remove software that may cause Chrome to experience issues.
The final word
Google drive is one of the most perfect cloud storage. Sometimes It causes some problem But with the proper way we can fix them. The Google drive, we can play a maximum number of Media formate like mp4. WMV, avi,mp3 etc.
So Guys, If your problem does not solve yet just comment here I will try to help you.