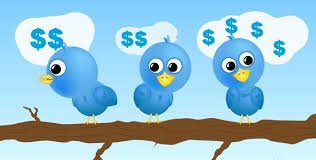 Last six month I am using a method to make money from twitter. I have made $800+ in this half year.Some of my friends have asked me that how to make money with the twitter.But It is not easy to explain the methods to every individual. So In this article, I am sharing the methods to make money from twitter.
But before going into details I would like to remind 3 things:
This method will not make you super rich.
There is a strong possibility that you know about this method.
You need to keep patience.
Steps To Make Money With Twitter
1. Find  Products: Try to find some affiliate products at Clickbank or Amazon or any other networks which have high conversation rate.
2. Twitter account: Create a twitter account with Phone number verification.
3. Add KeyWords: In twitter username add your affiliate products related keywords like Bodybuilder, beauty queen , betting tiger etc .
In bio make sure to add keywords with a hashtag.
Try any keyword search tools To find Keywords

Top Free SEO Keyword Search Tools To Get Better Rank
4. Follow peoples in your niche up to 500 a day. In return, half will follow you back.
You will able to add 2000 followers in a week by this method
AT first, 7 days just add value and solve your follower's problems in your niche , And show them that you are expert in that field,
5. Start promoting your affiliate products . But keep the balance at this point also .
6. Start Tweeting: Maximum Tweet only 5 tweets a day . First, an inspiration pictures/video or gif , then affiliate link , again a funny pics/gifs then affiliate link and last a stats/data driven/question asking pics/infographics .
This will make your followers happy and they will ready to click/buy products form link. and also your followers will also grow naturally .
Notes :
.In your profile add picture related to your niche .For example, if your niche is beauty and you are a girl than add a beautiful girls photo .
Always use a hashtag.
Always reply if someone mentioned you.
I have tried this and also trying now in VPS and hosting niches . VPS has a very high conversation rate. I mainly promote Free VPS offers and discounts offer .For me, I did make only $20 in the first month and last month [august] I have made $225 . So It will take time . I sometimes also tweet some inspiration quotes like " Free VPS for 1 month" VPS 1 month trial just for $1.