What is in your mind when you are required to transfer data from iOS to Windows, or vice versa? Difficult? Troubled? How noisy? Yes, iOS does have a unique software where you can't carelessly move data. In fact, you also can not arbitrarily manage all file folders on your iOS.
But, all the difficulties and all the hassle you can overcome with just one application, IOTransfer 4. This is a great application for iOS users to transfer data and management tools. Special, IOTransfer also has other advantages, you know. Curious? Come on, read the review in this article.
What is IOTransfer 4?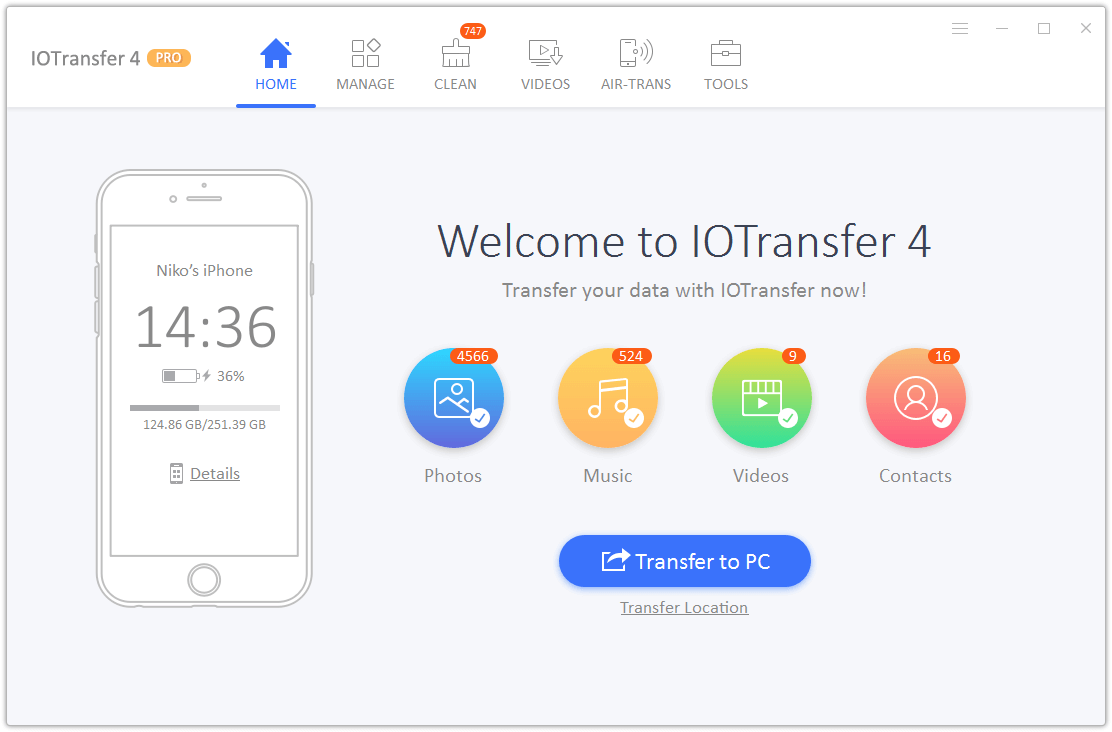 Is IOTransfer 4 only for transferring data and managing data? Of course not. It's more than that, where you also download videos, convert videos, to the CLEAN feature to clean cache and junk files.
Interestingly, IOTransfer 4 has an AIR-TRANS feature. This feature adopts WiFi technology so you don't need to bother installing cables to transfer data. Requirement, both PC and iOS device that you have must share the same network, yes.
Well, all these features you can use easily and simply, just need one click and it's done! So, you could say that IOTransfer 4 has an intuitive interface, so even technology people can use it easily.
IOTransfer Features
Now, you already know that this application has many excellent features offered, ranging from data transfer, video conversion, video downloading, to cleaning cache and junk files. Now, to find out a more complete explanation, let's consider the following review:
1. Ease of Data Transfer
Every iPhone user might have the same problem, which is a complicated data transfer! To facilitate iOS users in transferring data, IOTransfer 4 comes as the right solution, because this application can be used by various iOS devices.
In this one feature, you can transfer data from iOS devices to Windows or Or any OS. What can be moved? All files you have! Yes, both photos, music, podcasts, videos and other files can be moved easily and quickly with just one application.
In addition, you can also manage files on iOS because this application can also function as an iPhone manager. For example, you want to delete certain photo albums or want to separate certain files into one folder.
In addition to deleting certain photo albums or files, you can also delete all files on iOS. All you have to do is to use the bulk delete feature. That way, you can make iOS storage space more loose and spacious.
To facilitate its users, IOTransfer 4 also has a feature to display icons with three display options, small, medium, and large. In fact, each icon is given information about the date and size of the file.
2. Air-Trans, Data Transfer Wirelessly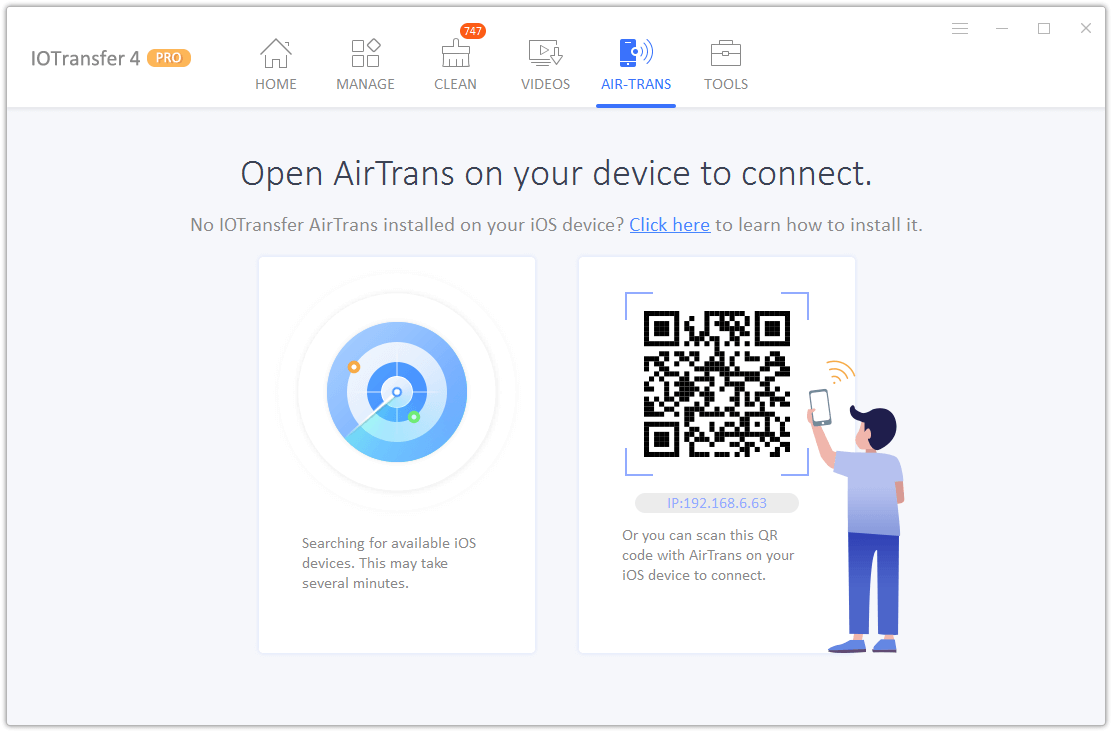 It's still about data transfer, but this time you don't need to bother plugging in cables. Yes, IOTransfer has an Air-Trans feature to transfer data by relying on a WiFi network. Later, you have to match the network between the iOS device and PC / laptop and activate the WiFi.
What can be moved? Of course, you can move all the files with this feature, from photos, videos, podcasts, to e-books you can also transfer to a PC / laptop. So, the Air-Trans feature can also be a smart solution for backing up iPhone data.
Amazingly, IOTransfer 4 also guarantees the ease and speed of data transfer using Air-Trans. In addition, if the connection is suddenly cut off while transferring data, then you do not need to repeat it from the beginning. This is because Air-Trans will transfer data from the last data that has been transferred.
3. Can Download Videos Easily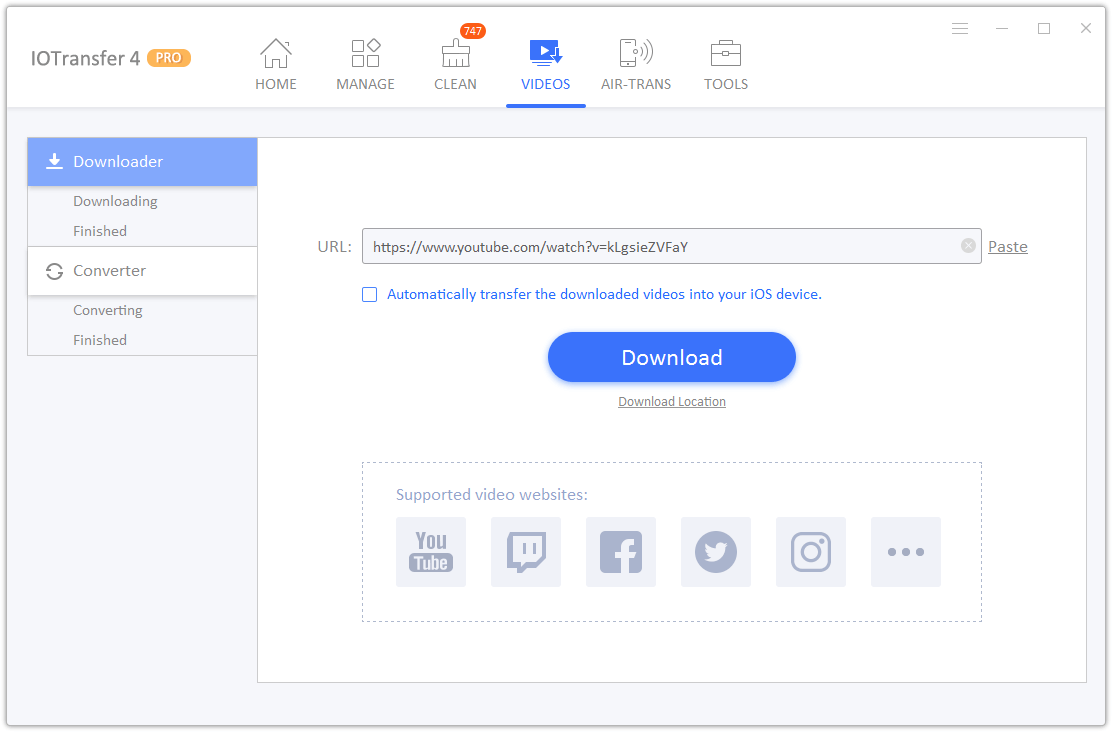 Not only as an iPhone Manager, but IOTransfer application can also be relied upon as download Instagram live video. That is, you can download various videos with just one application.
In fact, how to download it is very easy, just copy the video link, then paste it into the  Instagram live video downloader feature on IOTransfer. After that, wait a few moments until the results of the video download are complete.
4. Convert Videos with Various Formats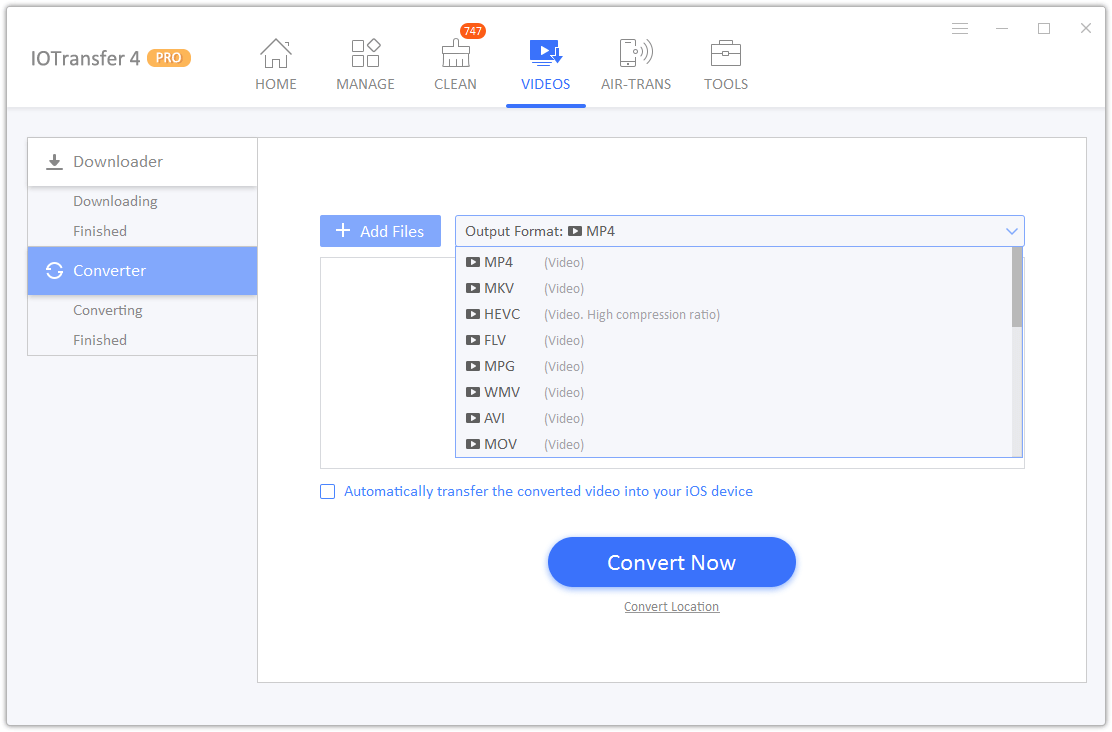 This one feature can be referred to as a video converter. This is a great feature for changing video formats, while still maintaining clear and good video quality. In this feature, you can convert video to mp3 iPhone, ranging from MP4, MKV, AVI, MOV, FLV, MP3, M4A, AAC, and many more.
Uniquely, IOTransfer guarantees high-resolution video quality even though it has been converted. Most importantly, this feature can be used for all iOS devices, be it iPhone, iPad, even iPod though! Very complete, right?
5. Clean Junk Cache & Files
IOTransfer really spoils its users, ranging from data transfer, video conversion, video downloading, and now also comes the CLEAN feature. For what, heck, feature CLEAN this? This feature is very useful for cleaning your iOS from cache and junk files.
By clearing cache, junk files, cookies, and crash logs, you can make the iOS device work more optimally, or not burden the software on iOS. No need to be complicated, you only need to click once and let IOTransfer 4 completely clean up "junk" on iOS!
How to use IOTransfer
After knowing the cool features of IOTransfer, this time we will share tutorials using IOTransfer. As said before, this application is very easy to use. You can prove it by following the steps below:
1. How to move data
The first, of course we will provide a tutorial to move data as its main feature.
First, make sure your PC / laptop has the IOTransfer application installed. Once installed, directly connect the iOS device to the PC / laptop using a data cable and immediately open the application.
Then, choose the data that you want to transfer to the PC. Here we demonstrate just moving songs, so we click Music. When finished selecting, immediately click Transfer to PC.
Now, you only need to wait for IOTransfer to transfer data. Not long, if we only need a few seconds for 6 songs.
When there is written "Transfer completed" it means that all data has been moved. Well, you can check the data moved by clicking Open file location. Or, you want to transfer data again, then you can click OK.
2. How to Download Videos
Equally simple, you can also download videos from various websites easily and quickly. Follow these steps:
Open the IOTransfer application and select the VIDEOS menu. Then, copy and paste the video link into the box provided. Finally, directly click Download.
Now, you only need to wait a while until the download is complete. To download one video, we only need less than 1 minute. Of course the speed of downloading videos also depends on the internet connection you have.
3. How to Clear Cache & Junk Files
Here it is one feature that can make iOS devices lighter and less heavy, namely CLEAN. To use it is also easy can follow these steps:
Open the IOTransfer 4 application and select the CLEAN menu. After that, you just need to click Clean my iPhone.
It only takes a few seconds and all the cache on the iPhone has been erased. Then, you can continue by clicking Done.
Well, that's IOTransfer, a very complete application, arguably a thrifty package! With just one application you can do many things. So what are you waiting for? Come on, install and download the IOTransfer 4 application!