If you are an iPhone user who has tweaked your own device, you might already be familiar with IPA file types. So here I will tell you basic steps Install IPA Files Without Jailbreak. This file type is the basic application file for iOS operating system devices like iPhone, IPad, Mac PC, etc. IPA itself is not an abbreviation of natural science in general, but IPA is a file that uses the ARM 32-bit RISC processor architecture developed by ARM limited.
This file type can only be used on iOS devices. So this file type is indeed specified individually to only be managed on devices developed by Apple. Even when you use iPhone Simulator it is very difficult to run this file on the simulator.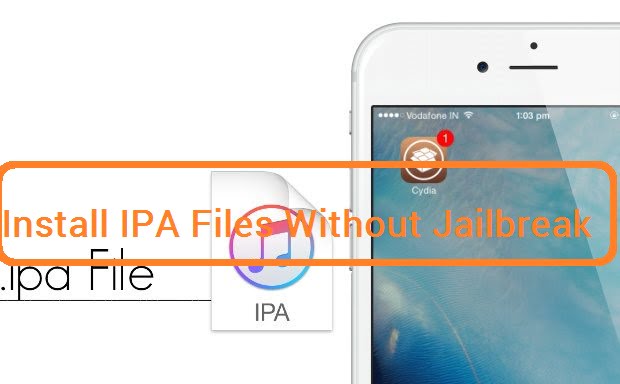 Those who are still confused may be able to know IPA is a file type like android file type is apk. This file is commonly used as an application file that can be installed on our iOS device to be able to use iOS-based application services.
Well, talk about the iOS application with the IPA format. This file turned out to be quite difficult to install outside of the official iOS application.
Apple doesn't even encourage users to manually install files. That's why installing IPA files is quite difficult, especially if the device you have hasn't jailbroken at all.
But of all the difficulties, there must be a way and the following is the road. This article will describe how to install IPA files on iOS devices including the iPhone and iPad very easily without a jailbreak at all. The device needed is only a computer with a Windows OS, Mac (OS X or Sierra) or Linux, a USB / Port Lightning cable and Cydia Impactor software.
What is Cydia Impactor?
Cydia Impactor is one software that allows users to install iOS application files in IPA format via a computer directly. This software is available for desktop or computer devices with Windows, Linux and Mac operating systems.
Read More:
Steps To Install IPA Files Without Jailbreak on iPhone
Step 1: Make sure you have installed the latest version of iTunes on your computer. Besides that, also if you already have Cydia Impactor software on your computer. If not, please download the Cydia Impactor software on your computer first via the download link below:
It is possible to download the software in the .zip format, so if that happens. Please extract the zip file in the folder location that you can easily access.
Step 2: Connect an iOS device (iPhone / iPad / etc.) to your computer using a USB data cable / Port Lightning.
Step 3: Open your Cydia Impactor software on the computer. How to access the zip file that you extracted before, then find the file called "Impactor" in the .exe format (application – 8., 725 kb).

Step 4: Move the IPA file you want to install on your iOS device to the Cydia Impactor window that you are opening. The way is by drag and drop the file or find the related IPA file, then click while holding while moving to the Cydia window.
You also do that by pointing to Device -> Install-Package …
After that wait until the installation process is complete. The process will be marked with the words "Complete" under the IPA file window column.
Note: You may be asked to enter your Apple ID, so you need to fill it in according to the account that you associate on your iOS (iPhone / iPad / device).
Step 5: Next you will see the new application installed on your iOS device. But you still have to allow the application to be used.
The method is on your iOS (iPhone / iPad) device. Navigate to Settings -> General -> Device Management
Then you will see the Apple id profile on the page, please click then press the "Trust" button
After that, all processes have ended and you are ready to use the application that you just installed on your iOS device.
Note: You need to know that if you install with an Apple iD Developer or Developer account, you will get a certification that is able to keep the application you installed to last up to 1 year. But if you only use a normal Apple ID user, then the application you install will probably only last up to 7 days.
So when the validity process ends, you have to repeat the stage from the start, which is reinstalling the application via Cydia.
Maybe this method is a bit inconvenient if you are a normal Apple ID user because it only allows time to re-install every 7 days. therefore, please use another method that uses jailbreak to do this much easier and more durable.
Cydia Impactor Common Error:
1. lockdown.cpp: 57
If you use Cydia Impactor on a Windows or Linux device, you might experience this kind of error. This error means that your device is not connected either with Cydia Impactor or with an Apple server.
If you connect your iOS device to the computer for the first time, make sure to always choose the "Trust this computer" option when prompted.
This error can also occur when you enable two-factor authentication (two-factor authentication) on your Apple ID account.
2. Provision.cpp: 150
This error is the most common experience when entering an Apple and Username from our Apple ID account. This usually happens when you have set up a two-factor authentication feature on your Apple ID account.
The solution is twofold, namely first deactivating the two-factor authentication feature and the second is using an application-specific password. To deactivate two-factor authentication on Apple ID, famine feels that you also know. So what I will describe here is how to create a special application password.
How to create a special application password, please navigate to appleid.apple.com -> enter with your account credentials -> Edit (under the security section -> App-specific Password -> Generate Password -> Enter the label to get the password.
3. provision.cpp: 62 and provision.cpp: 68
This error is experienced when Cydia Impactor is not connected to an Apple server. Mistakes may be from your internet network or indeed the Apple server is down at that time. Also, make sure there are no DNS connectivity issues.
4. ipa.cpp: 45
This error occurs when you have installed the same application on your device using a different Apple ID account. The method is to simply delete the existing application or please install with the same account when you install the installed application.
5. zip.cpp: 321 and zip.cpp: 331
This error can occur due to two factors, either because the Cydia Impactor software you have is an old version or the IPA file is corrupt or damaged. The solution, make sure your Cydia software is the latest version, how to direct it to Impactor -> Check for updates.
However, if your Cydia version is the most recent, then it is possible that the IPA file has a problem. So please find another IPA file.
6. http-win.cpp: 158
This error occurs when Cydia Impactor cannot establish a secure connection with a remote server due to a problem with SSL certificates.
This problem can only be solved by using the latest version of Cydia or try it later.
Apart from the random questions above, please ask via the comments column below.
Maybe that's all you can say. less and more, please forgive.