The gaming sector is booming, and not just since the global pandemic. But it is also clear that this has made it even more profitable. Most people probably immediately think of game consoles and computer games when they hear the word "gaming. In fact, these still account for a very large share and are extremely popular, especially among the young target group.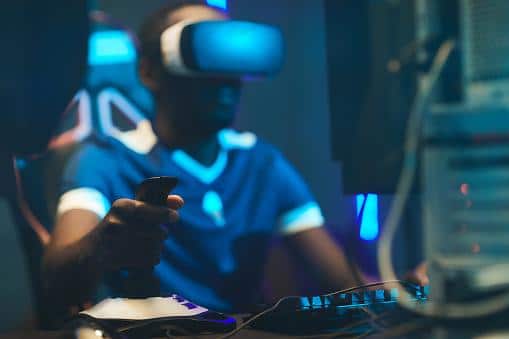 In addition, numerous championships are held at national and international levels in this so-called e-sports sector, where considerable prize money is at stake.
In addition, there is of course the whole online sector, which is strongly represented, especially on platforms like Twitch. If you want to gamble online, the possibilities are almost limitless nowadays, the hip megaways slots are just one example. And finally, gaming in its most technically advanced form is also increasingly taking place in virtual reality. What exactly does this mean and what developments can be expected?
What is virtual reality?
Basically, virtual reality, which is often abbreviated as VR, is an artificially created reality. Thanks to certain technical requirements, the user can experience it as a complete world.
VR is now used in many places to create digital experiences or to improve spatial perception. For example, it can be used to create 3-dimensional videos that transport the viewer directly to the scene of the action. This is particularly practical if, for example, you want to view real estate at a distance or experience the dimensions of a new aircraft model.
If, on the other hand, the experience is to be even more realistic and intense, special VR equipment is used, first and foremost professional VR glasses. They enclose the eye area over a large area in order to completely darken it and are not only, but meanwhile very often used for computer games that are designed accordingly.
Due to the real appearing representation, which includes a fascinating 3-D vision, our brain is fooled into thinking that we are in a real existing environment. Added to this are sophisticated acoustic stimuli as well as the possibility to move through this virtual world as well. All of this happens in real-time and thus deceives our senses so effectively that we hardly notice any differences from real reality.
VR goggles achieve a simulation of the 360-degree environment by using separate screens for each eye. The use of optical lenses generates a particularly extended field of vision. In this way, the information is processed in the brain to create an overall optical impression that has the desired 3-D depth effect, making everything seem totally tangible.
The VR glasses are also equipped with headphones, which also play an important role. The audio recordings are designed in such a way that they additionally support the spatial perception during the running game. For example, they come from close by, from far away, or are clearly more audible in one ear.
Immersion in the Metaverse
The digital space projected in this way is called metaverse. In order to be able to move successfully through the metaverse, one also needs aids that make the motion sequences as realistic as possible. Among other things, this can be done with a special treadmill, with the help of which the walking movements performed in real life are transferred to virtual reality. Furthermore, fly sticks are usually part of the equipment.
These are VR controllers that are held in both hands and equipped with highly sensitive receptors for geographical position recognition. For example, an executed arm movement can be displayed on the screens of the VR glasses in a fraction of a second.
Another popular variant is a set of data gloves, which are also used for orientation in the virtual world. Even the finest finger movements can be registered and transmitted.
With the help of this sophisticated VR equipment, it is easy to create an environment that can be experienced on all levels in front of the player's eyes. The theme of this virtual world varies from game to game. It can be mysterious forests full of danger and eerie mythical creatures, medieval sword fights, chases through big city scenes and much more. The sky's the limit here, and there's sure to be something to suit everyone's tastes.
What are the prospects for the future?
We probably no longer notice that VR has long been used as a matter of course in everyday life. VR is used just as intensively in the industry as in space travel or virtual tourism, to name just a few economic sectors. Virtual reality has thus already become part of our actual reality. There is no doubt that the possibilities of this technology are gigantic and currently only a small part has been exhausted, so further expansion is considered certain.
In terms of gaming, game developers are working at full speed on increasingly spectacular games that look like massive blockbusters. For the individual hardware components like PlayStation VR, novelties are regularly launched on the market.
This rightly raises the question of whether the enthusiastic fan community can ultimately differentiate between reality and fiction at all. And where they ultimately prefer to stay.