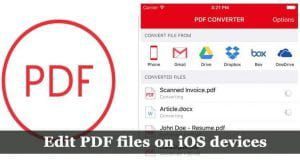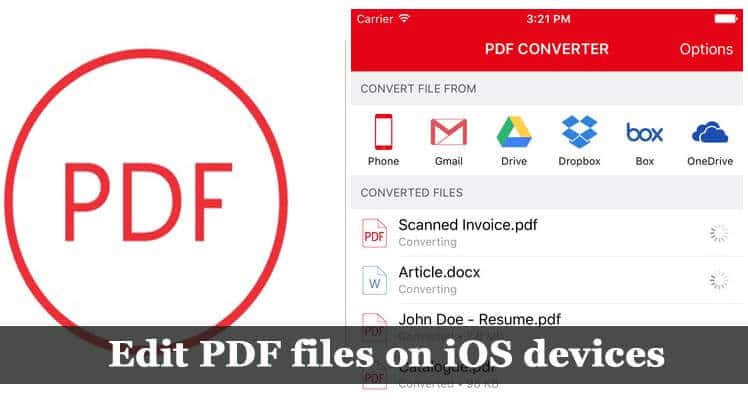 Being one of the most used file formats throughout the history of the internet, PDF is something that we all sooner or later have to face. Some of us have to work with them or around them, and when it comes to working with PDFs we have the perfect app for you to do so! Coming from the Cometdocs workshop, a very reputable mobile app development company that mostly deals with conversion apps, we present you PDF Converter Ultimate, a state of the art OCR converter! This article will also show you the fastest and easiest way to edit PDF files on iOS devices.
Where can I get PDF Converter Ultimate?
For a while now, this app has been available on both iOS devices and Android as well. PDF Converter Ultimate is designed for both iPad and iPhone, and is compatible with all versions of Android, and also every iOS version past iOS 8.1. This app is free to download, and it has a few in-app purchases available in order to upgrade it's already high-level performance.
One of the best things about this app is that its premium features are free, and you can choose to upgrade the app by purchasing additional types of conversion. When we say "its premium features" we mean that you don't have to pay in order to connect your cloud services with the app since they are already integrated, and all conversions are near instant so it will not take you longer than a few minutes to convert and edit pdf files!
What else can I do with it? Edit PDF files!
While there are many apps that convert PDFs to other editable formats, almost no other app development company has the audacity to say that they have the industry leading OCR technology. Well, Cometdocs surely has the courage to say so, and many other things you can read on the Cometdocs blog while scrolling through your newsfeed!
Here's a short list of things PDF Converter Ultimate prides itself upon:
You can convert any number of PDFs you want, even with the free version

The size of the file being converted doesn't matter at all since it doesn't have that kind of limitations

PDF Converter Ultimate can convert both native and scanned files

Layouts, formatting of the text, images, and other PDF content remain untouched after conversion

The converted file can be previewed within the app and is optimized for subsequent editing

Cometdocs servers will delete your files 24 hours after conversion is done for your safety, as well as unloading the pressure off themselves in order to speed up current ongoing conversions

PDF Converter Ultimate is battery friendly, which means you can convert file to the app being in standby mode and leave the work to Cometdocs servers
Integrated importing services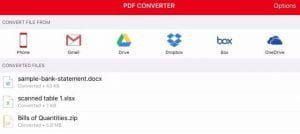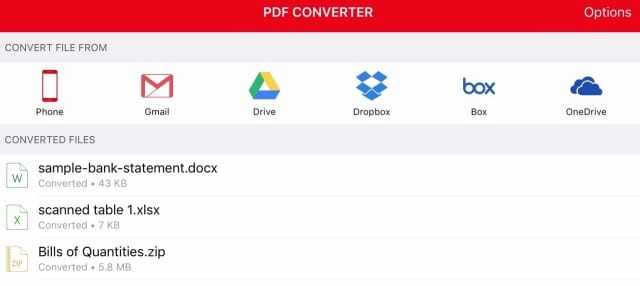 One major thing we have skipped and left for the end are the integrated importing services. Cometdocs has recently experimented with several cloud services, resulting in the introduction of Gmail, Google Drive, Dropbox, OneDrive and Box services into PDF Converter Ultimate, and several other apps.
Uploading files from iOS devices can sometimes be a nightmare if you are a first time user, or just don't seem to be comfortable with Apple devices. The reason for that is simple: iOS as an OS doesn't have a file browsing system. Each file you want to import will have to be on your device memory, and once you have it there, you will have to manually find it and import it to the app.
Integrated importing services remove that obstacle for you. You have a file in your Gmail account you need to convert? PCU will connect with your Gmail, show you an easily readable list of all PDFs you have on that account, with the newest being on top and oldest on the bottom. Files stuck in Dropbox and your laptop battery just ran out? PCU can fix that for you. Just connect your desired cloud service with the app and feel the power of instant conversion!
Do you want to help Cometdocs developers?
Head out to your favorite app store, whether it's iOS App Store or Google Play Store and give PDF Converter Ultimate ago. It's free to try, and it won't take too much of your time! You can help their developers by testing the app and leaving a review and star rating on the app store with a short comment telling them what are the positives and negatives you've faced, and they will answer you as soon as possible!