The digital signage industry is changing the way fast food premises do business. Gone are the days of static and illuminated posters. Instead, QSRs are investing in drive-thru digital signage to increase sales and enhance the customer experience. Moreover, brands like Panera Bread, Taco Bell, Shake Shack, Chipotle are looking for ways to integrate digital signage into their ecosystems. For an industry known to be extremely competitive, you can't afford to miss out on the technology's benefits.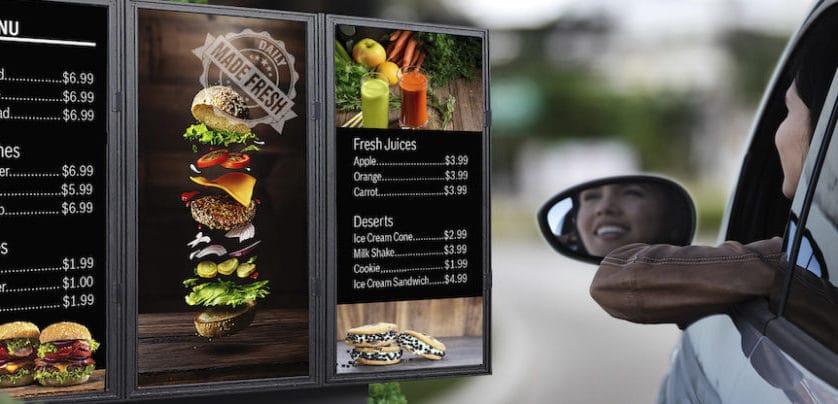 Americans love the convenience of drive-thrus. In fact, nearly 20% of all American meals are consumed by cars. If you are a restaurant operator, this is an excellent market to prioritize. A digital signage network in your drive-thru will let you influence the buying decisions of customers, among other benefits like:
1. Easy to Make Changes
Making changes to static signs is time-consuming and tiring. For example, if an employee forgets to flip the breakfast menu at 11 am, customers on the line for fries and a coke will get confused. On the other hand, you only need a few clicks of a mouse to edit a digital drive-thru menu.
The flexibility of drive-thru digital signage makes it perfect for any restaurant with a drive-thru. Menu changes can be made in seconds at specific times in the day or on particular days of the week. If you manage a QSR chain, you can use one software to update the digital menus in all establishments.
Instead of manually changing menus during the day, some restaurants opted to leave all the menu items up at all times. However, 20-page menus will be confusing for any drive-thru customer. Digital menus allow images to be changed as often as needed to improve business every day.
2. Enhance Customer Experience
In addition to food quality, reviews and ratings of fast-food restaurants also depend on experience. When customers pull up to a drive-thru lane, they expect to be served quickly and to receive their exact order at the window.
To start, customers appreciate a clear menu. Direct sunlight and insufficient lighting in the evenings can make outdoor printed signs unreadable. On the other hand, digital menu boards feature a high brightness display, which prompts quick buying decisions and promotes customer satisfaction. The order confirmation message that pops up on the digital screen will assure the customer that you listen to them and improve order accuracy.
Clear restaurant menus will also speed up traffic on the drive-thru lane. People love drive-thrus because they are quick, and the last thing you want to have is a barely moving line. Additionally, you can add entertaining videos, attractive graphics, animated gifs, and nutritional information to bring your menus to life.
3. Increase Fast Food Sales
The restaurant industry is notorious for being highly competitive, but you can use digital signage software tools to boost your profits. Firstly, the high-quality images in your outdoor digital menus will draw people in. If you want to make people hungry, display appetizing pictures. Secondly, the efficient ordering service will help your establishment process more orders.
If you are a restaurant operator, you can take advantage of impulse ordering to promote high-margin items. Digital menu items look more appetizing than those on printed signs, thereby convincing customers to spend more. Moreover, visual depictions and animations captivated people.
You can use digital menu boards to draw attention to new items, seasonal specials, and limited menu offers. Similarly, you can direct customers to your best sellers and speed up the ordering process.
A digital menu board network will also promote target marketing. For example, you can promote shakes and ice cream when it's hot or coffee and hot chocolate during cold weather. By advertising what customers desire before they acknowledge they want it, you will promote customer loyalty.
Additionally, drive-thru digital signage allows you to gather analytics to strategize the timing of your promotions. You can analyze the type of drive-in customer in your premise at any time of day or week and determine your customers' buying habits. These insights will help you customize the content on your media players and boost sales.
4. Save Money
QSRs spend thousands of dollars on printing menu items and additional displays. Menu signage is also often replaced because of shifts in buyer preferences and weather changes. Additionally, static signs waste an incredible amount of paper. Digital signage saves money by saving time. For example, the time that employees spend on updating printed signage could now be used for other more productive tasks.
On the other hand, digital signs are easy and quick to update. After installing a digital signage platform, you can start updating menu items in real-time. In addition, a digital signage solution will provide a worthwhile return in the form of reduced operational costs, improved staff productivity, boosted sales, and customer retention.
Wrapping Up
Drive-thru digital signage is the ideal solution for restaurateurs looking to improve customer experience and enjoy upselling opportunities. If you are still using static signs at your drive-thru, it is time to upgrade to digital technologies. Digital menu boards, touchscreen kiosks, and order-ready digital signs are some forms of digital signage that will streamline the ordering process.