Working as a data entry operator might look a little mundane because you may feel that it is only about transcribing and entering the data values from one place to the other place.
This is one of the major myths that a lot of people have regarding online data entry jobs. There are different categories of online data entry tasks that one can choose to work upon.
The kind of assignments you want to choose is completely based on your individual interest and also the strategies that you have in mind regarding the financial aspects.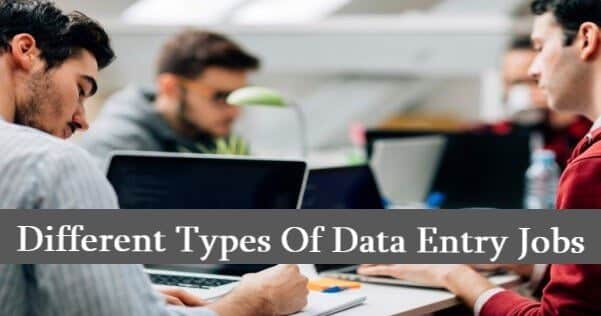 You can learn more about these things from the below section of the article and get to know the efforts that we have taken to debunk all these notions that hinder you from seeking opportunities in the data entry field.
When you overcome all these issues, it becomes easy for you to quickly make a good amount of money through data entry services.
Data Entry Jobs (Online & Offline)
1. Regular data entry jobs
Regular data entry jobs are one of the most common categories that you can find when you start looking out for job opportunities in the data entry sector.
This is one of those job categories which would require an individual to at least have 20 to 30 words per minute typing speed. With the ability to type faster, you would be able to make a lot of money.
2. Plain data entry jobs
If you are proficient in Microsoft Word and if you also possess good language skills, it is good to choose the plain data entry jobs. The majority of the legit companies do offer at least $ 2 to $ 5 per page with this kind of work.
And this is completely based on the kind of client you get to work with. All you have to do is scan the provided PDF document given to you by the client and convert them into a word document.
3. Excel spreadsheet typing jobs
This is again one of the most common categories that you would come across when you are looking for data entry jobs. The job involves filling up the Excel cells with the data provided by the client.
In this particular kind of task, you do not have to have any technical knowledge or understand the formula. It is extremely non-technical in nature, and you can quickly make $ 3 to $ 5 per hour, and this is again dependent upon the speed and your accuracy and also the client.
4. Typist
If you're looking for more challenging assignments, then it is good to go ahead and Check Dormzi for online data entry jobs that are related to a word processor or typist. In this particular job role, the individual would be expected to create a lot of emails and letters and other technical reports.
It is mandatory to have amazing grammar skills and vocabulary in order to apply for the job role. The clients might also come up with a few requirements, like creating graphs, tables, and charts, which could be a little technical in nature. A majority of the clients would encourage the freelance data entry operator has to go through a certain amount of training before offering this job.
5. Data cleansing
Commonly known as data scrubbing, this is one of the important data entry jobs that one can come across, which involves removing the errors from an excel file or a word file.
This particular job role requires a lot of experience, and you would get paid accordingly.
6. Online form filling
The client would give you huge data, and you may have to transfer all data into the cells of an excel sheet from the database that is given to you.
It is mandatory that you have good concentration and observation skills while doing this activity. If you end up submitting the wrong data, you might the task would be rejected outrightly.
7. Online survey job
This is one of the best part-time jobs that anybody can do in the space of online data entry. All you have to do is answer your questions and fill up the survey form given by the client.
The time taken to fill every survey would not be more than 15 minutes, depending upon the kind of questions that are being asked. This is usually given by companies that require customer feedback.
8. Captcha entry jobs
In order to maintain security, a lot of websites this day come up with the captcha images that contain alphanumeric codes. In this particular job role, the data entry operator would be expected to solve more than hundreds and thousands of captures like this for day and per week. There are a lot of freelance Websites that give you this kind of assignment.
These are some of the most important and common categories of data entry jobs that you can find in the freelance space.