I this article, I am going to show you how to setup a Custom Google Plus and Youtube URL. You know Google Plus is a  social network that is owned and operated by Google Inc. It includes basic social networking elements like a profile photo, about section, background photo, previous work and school history, interests, places lived and an area to post status updates. Now Google+ Offers Custom Google Plus URL for users to help simplify access to Google+ pages and allow users more flexibility.
Read More Google Plus Traffic : Use Google+ to Increase Search Rankings
What is Google (Youtube) Custom URL?
Custom URL is also known as Vanity URL, It is a way that compresses your profile URL into something readable and easily remembered.  For example, A normal Google Plus and Youtube URL looks like.
https://plus.google.com/115755293765540512916

https://www.youtube.com/channel/UCuchnghlZQy4iyUMrsOBQfQ
And this is the Custom Google Plus and Youtube URL looks like
https://plus.google.com/+TechPanaga

https://www.youtube.com/techpanga
So I think Now You have understood why Custome URL more easy to read and rememberable than a Normal URL. So This guide will help you to get a custom Google+ URL
Follow These Steps To Get a Custom Google+ Page For Your Business:
Eligibility requirements
To get a customized URL, your account needs some requirements.
For local Google+ pages: Must be a verified local business
For all other Google+ Pages: Must be linked to a website
You must have ten or more followers
So Get A Custome URL
Sign in to Google+ with your Gmail account
In the top left corner, click the drop-down menu > click Profile.
Under your photo and profile summary, click About.
Scroll to "Links" section > find the header "Google+ URL" > click Edit .
click on get URL.
It'll ask for your custom URL and it'll search if it's unique or not. After this, it'll ask for accepting terms of services.
Click Change URL button. You've to confirm this by adding a mobile number and they'll send you a confirmation code which you've to enter in the process.
Click verify after entering the code and Click confirm the choice.
After changing My Google Plus URL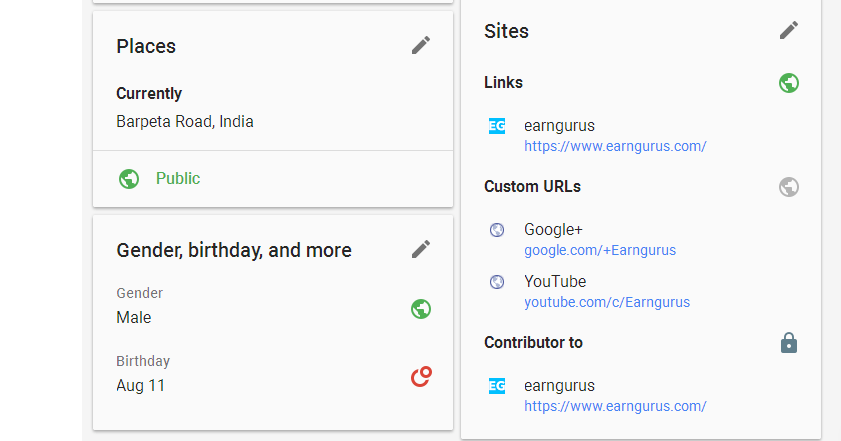 You May Also Like Create Gmail Account Without Phone Number Verification
How to Create a Custom youtube URL?
Eligibility requirements
100 or more subscribers
Channel is at least 30 days old
Have an uploaded photo as channel icon
Have uploaded channel art
So Get A Custome URL
Sign in to your YouTube account with your Gmail.
Go to your advanced settings by clicking your icon in the top right > Settings or. this icon  Then clicks Advanced under your channel name.
Under "Channel settings," select the link next to You're eligible for a custom URL. You'll only see this link if your channel is eligible.
claim your custom URL and click the included link. The Custom URL must be unique.
Click the box next to "I agree to the Terms of Service" then click Change URL.
Once your URL has been approved, you can't ask to change it, before clicking Confirm choice.
here is My youtube custom URL
Wrap UP
Short URL or a Custom Google plus URL makes it much easier to spread around and look a lot better for your customers, also Youtube custom URL do the same. If you have any problems feel free to let me know here. I'll do my best to help you solve them!