Are you Youtuber or want to edit your video like a pro but you are not expert to edit videos. Don't worry Nowadays there are lots of video editing software available on the market to edit video like other Popular Youtuber do. Video editing is now done by anyone even If you are not an expert. It is now very simple by the best Video Editing Software like Sony Vegas Pro, Wondershare Filmora, Camtasia Studio 8, Pinnacle Studio 20, Adobe Premiere Pro, iMovie, Windows Movie Maker.
With a nice camera and a good video editing software, We are now able to create high-quality videos for our Youtube channel. So In this article, I am going to discuss top video editing software that YouTubers Use.
​
Product
Info
Features
 

Filmora

Click Here For More Info
⇒Available For Windows, Mac iOS
⇒Great Built-in Functionalities
⇒Free Version available
SONY VEGAS PRO
Click Here For More Info
⇒Expensive but delivers full value to the user
⇒Four-point editing modes
⇒Free trial available
PINNACLE STUDIO 21
Click Here For More Info
⇒Easy to create dynamic videos and share them on any platform
⇒Affordable
Movavi
Click Here For More Info
⇒Perfect for beginners
⇒easy-to-use and easy-to-learn
The best Video Editing Software for YouTube
#1. Filmora video editor
This software includes both standard and advanced modes so you don't have to look for sperate programs in this software. these modes are explained as user:
Standard Mode
The standard mod allows you to create easily your own movies build in this software. Just you need to add your Video and picture, select a theme and music and you are good to go. This mode could be enabled based on the users in case they are newcomers to the world of YouTube video upload and editing.
Advanced Mode:
For big and much more professional projects this mode is preferred and also the user can make certain the mode is activated to obtain the work completed in the most stylish and qualified manner.
Simple and easy to use user interface
30 days money-back guarantee
Very intuitive
More than 600+ effects and themes
Slow and Take more time to apply any effect
Lack of some advanced features
#2. SONY VEGAS PRO
One of the best video editing software you might hear is Sony Vegas. Software made by Sony So It has no doubt they work in terms of making video and music. Software made by them is very qualified with very many features and can be said this is a professional class video editing software.

Vegas does not require any special hardware to run properly, allowing it to operate on almost any standard Windows computer in various hardware. In areas of compositing and motion graphics Vegas provides a comprehensive set of tools including 3D compositing motion with in-depth control z, and spatial plane visual including junction plane.
Sony Vegas is fairly easy to use
You can run the software on low spec PCs as well
This software offers a 30 Day  Free Trial.
It is only compatible with iDevices
In case of a malfunction, the editing has to be done from the beginning again.
#3. PINNACLE STUDIO
The attractive display is supported by many video effects making this software worthy of choice. In addition, this software is also integrated with services to sites and streaming popular videos like Facebook, Vimeo, Box as well as YouTube.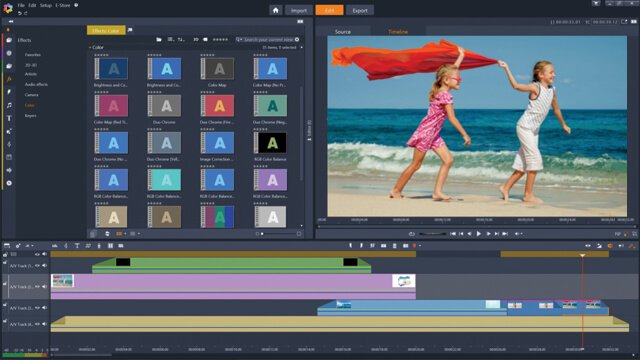 Very Easy to use and user friendly
Multi-camera editing, Good titling and 4K support, Excellent audio tools
Easy to upload edited content on Facebook and YouTube due to direct online sharing option
Some very useful options aren't available on the basic version
need to upgrade to the ultimate version of the software if you are looking for 4K support
#4. Adobe Premiere
Adobe Premiere Pro is the preferred video processing program for professionals, especially those who like to experiment. This program is widely used by companies Filming / Sinetron, Broadcasting, and Television. One of them is the BBC and The Tonight Show.
It is also often used for films, such as Dust to Glory, Captain Abu Raed, and Superman Returns. For other places like the Confessions Tour by Madonna. Adobe Premiere Pro has about 45 video effects and 12 audio effects, which can be to change the display pattern and animated video and audio clips. Some effects require a high-quality graphics card.
#5. Windows Movie Maker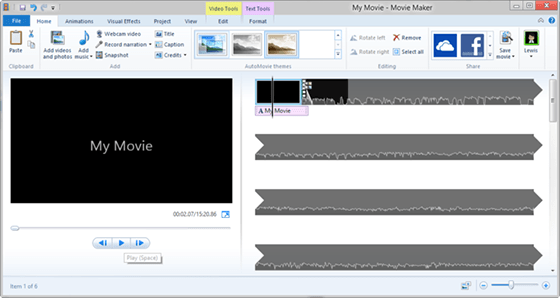 Windows Movie Maker is a video editing application created by Microsoft and created exclusively for Windows machines. This is the very basic software for video editing with features that are practically limited. You can only give a few simple touches. Even so, because the ease is very suitable for beginners.
#6. Movavi Video Editor
Movavi Video Editor is an advanced version of a consumer-friendly video editor among competing video editors.
It combines a good balance of video editing functions and ease of use, making it ideal for users who want to create their own videos to share online or with their friends and family.
Pros
– Perfect for beginners
– easy-to-use and easy-to-learn
– multiple effects
– safe to Use
Cons
– not intended for more professional editing.