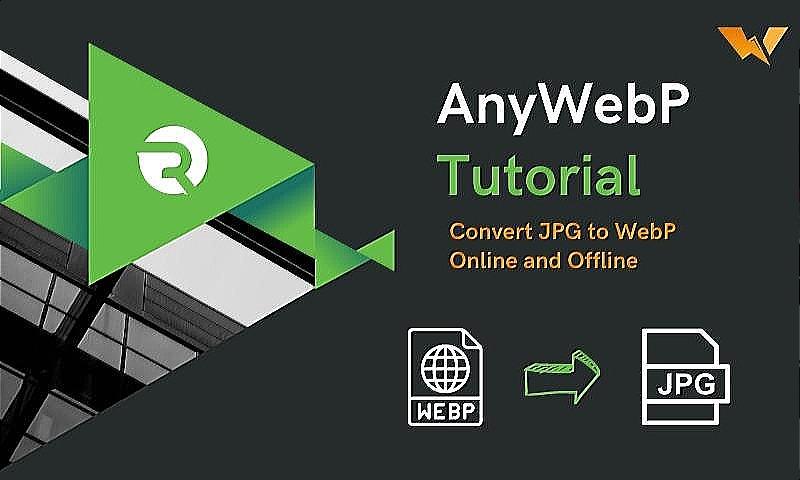 With the growing popularity of the internet, photographs have become an essential component of site design. Image size and format, on the other hand, can have a big influence on page loading speed, user experience, and SEO. WebP image format has gained popularity among web developers in recent years owing to its high compression rate and lossless/lossy picture quality. In this tutorial, we will look at how to convert JPG photos to WebP online and offline using AnyWebP.
About AnyWebP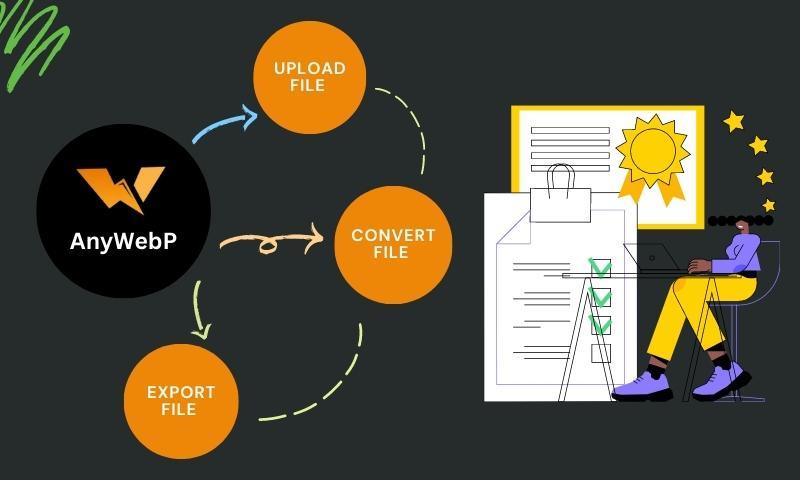 AnyWebP is a free webp converter for converting JPG, PNG, and other image formats to WebP. AnyWebP also supports jpg to webp conversion online and offline. This converter is simple to use and does not require installation, making it a perfect choice for customers who want to convert their photographs to WebP format quickly and easily.
This application is now available for the browser Windows and Mac. It gained 4.8 out of five stars from the Mac store. Most users give it a positive rating.
The Methods Used in WebP Conversion
An online converter is used in the WebP to JPEG conversion technique. These converters decode the WebP picture and re-encode it as a JPEG using a server-side implementation of the conversion method, and the resultant image is then transmitted back to the user's browser.
In any scenario, decoding the WebP picture into a raw image format, which can then be modified and re-encoded as a JPEG file, is the real conversion process. The precise algorithms used to conduct this conversion may differ depending on the library or online converter utilised, but the overall procedure is the same.
Convert JPG to WebP Online Using AnyWebP
AnyWebP is a free online tool that can be used to convert WebP images to JPG format. This guide will walk you through converting a jpg to a webp using AnyWebP.
Step 1: Go to AnyWebP website
First, you need to go to the AnyWebP website by entering its URL https://anywebp.com/ into your web browser.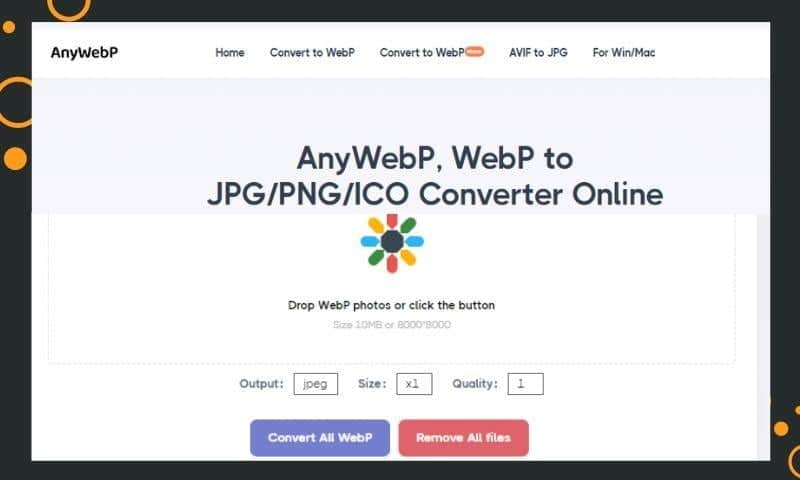 Step 2: Upload your JPG image
Once you are on the AnyWebP website, click on the "Convert to WebP" button, and then you will go to a new page where you can upload jpg files for conversion. You can drag and drop the file you want to convert into the upload box.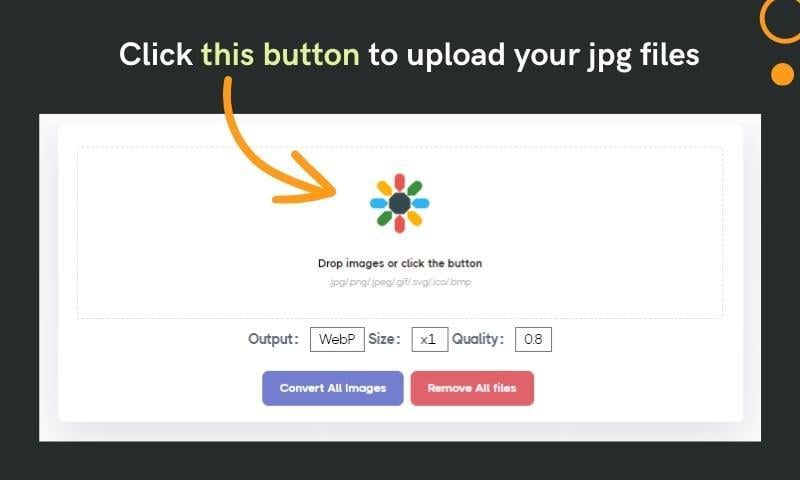 Step 3: Choose the output quality
Next, you can choose the output quality for your JPG image. AnyWebP offers several options ranging from low to high quality. The default setting is set to "08", which is a good balance between quality and file size. However, you can choose a different quality level depending on your preferences.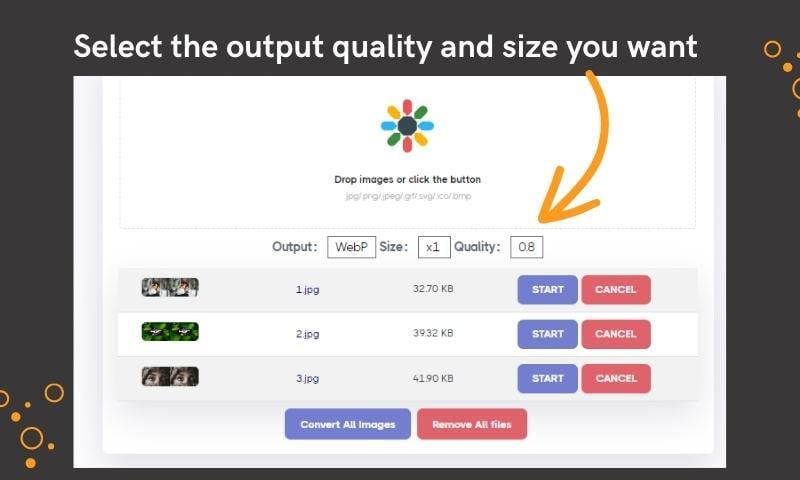 Step 4: Convert the image
Once you have selected the output size and quality, you can click on the "Convert" button to start the conversion process. The time it takes to convert jpg to webp will depend on the size of the file and the speed of your internet connection.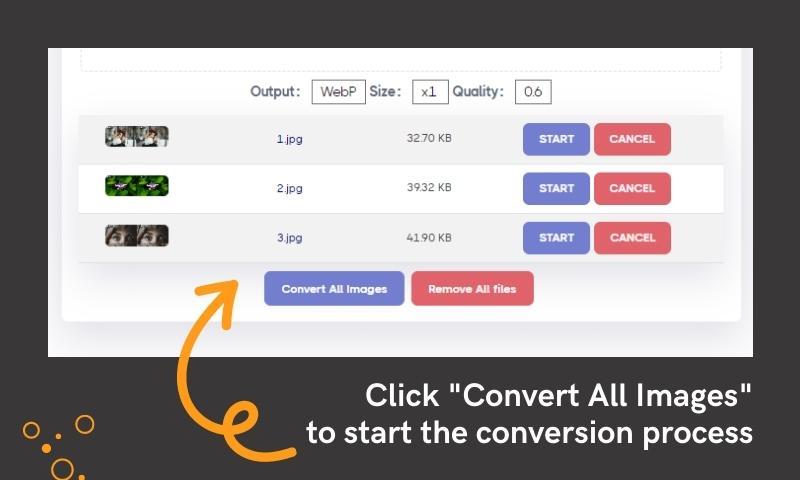 Step 5: Download the Converted Image
After the conversion process is complete, you will see a download button appear. Click on this button to download your converted webp image to your computer.
Once the image has been downloaded, you can check its quality to ensure it has been converted correctly. Open the image using an image viewer such as Windows Photo Viewer, Photoshop or any other photo editing software you prefer.
Convert JPG to WebP Offline
AnyWebP also offers an offline version of their tool, which allows you to convert images to WebP format without an internet connection. You can get the app called "WebP Converter – AnyWebP" from the Mac store. The desktop app requires macOS 11.0 or higher. Please make sure your system supports the app before you download it.
Here's how to use the offline version of AnyWebP:
Step 1: Download and Install AnyWebP
Go to download and install the AnyWebP software from the Mac Store. The app is called "WebP Converter – AnyWebP", and it gained 4.8 out of five stars from the store. So this webp converter is secure to download.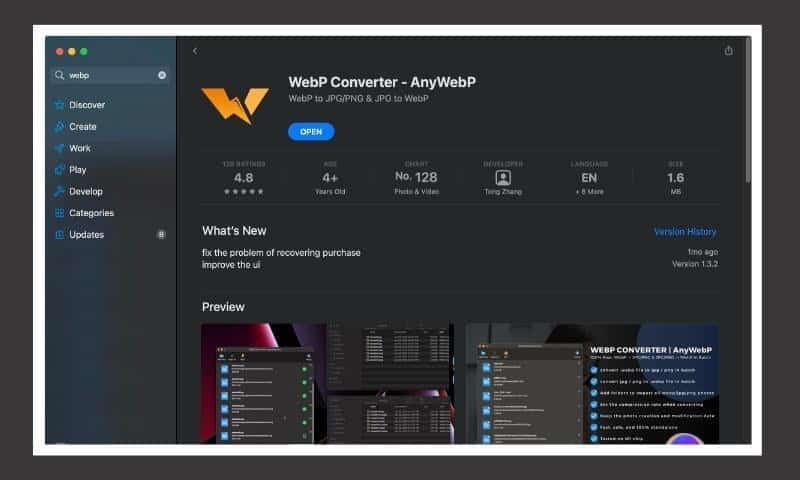 Step 2: Launch AnyWebP Software
Open the software and select the file conversion type. There are three options at the bottom left of the software: webp to jpg, webp to png, and jpg/png to webp. Here we need to select "jpg/png to webp."
Step 3: Add File to The Software
After selecting the file conversion type, you can click the "add files" button to import the files into the software. You can also drag or drop the jpg from your computer. If you want to convert jpg to webp in batch, add multiple files at once.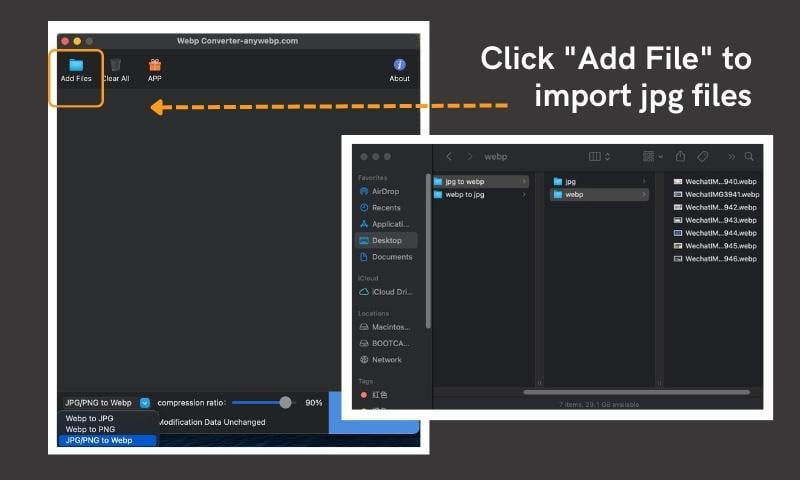 Step 4: Convert Jpg to WebP
To convert JPG to WebP, click the "Convert" button to let AnyWebP do its work. The time it takes to convert images depends on the size and number of files being added. But most of the time, it can convert files in less than 5 seconds.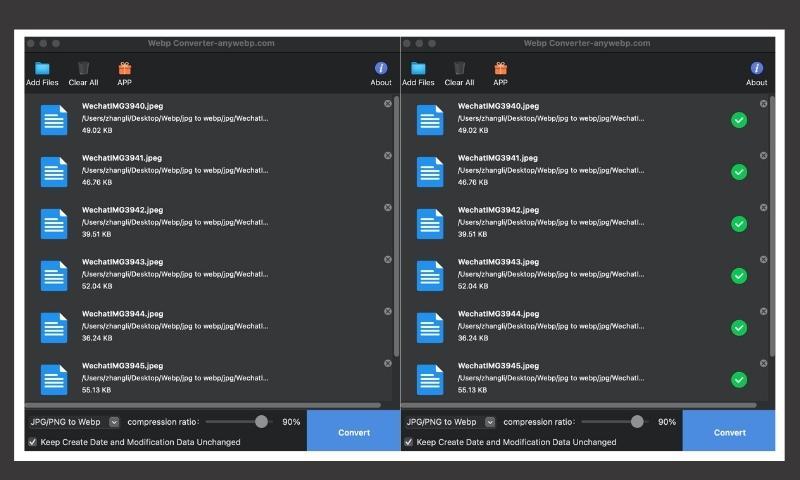 Step 5: Save WebP Images
Once the conversion is complete, you can find the converted WebP image in the same folder as the original image. Then you can use any webp viewer to check them.
Why Use AnyWebP to Convert Image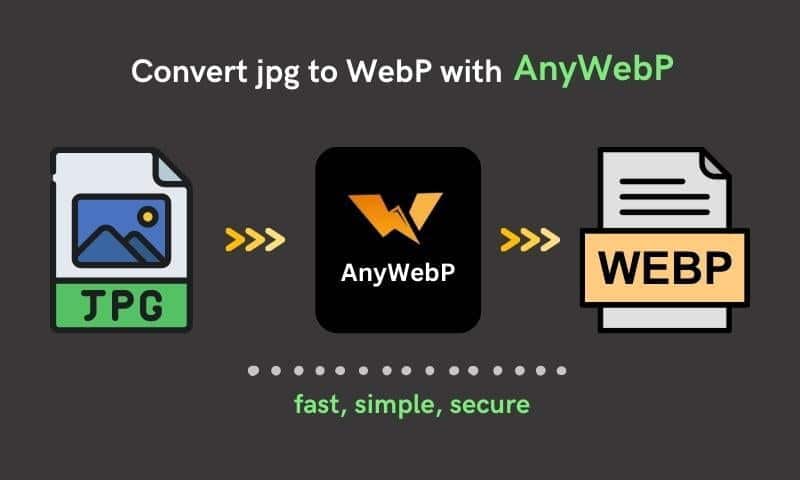 Accessibility
AnyWebP is a versatile tool that can be utilised both online and offline. Its online accessibility means that users can convert JPG to WebP from anywhere, as long as they have an internet connection. This is particularly helpful for those without access to image editing software or a high-performance computer.
Moreover, AnyWebP also provides an offline service by allowing users to download the app to their computer for WebP conversion. This is a great option for users who value security and prefer to use the tool without relying on an online service.
Ease of Use
AnyWebP is user-friendly and easy to use. The interface is intuitive, and users can quickly upload their images and select the desired output format. Additionally, it supports a wide range of input and output formats, so users can convert images to the format they need without having to install additional software.
Speed and Efficiency
As a professional webp converter, AnyWebP is designed to be fast and efficient. It can handle large image files quickly, and users can convert multiple images at once. which can be especially useful for businesses and organisations that need to convert images regularly.
Cost-effectiveness
AnyWebP offers both free plans and paid plans for users. Using AnyWebP online or on Windows is 100% free. You can enjoy the fast file conversion service without a penny. Mac users can upgrade to paid users to enjoy additional features and higher conversion limits, but even the paid plan can be cost-effective for individuals and small businesses.
Why Convert JPG to WebP?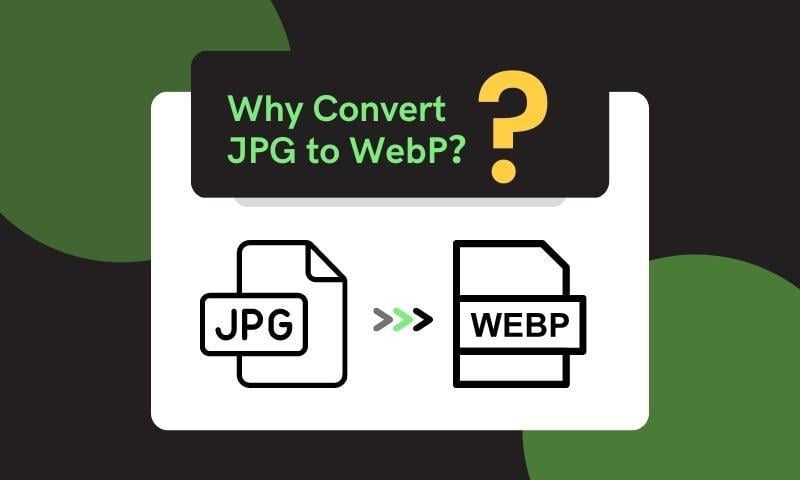 Although JPG and WebP are picture file formats, WebP is a more recent format with a few benefits over JPG. The following are some of the primary justifications for considering a JPG to WebP conversion:
Reduced File Size
WebP photos typically load quicker than JPG images of the same quality because they are smaller and consume less server space. This may result in higher search engine rankings and an enhanced user experience.
Better Compression
WebP employs powerful compression algorithms to minimise file size while keeping image quality. This can yield better-looking photographs with fewer file sizes than JPG. WebP photos can also be lossless, which means they keep all of the original data and visual quality.
Performance Enhancement
Because WebP pictures are smaller, they load faster on websites, potentially improving speed and user experience. This can also help your website's search engine rankings, as search engines prefer sites that load quickly.
Flexibility
WebP has a number of characteristics, including transparency and animation capability, making it a versatile format for various picture kinds. It may also be employed in diverse situations, such as in mobile apps, where reduced file sizes might be important to improve speed and user experience.
Final Word
To summarise, AnyWebP is a robust program that can convert JPG photos to WebP format both online and offline. Converting your photographs to WebP format allows you to considerably reduce image size without sacrificing image quality. This will assist in enhancing the loading speed, user experience, and SEO of your website. Whether you use AnyWebP online or offline, the application is simple to use and produces outstanding results. Try it out, and you'll see how simple it is to convert JPG photos to WebP format with AnyWebP.