Are you looking up for a Mic that is either affordable or versatile? How happy would you feel if you get both in one product? Yes, you read it correctly! Tonor TC-777 USB Mic is compatible and versatile with Desktop windows, Podcasts, Vocal recording, and so on.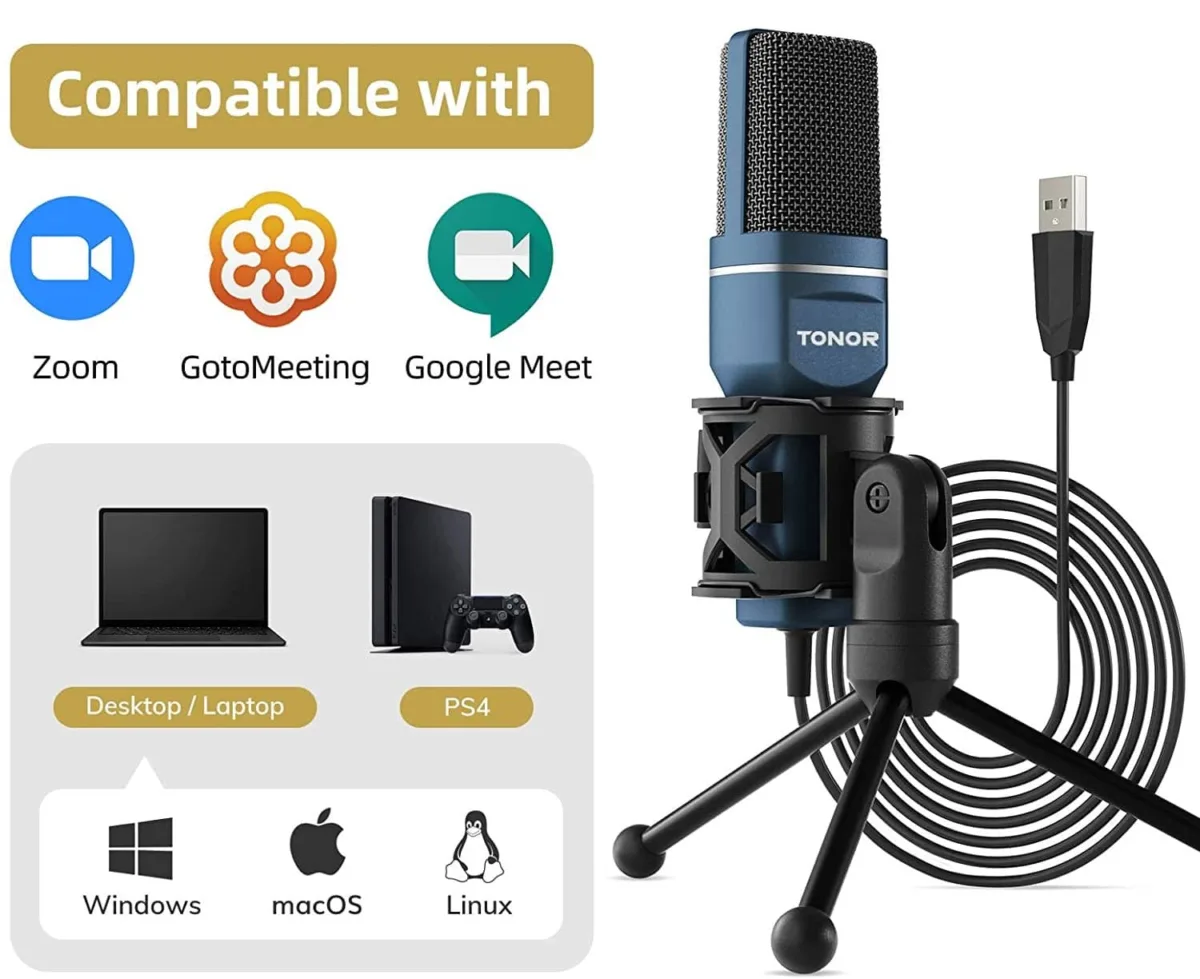 If you're just getting started with a podcast, having a professional setup that fits your budget is critical. As a result, the Tonor TC- 777 USB Mic includes all of the necessary capabilities to improve sound quality without breaking. Continue reading for our complete product review of the Tonor TC-777 USB Mic,
Design
With plastic housing and a built-in USB cord, the TC-777 is a lightweight microphone. The body has a really pretty cobalt blue color, with a crisp silver Tonor emblem.
The majority of the remaining components are similarly composed of plastic, which helps to explain its modest weight. The pop filter arm and the stand legs, on the other hand, are both composed of metal, giving it strength where it's needed. This design, in our opinion, works well as long as you set it up and place it on your desk.
Performance
Given Tonor's reputation for producing high-quality microphones, the TC-777's sound quality is not surprising. It can be used for conference calls; for chats; for gaming; and so on. Most of the reviews of this product are how clear the audio is and how easy the voice was to understand. Background noise, which is always present when working from home, is never an issue.
Compatible
Each Tonor TC-777 product has been thoroughly tested for system compatibility. It runs on Windows 7, Windows 8, Windows 10, and Windows XP. The only thing to keep in mind is that in Windows 10, there may be a glitch that prevents it from being used after the system has been upgraded. If you have a similar issue, you should contact the Windows service team.
High sound quality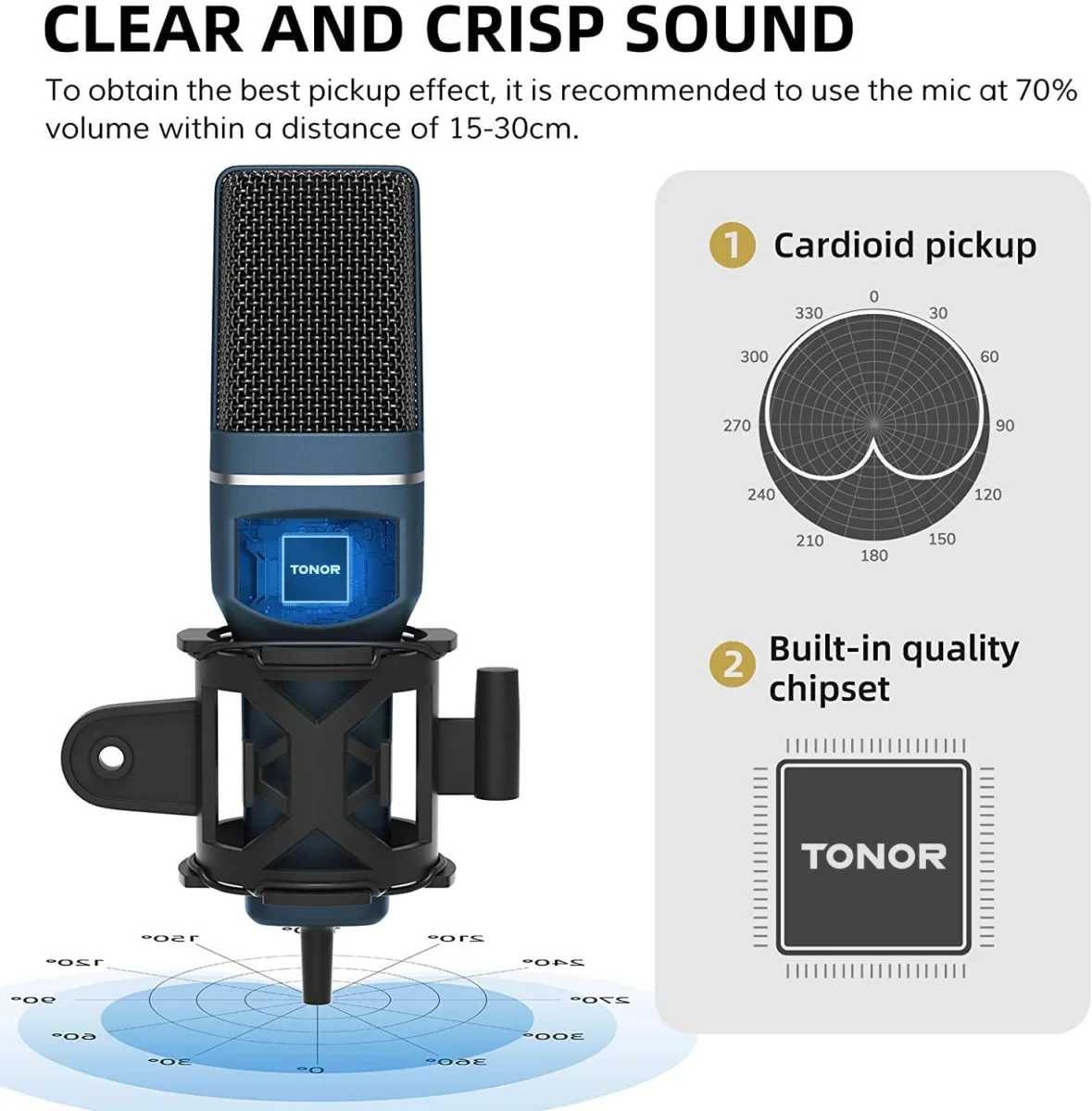 It's likely that sound quality will be your top priority when purchasing a new microphone setup. The Tonor TC-777 USB Mic has a professional sound processor that allows it to record at a high sampling rate. This frequency response is ideal for singing, speaking, and voice-overs since it is smooth and flat. When you transfer this sound to your computer for examination, you'll realize how accurate it is.
In addition to sound quality, the Tonor TC-777 USB Mic has a magnetic ring that surrounds the mic and provides an absolutely clear voice without any disturbance. As you talk into the mic, you can be confident that it will only take up the sound carried by your voice.
Convenient
The convenience of 'plug and play' use is among one of the reasons this is such an excellent beginner microphone.
You don't need any external sound card to connect your USB data port to your computer. The usage of a double-shielded USB cable reduces interference and improves sound quality overall.
Features
The TC-777 is plug and play, as it has a USB 2.0 data interface. Ideal for online learning, video conferencing, streaming, chatting, podcasting, recording, Skype, Zoom, and YouTube videos, and so on.
The cardioid pattern of this microphone gets out the clear, smooth, and sharp sound. It also suppresses undesired background noise.
No setup is required; simply unfold the stand and adjust the position of the pop filter and it's ready to use.
Each Tonor TC-777 product has been thoroughly tested for system compatibility. It runs on Windows 7, Windows 8, Windows 10, and Windows XP.
Since the TC-777 is plug-and-play, it's simple to set up the microphone.
Inside, a high-quality cardioid mic capsule ensures accurate and dependable pickup.
The microphone stand has a three-legged base that effortlessly retracts and folds.
Microphone with power cord, tripod desk stand with folding feet, pop filter, manual, and Tonor service card are all included in this all-in-one microphone kit. Allows you to complete all tasks at once, eliminating the need to purchase additional items.
Device Flaws
In terms of problems in the gadget, there are only a few small design flaws in this microphone that may be a dealbreaker for some. One of them is the mic's inability to pick up the sound of your voice as you get further away from it. You should use the microphone with your face quite close to it for the best sound quality.
Another flaw in the Tonor TC-777 USB Mic's design is that it does not have any cord management. The wire that connects the microphone to the USB outlet should ideally run through the swivel arm's tube. Instead, it's left to dangle. You have the option of taping or not taping.
Conclusion:
To sum up, the Tonor TC-777 USB Mic is a solid entry-level microphone with good sound quality at a reasonable price. This microphone is available on Amazon at an affordable price of $34.99. Tonor's TC-777 mic has good audio quality. Sure, there are better microphones out there, but for $34.99, it's a really great deal.