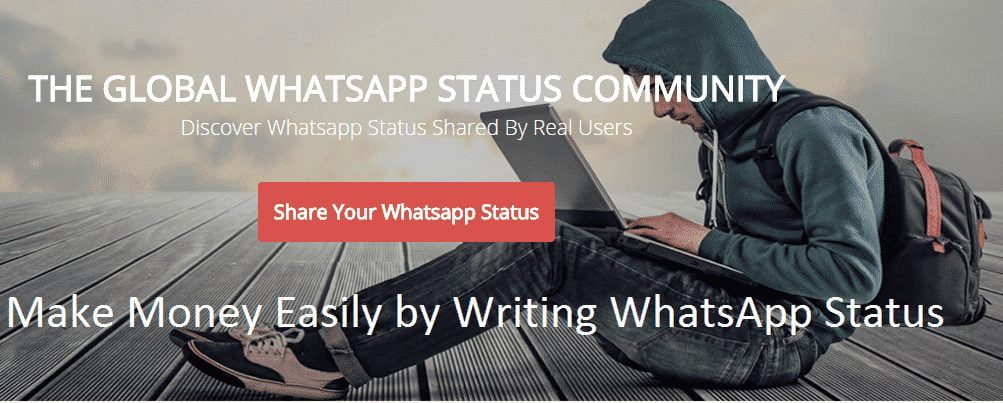 Whatsapp is one of the most common apps that you can find in every single smartphone. WhatsApp has revolutionized the way we message – with the ability to add Pictures, Audio and Video, WhatsApp status, more and more people are switching over to WhatsApp.
We have seen there are two kinds of WhatsApp users. One kind of the users keeps default status or any common status for a long time. On the other hand, some users update their WhatsApp profile picture and status every day.
If you really like to update your WhatsApp status then you can try WhatsStatus.com. WhatsStatus have lots of best status collection and they update daily top rated status. A specialty of this collection is all the WhatsApp Status available on WhatsStatus are unique and are written by professional writers.
Benefits of WhatsStatus:
Make Money: If you like to write unique Status then you can make money from WhatsStatus. They pay to write WhatsApp Status. For first 200 statuses, we pay Rs 1/Approved Status. After 200 statuses we pay Rs 2/Approved Status.
Daily Updates: If you like to update status then you can get unlimited and unique WhatsApp status daily.
Top Status: Top WhatsApp Status in the WhatsStatus are voted by real users of the website. Visitors can find most liked status from all categories on top while least liked status at last in the Top Status tab.
Category: WhatsStatus has more than 60 WhatsApp Status Categories like Broken Heart, Birthday Status, Life Status, Sad Status and Funny etc.
How To Make Money By Writing WhatsApp Status?
Step 1 – You need to sign up and create an account at WhatsStatus and then update your profile with your true information first ( name, Email, Phone Number, password, Date of birth). Check your mail and Click on the verification link to complete your signup process.
Step 2 –  After signing up, you have to write unique and creative status. Please do not copy paste content from other site or the internet.
Step 3 – After writing, status submits that and wait for the approval of your submitted status. you can check your current status in your dashboard.
READ MORE: How To Make Money With Twitter Simple Guide
How To Get Your Payment From WhatsStatus?
You are no need to worry about payment. WhatsStatus has a positive review about payment. WhatsStatus administration team will check each status submitted by you.
If you have sent your own and unique status, They will approve your status. You get paid for your every approved status.
Please note one thing that WhatsStus pays you Re 1/status for first 200 approved status and later they pay Rs 2/status for each approved status. Once your earning reaches to a threshold of Rs 100, you get paid into your bank account from WhatsStatus.
If you like this please share on facebook, WhatsApp and with your friends. If you have any question feel free to ask me here.