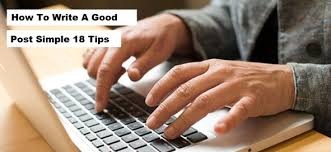 Every newbie or beginner bloggers have same question "How To Write A Good Blog Post?" .If you want to success in blogging then you must know about making a quality content or article. Without having this knowledge you can't a success on blogging.
In this 18 simple tips, I will tell you that how you can write a good blog post that will rank in search engine, will drive huge traffic and also make cash for you.
How To Write A Good Blog Post?
1. Find a topic: Before create article try to find your blog related topic.You can find a topic here BuzzSumo, HubSpot's Blog Topic Generator etc.
2. Keyword Research: Keyword is very important SEO factor. So you must use only low competition keyword with at least hundred monthly searches to get fast search rank your post.
Top Free SEO Keyword Search Tools To Get Better Rank
3. Long tail Keywords: Short keywords have very high competition. So use a long tail keyword to get fast rank your post.
Short keyword: SEO, hosting, WordPress, tricks, hacks
Long tail Keywords: SEO optimize method, best quality hosting for WordPress.
4. Unique Keyword: Make sure you have not used the same keyword on another post. Always use a unique keyword that never used before.
5. Long Word Post: Write a minimum 500+ words post with focusing on page SEO, images and embed a video.
6. SEO Plugin: WordPress user can use any SEO plugin for better SEO optimize your blog post.
Top Best SEO Plugins For WordPress
7. Tag: Use some tags, related your post articles. It will help your blog visitors to find tag related posts and also help decrease bounce rates.
8. Internal Linking: In your post try to add some your other blog posts links and external links. It also helps you decrease your bounce rate.
9. Keyword on image: If you add any image or screen shot then you must use the keyword on the image.So rename your images with keywords. It will help you getting extra rank.
10. Promote On Social Media Accounts: Everyone has social media accounts like facebook, twitter, WhatsApp, google+ etc. So after publishing your post you must share your post on social media accounts.
11. Share On Social Media Groups and Pages: You can also share your posts on facebooks groups, facebook page, Google+ Community, LinkedIn, Pinterest etc.
12. Share  Discussion Website: You can also promote your post on Discussion websites like Quora, Reddit, Yahoo Answers
13.  Auto Email: Use any auto email program to send your recently published post.
14. Comments at other blogs: Try to comment other blogs at least 15 comments to link back to your new post. This will generate some no follow backlinks which will be good for your backlink profile.
15. Link Of Your Old Post: I think you know how to do this. If you have some old post with high traffic then edit those posts and add some link with your new post.
16.Submit the link of your new post in 5 content community like inbound School Growth Hacker etc.
17. Paid content promotion: If you are serious on your blog and want to fast rank then try to Do some paid content promotion at Facebook, Reddit, and Twitter.
18. Again: I want to say again, you must promote your blog post high-rank forums, blogs, groups etc.
At last, I can say If you follow all steps, days .your blog post will get high rank ondays.All the steps are very simple, anyone can understand this. If you have any question regarding blogging then comment here, I will try to answer your question.