Have you ever heard of Adobe Stock Photos? It is a photo stock service that offers various materials for designers and creatives. Here you can find vectors, photographs, graphics, and illustrations.
Adobe Stock Photos has a big collection of visual assets at a reasonable price. You may choose a monthly or annual subscription, and even more ‒ get seamless integration with Adobe Creative Cloud applications.
You may use these materials at a reduced cost, so view Adobe Creative Cloud Discounts and you'll probably find something for your budget.
If you are still not sure whether you really need this service ‒ read the info below, get 10 Adobe free images and use Adobe Stock Free for 30 days. This should be enough to decide whether the service meets your demands.

You may use all the assets completely free ‒ no geographical restrictions or expiry dates. Adobe Stock Photos is supported by CC applications and there is no need to have a Creative Cloud membership or subscription to use it.
Moreover, don't worry if Adobe products aren't in your collection of working tools since Adobe Stock may work independently. So, if you want to use this appealing opportunity, you need to have an Adobe ID which you can create in several seconds completely free of charge.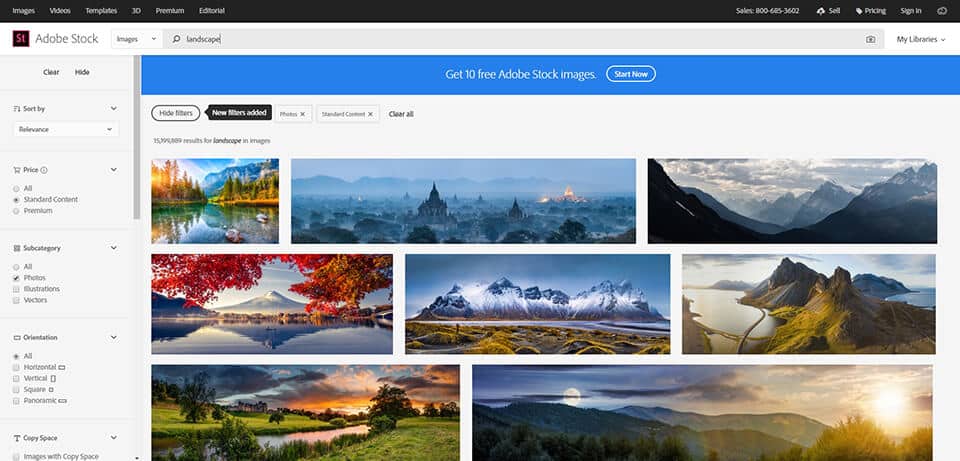 As a rule, you may buy Adobe Stock photos for $9.99 each. However, you may save some money getting 10 pics a month for $49.99. In case you're interested in an annual subscription, you may get 10 photos a month for $29.99. Don't forget that if you subscribe for this plan, you'll get Adobe Stock free for the first month.
Adobe Stock Photos Pros:
• Thousands of images are available any time you need
• Smooth work with adobe software
• Fast and efficient search
• No license problems
• Constant updates from Adobe
Adobe Stock Photos Cons:
• Some users lack audio
Guide to Get YourAdobe Stock'sFree Trial
Getting 10 free Adobe free images is really simple. In case you doubt how to do it or you don't have an Adobe account or ID, follow the instructions below and create your free account in several mouse clicks.

Visit their home page and click the "Start Now" button.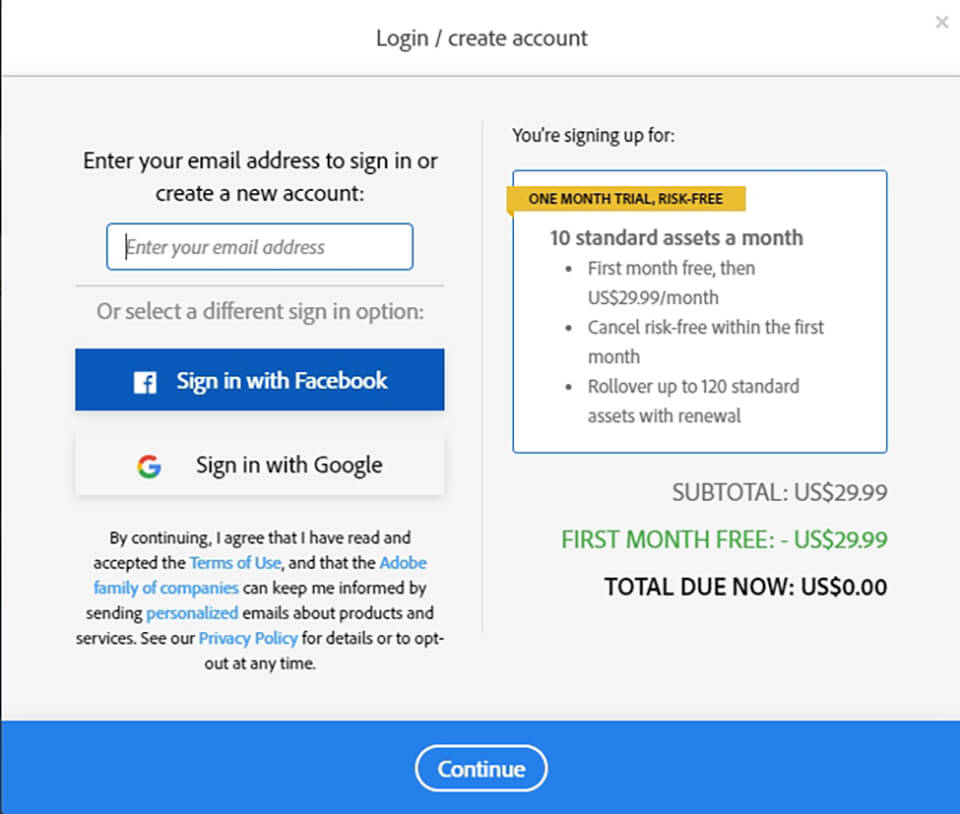 Log in if you have an ID and create a new one in case you don't have it.
Indicate the payment method and fill in the info. Click on "Start your Free 1-month trial".
That's it. Everything is done.
Read More: How To Download stock Images Without Watermark Full HD
So, is Adobe Stock Free?
Technically, it's not. Adobe Stock offers free photos under a paid subscription model. There is also a credit option to buy on demand. What we are talking about here is an Adobe Stock Free Trial.
So, it is a free trial for 30 days. You get an annual subscription which offers 10 images a month. That's true. However, you are not supposed to pay for the first month. Moreover, if you cancel the subscription in a 30-day period, you will not be charged any cancellation fees.
If you opt for Adobe Stock Photos Free Trial, you may download 10 pictures without any limitations. You can view hundreds of qualitative photos, vectors, illustrations, and 3D models, and download anything you like.
These images, as well as other materials on the platform, are royalty-free. Therefore, use them in numerous projects and edit as you like ‒ no additional fees will be charged.
Best Adobe Stock Alternatives That Are Free
If Adobe Stock Photos is not your variant and you want other functions and tools free of charge, try Adobe Stock alternatives listed below.
1. Getty Images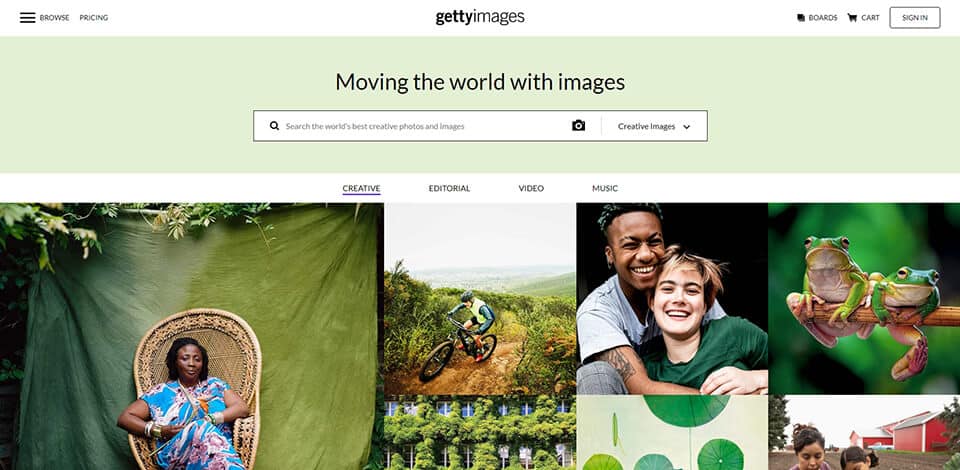 Different photos to satisfy any taste. Getty Images is a stock service that has premium-class media (e.g. conceptual, high-resolution, editorials photos).
If you are engaged in traditional media, this resource is definitely for you since high-impact projects require licensed and high-resolution material. Therefore, Getty Images is the best variant providing more than eight million of great pieces for sale.
 Pros:
Photos, videos, audio, and illustrations
User-friendly
Accepts user submissions
35+ millions of free images
Cons:
2. iStock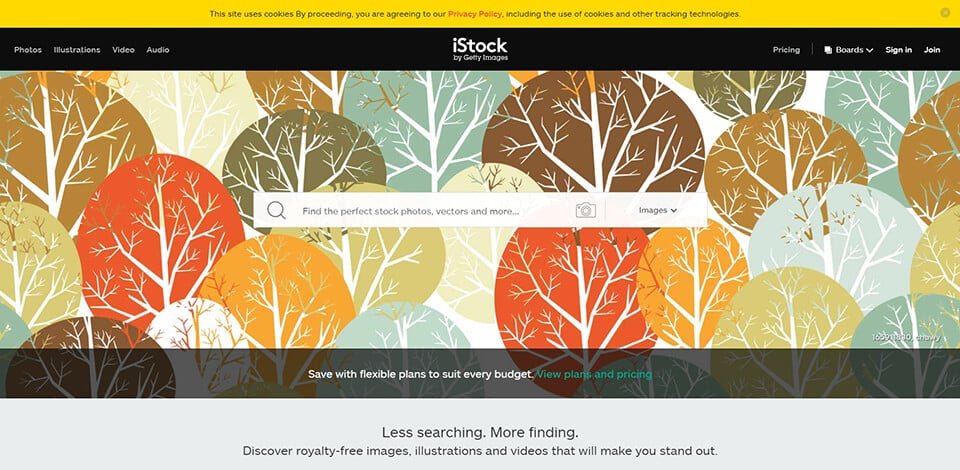 It is a great resource for graphic designers and small advertising companies since it offers reasonable prices, cheap subscription plan and a great number of images available. Being run by Getty Images, iStock is well-known in the designers' community.
If you are looking for royalty-free, low-resolution photos for websites or e-newsletters, iStock is a great option offering millions of images. However, if you want to use this resource, be ready to bother with the keywords. The thing is that it would be difficult to browse without typing in a keyword.
Pros:
Cheap subscription and user-friendly credit system
Images, vectors, videos, and illustrations
Accepts user submissions
A great number of 4K resources at affordable prices
Cons:
Complicated for users
Lacks audio files
3. Shutterstock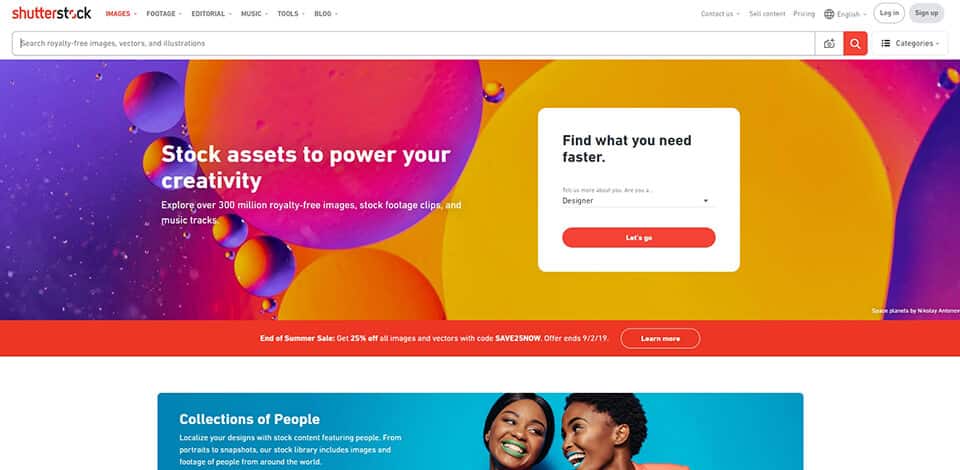 Shutterstock offers high-resolution photographs available by different subscription plans. So, you may choose the plan that fits your budget. Actually, not many stock high-resolution resources provide flexible, customer-friendly subscriptions. Be sure that you will find everything you need on Shutterstock.
It offers audio and video files, photos, vectors, and illustrations. If you constantly need high-res images, this platform is absolutely for you.
Pros:
High-res images
Flexible subscription plans
Photos, videos, music and vector files, illustrations
User submissions are acceptable
Cons:
Having rather flexible subscriptions, the fees are really high
Insufficient Customer Support
4. Can Stock Photo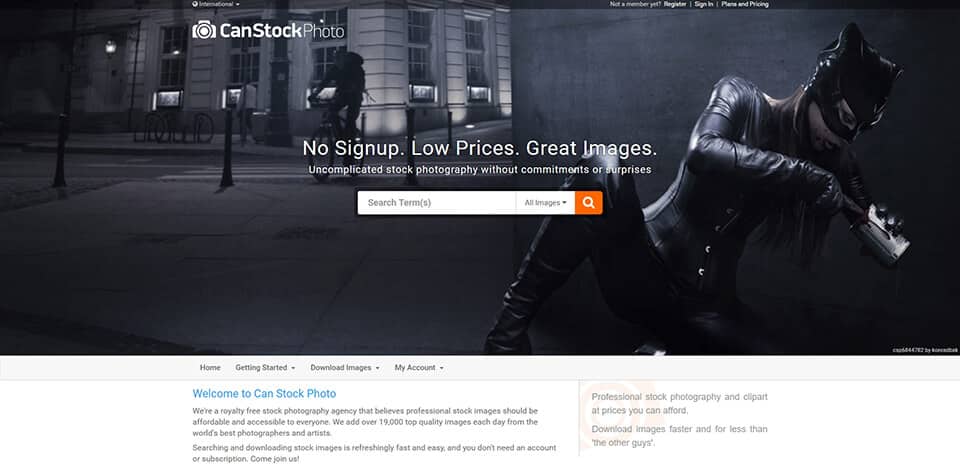 Can Stock Photo service updates the content every day adding a thousand pieces of media? These are high-resolution photographs and video files.
Although the resource doesn't have audio files and the storage is smaller than competitors offer, here you may find really great material. Can Stock Photo is a perfect variant for those, who value their time. With one mouse click, you download the media. No account is needed to checkout. As you see, it's quick and easy.
Pros:
Low prices for small JPEG images
Access to many foreign websites
Subscription options and personal opportunities while buying pictures
Great number of images, videos, illustrations, and vector images
 Cons:
No audio materials
Fewer images in comparison to other popular image platforms
5. Vecteezy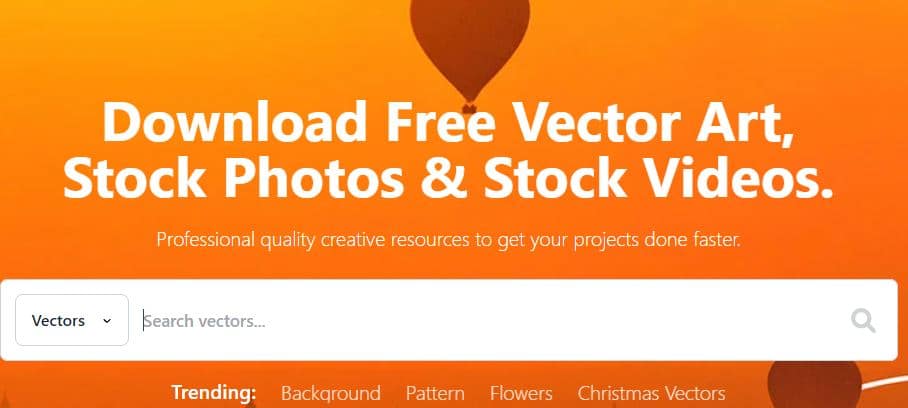 Vecteezy offers millions of free stock photos, vector illustrations, and stock videos. In addition to the free content, they also offer Pro resources that can be purchased with download credits or a subscription. The Vecteezy subscription is one of the best values in the industry since it allows for an unlimited number of downloads.
The free content available at Vecteezy is better than what you'll find at most free photo/video sites. Every contributor must be approved, and even the free resources are manually reviewed for quality before being published to the site.
Pros:
Photosd, Video, Vector Graphics
User-friendly
Fresh Contents
35+ millions of free images
Cons: