Maintenance electricians cover operations like replacing outdated systems, repairing building wiring, and reinstalling worn-out machinery. If you have to hire a maintenance electrician, you need to focus on aspects of their skill and experience.
Hire a licensed electrician who is sufficiently trained to carry out the tasks at hand. However, you also need to hire a suitable category of an electrician to carry out the task expertly and efficiently.
Although you can find many different types of electricians, the most common types you can see are maintenance electricians and construction electricians:
Maintenance Electrician vs. Construction Electrician
Although you may find an electrician who works on both types of tasks, it is always preferable to hire a maintenance electrician for maintenance jobs. Here are a few ways that a construction electrician differs from a maintenance electrician:
Construction Electrician
A construction electrician works in a new property, where wiring and the associated electrical systems are installed for the first time. The work revolves around the commissioning of the new office or home.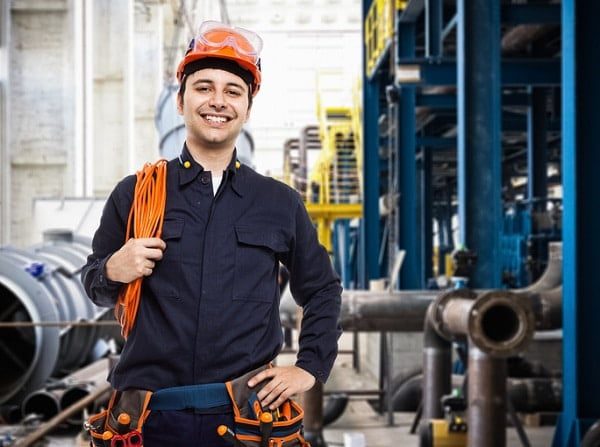 The work of a construction electrician involves using new material and equipment. They should know the precautions to take while using things for the first time. A construction electrician will collaborate closely with architects and engineers.
Once the wiring is installed, the construction electrician will test it for functionality, and the job is done. They move around job sites, and after a job is completed at a particular location, they will not be likely to go back there again.
Maintenance Electrician
Existing electrical systems are what the maintenance electrician works on. The work of this person is more challenging because the job involves a high degree of troubleshooting.
Maintenance electricians repair old wiring, replace worn and defective machinery, panelboards, or revamp lighting systems.
A maintenance electrician's work can range from easy (like replacing a fuse) or complex (like replacing old wiring of a multistoried building).
They usually work on a particular site or sites. They will visit the installation regularly (an apartment block, commercial complex, or factory) and will be likely to have an annual maintenance contract for working there.
Desired Qualities for a Maintenance Electrician
Now that you have seen in brief what the job of a maintenance electrician's job involves, you know what to look for. The maintenance mechanic resume of a maintenance electrician will indicate the skill and competency of the electrician.
Given below are the qualities to adhere:
Dependability
You should be able to depend on the person you hire for the job at hand. Look for someone who proved to be reliable in past roles. You need a person who is willing to pitch in when there is an extra workload.
Good Communication Skills
You need to hire a person who will communicate with their peers and associates straightforwardly regarding the project. Customers often get overwhelmed with the issue at hand, and the electrician should reassure them that all is well.
Independent Problem Solving
Once you hire a person for a specific role, you don't want them to be running back to you for everything. Having an employee who works independently and comes back with the job completed successfully is a great asset.
Time Management
Ensure that the person is aware of the importance of deadlines and can operate within a specific timeframe. It is imperative when the employee gets paid on an hourly basis.
Attention to Detail
A competent maintenance electrician will proceed with caution and pay particular attention to detail. Regulations and safety procedures need to be adhered to. Electrical equipment can be dangerous if safety procedures are not followed.
Basic Business Skills
Having a working knowledge of business practices like inventory tracking, invoicing, and being able to prepare a basic quote is an added advantage. Convincing customers on rates can also be quite useful.
Essential Skillsets to Look for in a Maintenance Electrician
Although all the above qualities are desirable, the skillsets given below are essential for a maintenance electrician to perform their task satisfactorily:
Should be able to use tools, instruments, and other accessories for making electrical systems.
Needs to have enough technical knowledge to collaborate with architects and engineers.
Knowledge of testing electrical wiring for safety and quality is essential.
Should have adequate knowledge about electrical standards, codes, and safety regulations.
There should be an approach to upgrade broken equipment with newer versions during repair and maintenance tasks.
Needs to be aware of the environmental requirements of electrical systems.
Ability to read blueprints, manuals, and circuit diagrams to ensure that the repair and maintenance work complies with the original design.
Basic electrical engineering knowledge is required, like load specifications of equipment, current carrying capacity, and appropriate insulation material use.
Fixing the Salary for a Maintenance Electrician
The final stage of hiring is fixing the maintenance electrician salary. In the United States, the average pay per hour for a maintenance electrician is higher than in other countries.
On the other hand, if the job is for a bulk contract and there is a possibility of overtime, bonus, and incentives, you can probably pay a much lower hourly rate. If you hire a junior electrician or apprentice, then you may end up spending less as well.
Use Your Discretion and Experience While Hiring
As we have illustrated here, there are many considerations to make if you want to hire a suitable maintenance electrician. The primary concern for a candidate should be, of course, that they are sufficiently qualified and have enough experience.
But you also need to look for certain qualities that will enable the person you hire to work on your behalf and keep your customers satisfied. Ask the right questions to get as much information as you can from your candidate.
Prepare a checklist with the desirable and essential requirements that you are looking for. Ask the candidate questions to confirm whether or not they meet those requirements.
You may feel overwhelmed with all that you have to keep in mind while hiring a maintenance electrician. Many of these are essential. But the most important thing to consider is your gut feeling when you know the person is the right fit for the job.