Hi buddy, now we will discuss how to view backup WhatsApp chat or Download WhatsApp backup from google drive. For users, WhatsApp app chat history is important, especially for those who use WA as a means of online business communication.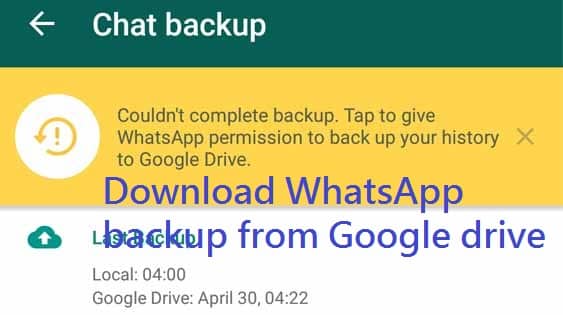 The advantage of using WhatsApp is our chat history can we save on google drive, if We lost our smartphone then we can restore all the last chat backup. Only one google account email is not a problem because the automatic backup into that email, but what if many accounts that exist in our old Smartphone and also we forget which email is used for backup?
Well do not worry, because we can check which one there is backup WhatsApp file in the following way:
Steps to Download WhatsApp backup from Google drive
Keep in mind that the email used for backup WhatsApp chat should not change, because if we replace the email then the previous backup data cannot we access again.
You can simply locate the backup folder by following these simple steps :
1. Visit Google Drive ( https://drive.google.com ) and sign in to your Google account.
2. If you access the link from your phone, tap on the Menu Button in the upper left corner then choose to use the desktop version.
3. Go to Gear Icon on the top left corner and choose Settings option
4. Now on the left side click on the Managing Apps option.
5. There you will find some other file also. So Scroll until you find WhatsApp in the list. Please note that it may take several minutes for WhatsApp to show up in the list.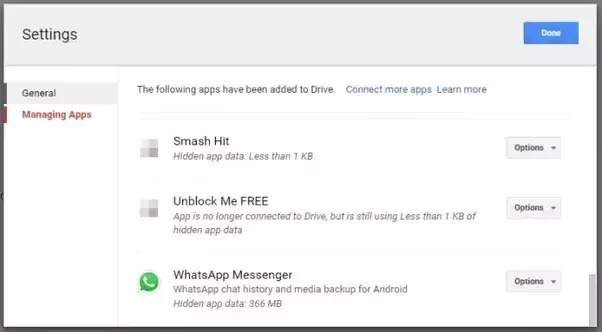 6. After you see WhatsApp, Download your backup or you can backup directly from your WhatsApp.
That's an easy step to check our email if there is the backup of whatsapp chat it or not.
If there is a problem, make sure that the Google service and google play are the latest versions. then make sure the battery is also full, because some smartphones enable battery saving mode that causes us can not access the internet. Next make sure that You are connected to a stable internet network, whether through a data connection or wifi.
That's short trips to see the backup chat on google drive, GOOd LucK, Feel Free to comment here.