Finding the right smartphone spying app can be a difficult task. This is because all apps in this category offer similar functions and there is no easy way to identify which apps are the best. If you are in such a situation, do not worry, you have come to the right place. In this article, we are going to review the best three smartphone spy apps that you must consider before making a purchase.
We will evaluate each app based on its affordability, reliability, list of features, and ease of use. Since all three apps offer many overlapping features, we will only explain each function once, and then list them for later segments. Let's get started, shall we?
1. XNSPY
We have ranked XNSPY at the top of our list due to several reasons. XNSPY has been providing services for many years now, so new versions of the app have progressively resolved bugs or errors. The result is an advanced smartphone spying app that works seamlessly and delivers on what it promises. The app is also the most affordable smartphone spying app on this list. So how much does it cost?
XNSPY price
There are two subscription versions for the service. The premium version is packed with features and comes with a price tag of USD 7.49 per month. On the other hand, the basic version costs USD 4.99 a month but offers limited functionality. If you are considering purchasing XNSPY, we would advise you to avoid the basic version and opt for the premium package. At this point, you may be wondering if XNSPY is compatible with your device.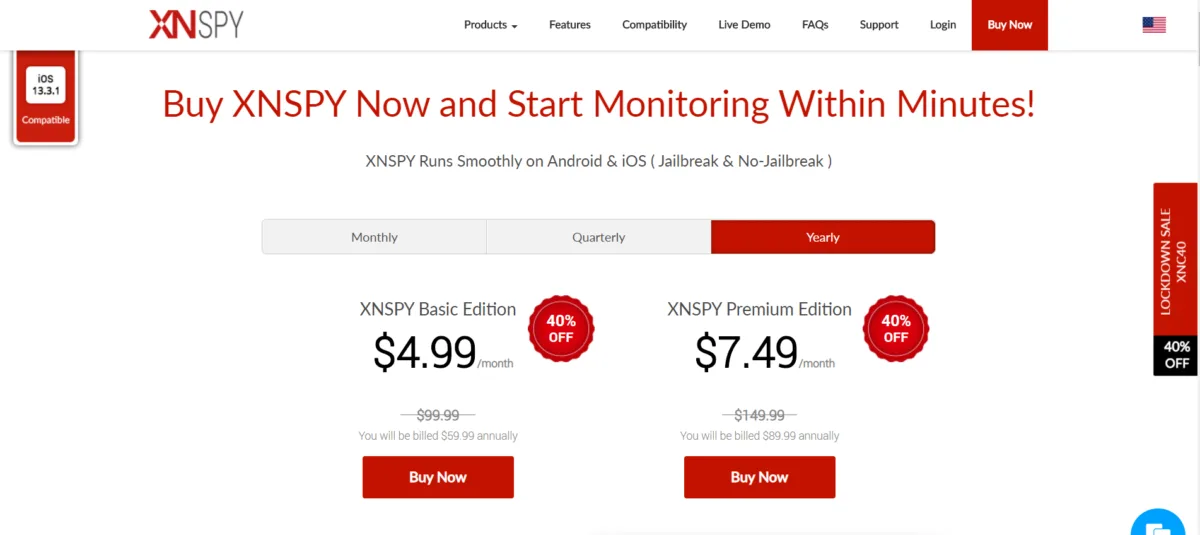 XNSPY compatibility
XNSPY supports both Android and iOS devices. For the former, it is compatible with all versions 4.0 and above. For the iPhone, XNSPY supports all iOS versions above 6.0.
With these aspects out of the way, let's take a look at the features available with XNSPY.
XNSPY Features
The call monitoring feature can be used to view the complete call log that lists all calls made to and from the phone. The call logs also contain data such as call time, date, and duration. Also, XNSPY offers a call recording feature. You can record phone conversations and download those recordings, though you can only access them once the call is over.
SMS/IM/Social media tracking
You can use XNSPY to view all sent and received text messages or multimedia files via instant messaging and social media apps. The list of apps monitored by XNSPY is quite vast, ranging from WhatsApp, Facebook Messenger, Skype, Tinder, Viber, and others.
Monitor the location of the smartphone in real-time or go through the phone's location history to chart out their route. You can also use the geofencing tool to "fence" specific locations on the map. XNSPY will immediately inform you if they enter or leave the geofenced area.
Internet & multimedia monitoring
View complete web browsing history, bookmarked pages, and all sent/received emails. You can also go through photos, videos, audio files, and calendar entries on the phone.
XNSPY offers remote management options such as app view/block function, access to saved contacts, screen-lock, and more.
You can use XNSPY to remotely control the smartphone. For example, you can remotely take screenshots or turn on the microphone of the device to record the surroundings. You can also lock the phone, restart it, or delete saved data.
Unique function: Watch list alerts
XNSPY's unique function is the watch list alert. The feature is either not available with other smartphone spying apps or works poorly. With XNSPY though, it works reliably and effectively. There are three watch lists for contacts, locations, and words. The app will scan the phone activity and identify a match with anything you have added to these lists. It will notify you immediately too. It saves up a lot of time and provides the right information at the right time.
Requirements for installing XNSPY
You need physical access to the Android phone to install XNSPY, though this is a one-off requirement after which all spying is done remotely. For iPhone, you'll need to set up Xnspy via iTunes on your computer.
How do I use XNSPY's features?
You can use any of the aforementioned features via the XNSPY control panel. It is accessible from the app's official website. You can go through the control panel at any time and from any place once the app has been installed on the phone.
No app review is complete without identifying some major pros and cons. So let's take a quick look at XNSPY's advantages and drawbacks.
Pros:
XNSPY is the most affordable smartphone spying app currently available for subscription.
The app offers a comprehensive suite of features with added flexibility.
The watch list alert feature is very unique and works remarkably well.
Cons:
You need a new subscription for each device you want to monitor.
You may have to root/jailbreak the device to use certain features.
Many of the app's features are very intrusive.
2. Spyera
Spyera is among the most renowned smartphone spying apps. It offers a broad array of features and has a very loyal fan base. We have ranked Spyera on number two on our list because while it has an impressive set of features, it is a bit on the expensive side. So how much does it cost?
Spyera price
Spyera's premium version is akin to XNSPY's basic version, offering limited functionality for USD 13.99 per month. The price tag for the full-feature version comes in at USD 31.99 a month, which is many times more expensive than XNSPY's premium version.
Spyera compatibility
Spyera is compatible with all versions of both iOS and Android operating systems. This is a major plus point to keep in mind.
Spyera Features
Here is a list of features provided by Spyera. We won't be exploring each function in detail because we have already done so for XNSPY. Don't worry though, we will elaborate on a feature that we have not previously explained.
Call logs
Call interception: You can listen to phone conversations as they happen
SMS/IM/Social media tracking
SMS Keyword deletion: You can add any word to Spyera's deletion list, and the app will delete any incoming message that includes that word. This is a unique feature.
GPS tracking
Geofencing
Internet behaviour & access to multimedia files
SMS commands: You can send commands to the app via a text message to the device. It's a pretty useful feature for situations when you do not have access to the internet. The message will not show up in their inbox either.
Remote management
Remote control: Spyera has advanced remote control options such as screenshots, microphone activation, and remote camera control. You can remotely take photos or record videos with Spyera.
What are the requirements for installing Spyera?
Physical access to the Android device is necessary for installation purposes. Similarly, you must enable the iCloud backup feature on the iPhone and know the Apple ID/password of the device.
How do I use Spyera's features?
Spyera has its dashboard that works similarly to XNSPY's control panel. You can access the dashboard on Spyera's official website.
Pros:
The app has packed with all the features one can expect from a spying app.
You can purchase a smartphone on the app's website that comes with a pre-installed version of the app.
The remote SMS commands and SMS keyword deletion features are unique.
Cons:
Spyera is a tad bit expensive, particularly the premium plus package.
You may have to root or jailbreak the smartphone to use many of the app's features.
Spyera's alert-based functionality performs poorly in practice.
3. Spyzie
Spyzie is another smartphone spying app that is a favourite for parents seeking to monitor their children. We have ranked it at number three on our list because it does not offer the kind of features provided by XNSPY and Spyera. However, this does not mean that Spyzie is useless; it has its unique properties that we will discuss.
Spyzie price
The limited version of the app costs USD 49.99 per month, while the full-feature version comes with a price tag of USD 59.99 a month. This makes Spyzie the most expensive smartphone spying app on our list.
Spyzie compatibility 
The app is compatible with all Android versions above 4.0 and all iOS versions above 6.0.
Spyzie features 
Here are the features provided by Spyzie:
Call logs
SMS/ M/Social media monitoring
GPS tracking
Geofencing
Internet activity & multimedia access
Remote management features such as App blocking and access to contacts
You can only take screenshots in this department.
TimeLine view:
You can view all activity on the device with a single glance. Each activity is listed along with time. You can also schedule screen-time with this function.
Data export: You can use this feature to export all monitored data. This is useful because it helps you create a record for future access.
What are the requirements for installing Spyzie?
The requirements for installing the app are the same as for XNSPY and Spyera, i.e. physical access to Android phones and Apple ID/password for the iPhone.
How do I use Spyzie's features?
Spyzie has its control panel that showcases all the data monitored from the device. You can also exercise remote control options via the Spyzie control panel. There is a demo version available on the app's website, so you can practice before you make a purchase.
Take a look at the pros and cons of Spyzie before you dismiss it!
Pros:
Unlike other smartphone spying apps, you do not have to root or jailbreak the device when it comes to Spyzie. This is a major advantage that is frequently overlooked!
Spyzie is not as intrusive as other spying apps and has a lighter touch to monitoring.
The TimeLine view & Data export features are intuitive and very easy to use.
Cons:
Spyzie is a very expensive app, with the full-feature version costing USD 59.99.
The app offers a very limited range of features
The app's alert-based feature is not as extensive as XNSPY's
| | | | |
| --- | --- | --- | --- |
| App/Feature | XNSPY | Spyera | Spyzie |
| Price | USD 4.99 for the basic version and   USD 7.49 for premium package. | USD 13.99 for the limited version and USD 31.99 for full-feature package. | USD 49.99 for the limited version of the app &USD 59.99 for the complete version. |
| Compatibility | Android +4.0 and iOS +6.0. | All Android and all iOS. | Android +4.0 and iOS +6.0 |
| Call log | Yes. Along with time, date, and duration | Yes, along with time, date, and duration | Yes. Along with time, date, and duration. |
| Call recording | Yes, but only accessible after the call ends. | Yes. | Spyzie does not offer this feature. |
| Call interception | No. | Yes. Listen to on-going calls and download the recordings. | No. |
| SMS/IM/Social media | Yes. Commonly used platforms. | Yes. Commonly used platforms. | Yes. Commonly used platforms. |
| Emails/web Browsing history | Yes. Bookmarked pages too. | Yes. Bookmarked pages too. | Yes. Bookmarked pages too. |
| GPS/geo-fencing | Yes. Real-time GPS tracking. | Yes. Not in real-time. | Yes. Not in real-time. |
| Photos/videos | Yes. Audio and calendar entries too. | Yes. Audio, calendar entries, and wallpapers too. | Yes. Audio and calendar entries too. |
| Unique feature | Watch list alerts | SMS Commands/Remote camera | TimeLine View/Data export options |
| Root/Jailbreak | Yes. For some features. | Yes. For some features. | Not required. |
| Ranking | 1 | 2 | 3 |